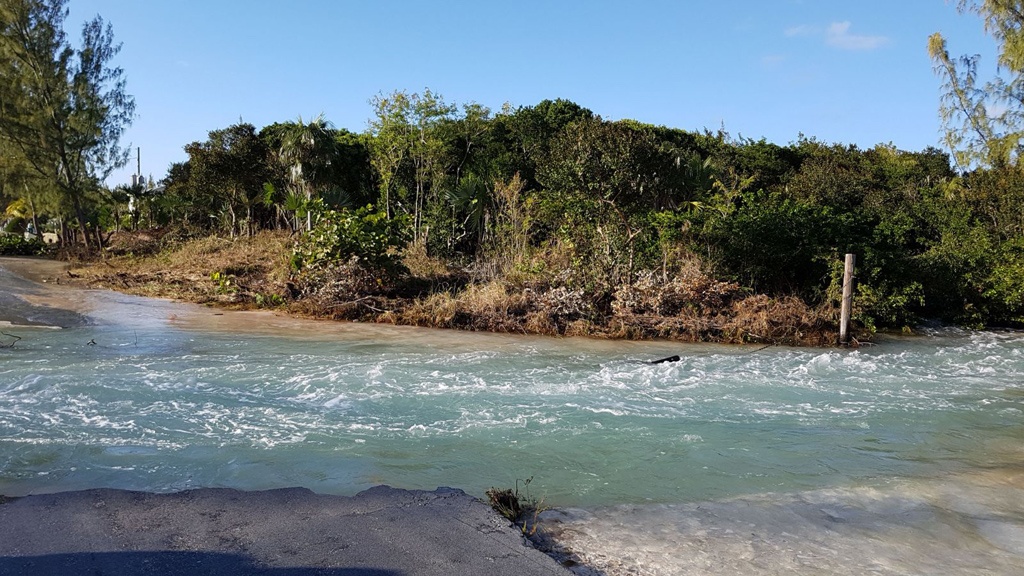 A man has gone missing from the area of the Queen's Baths, near the Glass Window Bridge, while sightseeing around 7am on Monday morning, March 5th, 2017.   Authorities report that two men, visiting the island from Michigan, U.S.A.,  were on a cliff at the Queen's Baths, when a large wave washed over them, taking one man over the cliff into the Atlantic, while the other was able to cling on.
The man who was able to hang on made his way back to the main road, where he found help.  Police reported that he was treated at the nearby clinic and reunited with other members of his traveling group.  Local Authorities have been engaged in a foot search for the missing man, scouring the coast during the day on Monday, assisted by civilian drone equipment.  The U.S. Coast Guard joined the ongoing search and rescue effort, arriving in the area at about 4:30pm on Monday.
The Glass Window Bridge, which connects Central and North Eleuthera was officially closed at 3pm on Sunday, March 4th 2018, as a result of dangerous 40ft waves cresting the bridge, and all along the rugged coastline, including the Queen's Baths.   The National Emergency Management Agency sent out a warning on Sunday, March 4th, for all residents and visitors to stay away from the bridge while the dangerous swells continued to impact the area.
Police confirmed on Monday evening that the Glass Window Bridge is still officially closed until further notice, and that traversing anywhere near that area continues to be extremely dangerous.
Over night on Sunday, a strong current of water from the Atlantic Ocean which continued to stream across Queen's Highway, just south of Daddy Joe's Restaurant, cut an 8ft deep trench into the main road reported Police, which continues to flow, further obstructing vehicular traffic traveling north towards the bridge.  This current has formed an outflow channel all the way through to Gaulding Cay beach, causing seas on both sides to meet.
There have also been reports of stranded vehicles in the area of Queen's Highway, near The Cliffs, between James' Cistern and Rainbow Bay, where the main road up to press time was completely submerged and impassable.  Motorists have been detouring through back roads of Rainbow Bay to move past the area.
See official closure notice here.