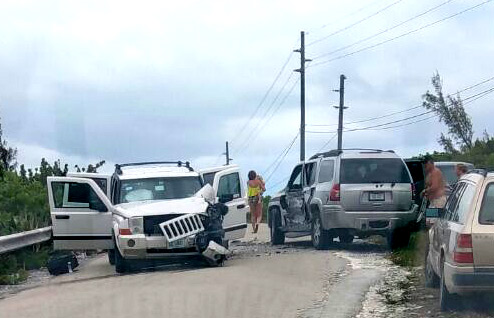 (Eleuthera, Bahamas) – Police in Eleuthera, during the early afternoon of Saturday July 15th, 2017, responded to the scene of a reported head-on-collision  in the area of the Governor's Harbour Airport. At the scene officers met  a grey Isuzu Ascender SUV SD, driven by a female from the US, facing in a north eastern direction on Queen's Highway with extensive damages to the entire left side and front windshield. They also met a  second vehicle, a white 2006 Jeep Commander SD,  facing in a southern direction on Queen's Highway with extensive front end damages. This vehicle was  being driven by an adult male also from the U.S.
Both drivers were interviewed on scene under caution and gave their own account as to what transpired. The male driver stated that while travelling south on Queens Highway in the western lane on the right side of the road he collided with a oncoming jeep. He further stated that he was not aware that in the Bahamas vehicles drive on the left hand side of the street.
One adult female along with two juvenile females and a male child were transported from the scene to the Levy Clinic in Governor's Harbour via Ambulance, where they were assisted by a nurse.  No life threatening injuries were reported.
A male child passenger was later airlifted to New Providence for observation, his injuries were not life threatening.
Investigations are ongoing.