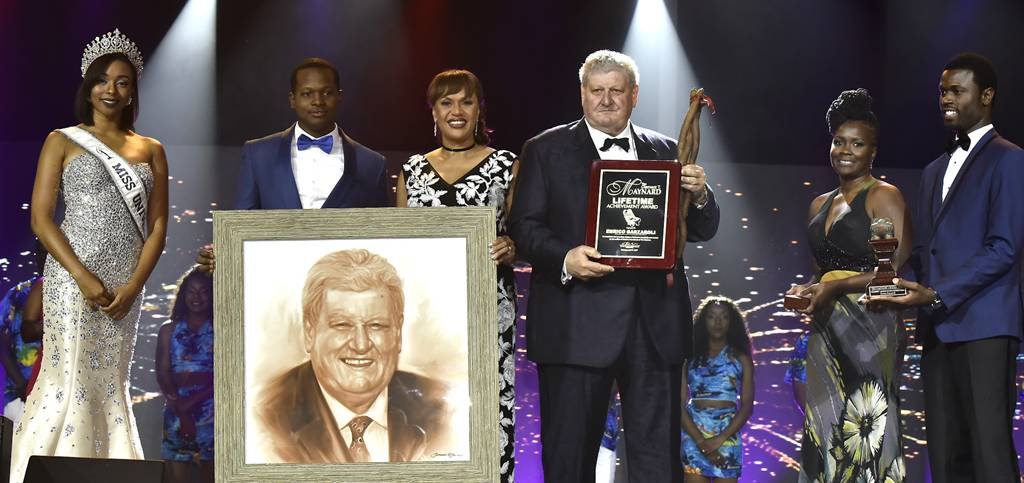 NASSAU, The Bahamas – Celebrating "the Business of Tourism," and recognizing those who have made Bahamas tourism a special experience, the 17th Cacique Awards ceremonies rewarded creativity, initiative and hard work in a black-tie gala at Baha Mar Convention Centre on Saturday.
Outstanding members of the industry from various sectors were applauded for their contributions. And, just before the curtains fell, Enrico Garzaroli, owner of the historic and world-renowned Graycliff was presented the Clement T. Maynard Lifetime Achievement Award. A veteran in the industry, Mr. Garzaroli migrated to The Bahamas from Italy in 1972 and transformed historic property on West Hill Street into world-renowned Graycliff Hotel and five-star restaurant. He later developed Graycliff Cigar Company, Graycliff Chocolatier, and the Heritage Village at Graycliff.
Minister of Tourism the Hon. Obie Wilchcombe acknowledged the "wonderful partners who continue to grow the industry." Hundreds gathered in the convention centre for the much-anticipated premier event on the Ministry of Tourism's calendar. The industry partners include the Bahamas Hotel and Tourism Association, Bahamas Hotel and Restaurants Employers' Association, and Grand Bahama Island Tourism Board.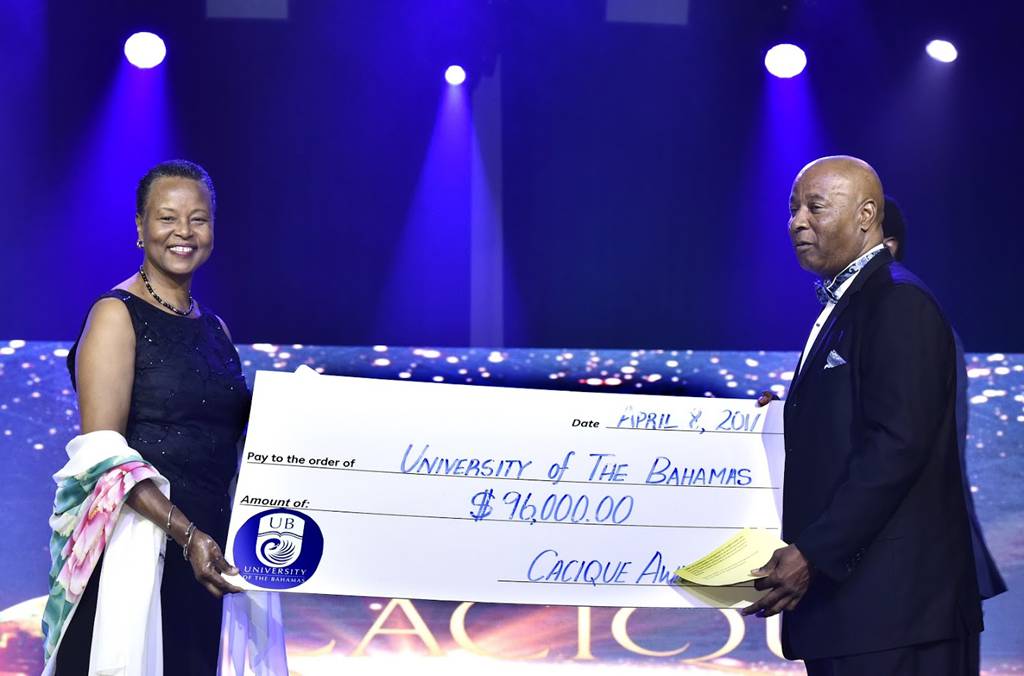 The industry garnered ticket sales amounting to $96,000 for a University of The Bahamas Cacique Scholarship Fund.
The Cacique Programme during the night showed Bahamian culture on full display taking the audience back to Sponga Money performed by a group of youngsters clad in colourful Bahamian print shirts; pulsating rhythmic performance of Hurricane Drummers presented by Howard Bethel and the Cacique Drummers; an Island Church Tribute featuring Ministry of Tourism Choir and Cacique Dancers; and Hip Hop Dance performance backed by an infusion of Bahamian music and American Hip Hop by DJ Ampero.
There was also an In Memoriam tribute dedicated to those industry providers who died over the past two years. Jonathan Farrington and Karrington McKenzie sang a soul-stirring duet backed by the Cacique Female Dancers.
The purpose of the Cacique Awards, initiated in 1995, is to recognize the roles played by those individuals and organizations whose performance or products have consistently made a positive impact on the quality and the growth of tourism in The Bahamas.
The first Bahamians, the Lucayans, called their leader 'Cacique' and the seat of power is the Duho, which is presented as the award that sits atop the trophies given to the winners.
The winners are:
Sustainable Tourism – Shaun Ingraham, founder, One Eleuthera Foundation
Handicraft – Roganna Wilchcombe and Vernetta Frith, Proprietors of Strawtacular Designs, West End, Grand Bahama
 Travel Writer of the Year (International Category) – Julie Ring-Hansen, Journalist, Denmark
Chef of the Year – Cheryl McKenzie, Executive Sous Chef, British Colonial Hilton
Local Airlines and Tour Operators – Leisure Travel and Tours – ground transportation business over 22 years
International Award: Cruise – Norwegian Cruise Lines – The Bahamas's longest serving cruise line, uninterrupted service for 50 years
Supervisor of the Year – Jerome Sears, Senior Banquet Captain, British Colonial Hilton
 Cecil Rose Sports and Leisure – Olympian Chris Brown for Chris Brown Invitational
International Tour Operator – Karin Bauhaus of Canusa Touristik Gmbh & Co.
Human Resources Development – Evelyn Pinder-Dames, educator at Mary Star of the Sea Catholic Academy who coaches in Tourism studies
Manager of the Year – Monique Taylor, Executive Housekeeper, Comfort Suites
 Willie Love Hospitality Award – Wilfred Knowles, Grand Bahama
 Creative Arts – Junkanoo Commandos
 Cacique Scholarship – University of The Bahamas
Blue Ribbon Panel Award Winner – Phil Stubbs, Song Writer/Story Teller, Grand Bahama
Sales Executive of the Year – Deryn Prabhu, Catering Sales Manager, British Colonial Hilton
Transportation – Milton Strachan, Taxi Driver in Exuma since the 1960s
Special Events – Island Roots Heritage Festival, Green Turtle Cay, Abaco
International Award: Airline of the Year – Bahamasair, established 1973
Employee of the Year: Front of House — Dicienzo Storr, Bartender at Melia Nassau Beach Resort
Employee of the Year: Heart of the House – Kendal Deveaux, Technical Security Engineer, Atlantis
Hotelier of the Year – Dean Spychalla – Valentine's Residences, Resort and Marina, Harbour Island
Minister's Award for Hospitality – Wilfred Solomon, Grand Bahama
People's Choice Secular Music – FanShawn Taylor-Evans, lead vocalist Sky Juice Band
By Lindsay Thompson
Bahamas Information Services