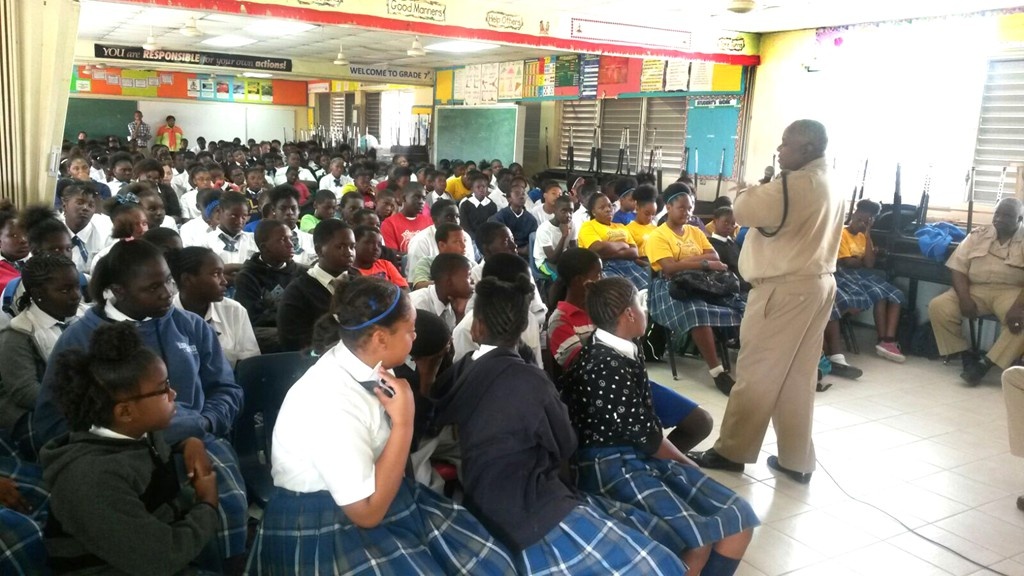 Please note this article was updated at 3:15pm February 2nd, 2017 to include a court update. 
(Eleuthera, Bahamas) – "We are challenged with school violence and conflict resolution, so we all must partner together to monitor and speak to our youths to save the country's future," stated Superintendent Christopher Wright, Officer In Charge of the Eleuthera District, on Wednesday, February 1st, 2017, following a visit by him and members of his senior executive team to the Preston H. Albury High School during a special morning assembly. Superintendent Wright and his team engaged with students at the school, speaking to them about school violence and conflict resolution.
The visit was in response to a violent altercation at the school a day earlier, between male students.
A fifteen year old male student of  the school, who suffered a blow to the head during a violent on-campus incident on Tuesday afternoon, January 31st, 2017, was airlifted into New Providence later on Tuesday evening and rushed into emergency surgery.  Police confirmed on Wednesday, February 1st, 2017 that the teenager was currently in the intensive care unit in critical condition.
Two young male teenagers were taken into custody by Police in Eleuthera on Wednesday,  in connection to the altercation, and appeared, as scheduled, before the magistrate in court on Thursday morning, February 2nd, 2017, charged with grievous harm and attempted murder.
They were subsequently remanded to the Simpson Penn school for boys in New Providence until the outcome of further court proceedings which are expected to commence at the end of March 2017.