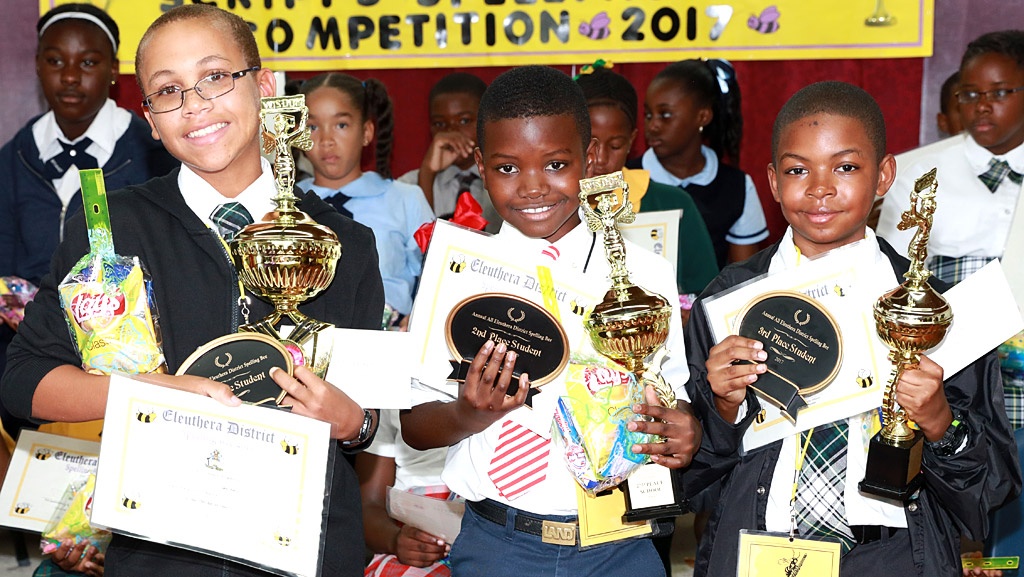 (Eleuthera, Bahamas) – The atmosphere, during the penultimate round of the 2017 Eleuthera District Spelling Bee Competition was electric, as parents, teachers, coaches and other students watched the three final competitors duke it out for bragging rights as the best speller on the island.  Although, the audience had to remain as quiet as possible, many leaned forward with bated breath, not wanting to miss the pronunciation of each word, and the exhales as each competitor moved forward through the stiff competition, were almost audible.
Three boys – Torii Knowles, a seventh grader from Central Eleuthera High School (CEHS); Johnathan Randall, also a seventh grader from CEHS; and Brady Sineus, a sixth grader from Emma Cooper Primary School, were the last three standing from a starting pool of twenty two (22) students.  After tackling words like 'supererogation', 'recherche' and 'huguenot', Emma Cooper's Torii Knowles was taken down by the simple but tricky 'trek', bowing out in third place.
The final round saw Johnathan and Brady sailing through the first six words thrown at them, until "monsoon" got the better of Brady; which Johnathan took advantage of by spelling it correctly and moved on, also correctly spelling his final word, 'loiter', to win it.  The top finishers were Torii Knowles in third, Brady Sineus in second, and Johnathan Randall in first place.
Earlier rounds during the very competitive bee saw a number of bright spellers doing extremely well.  Eight schools were represented during the exciting contest; including Governor's Harbour Primary with Alexandria Culmer, Kamia Darville and Rushae Stubbs; Harbour Island All Age School with Trishell Major, Armani Roberts and Raven Cash; Emma E. Cooper Primary School with Karlea Culmer and Brady Sineus; North Eleuthera High School with Kyle Collins, Arianna Dean and Lovens J. Francois; Tarpum Bay Primary School with William Goodman, Geordia Neely, and Selena Ingraham; P. A. Gibson Primary with Chervano Wood, Jamaal Isaacs, and Hannah Nottage; Wemyss' Bight Primary School with Touraz Curtis and Garinique Delancy; and Central Eleuthera High School with Torii Knowles, Johnathan Randall and Vonzell Fox.
Johnathan Randall will now go on to represent the Eleuthera district in the National Spelling Bee, scheduled to take place in New Providence in March.