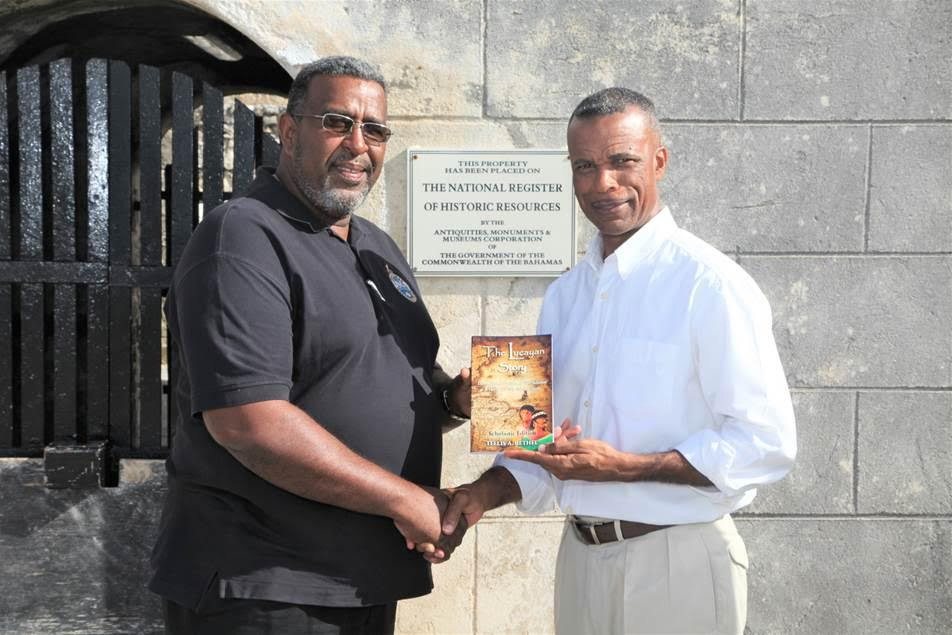 Declaring "Why have a country with a rich history and an array of magnificent islands floating in unnamed waters?" Bahamas National Trust Executive Director Eric Carey this week threw his support behind the movement to name the waters of The Bahamas The Lucayan Sea.
Carey's formal endorsement came as he met with Capt. Tellis A. Bethel, Commander (Acting), Royal Bahamas Defense Force, the author and historian who proposed giving the 100,000-plus square miles of open, unnamed waters a name that paid tribute to the indigenous people who first inhabited the islands.
Capt. Bethel spent decades plying the sea, first working aboard a cruise ship, later rising through the ranks of the Defense Force. From the beginning, it troubled him that the waters — the most appealing and prominent geographical feature of The Bahamas — had no individual identity, but were merely a part of the Atlantic Ocean. Over the past 20 years, as he delved deeper into the birth of the New World and the role the Lucayan Indians and The Bahamas played in it, he became convinced the only proper name for the waters that would pay tribute to history and secure an identity for the future was The Lucayan Sea.
"From the moment I heard about the idea, I was sold," said Carey who, like Capt. Bethel, has spent years on and around the waters, overseeing the Exuma Land & Sea Park and other marine resources.
"Everywhere else you go, the waters have a name," said Carey. "The Indian Ocean, the Red Sea, the Pacific Ocean. The Caribbean Sea doesn't touch any of our islands and here we are in the birthplace of the Americas with waters with no name, just part of a larger Atlantic. We should have our own identity."
According to Capt. Bethel, the initial declaration of The Lucayan Sea would cover waters 12 to 200 nautical miles from the outermost points of Bahamian landmass according to international law. The proposed sea would not include the national waters of the neighboring countries of Cuba, the United States and the Turks and Caicos Islands.
The two leaders met at the historic waterfront site of Fort Montagu as Capt. Bethel presented Carey with a copy of The Lucayan Story, his recently–published second book on the subject. "Among other features, we have the tongue of the ocean," said Capt. Bethel. "The purpose of a tongue is to help tell a story. We have a story to tell and it begins with the Lucayans."
Carey's endorsement was the latest in a growing list of notables that includes many marina operators, several civic organisations and the country's first Olympic gold medalist and best-known sailor, Sir Durward Knowles.