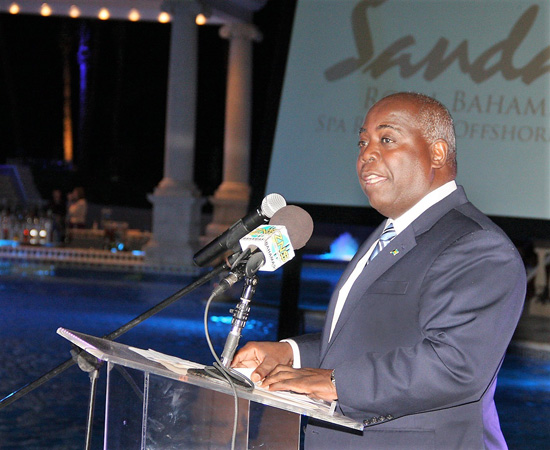 NASSAU, The Bahamas — Deputy Prime Minister and Minister of Works and  Urban Development the Hon. Philip Davis said, on November 18, 2016, that the story of the Sandals brand has always been a fascinating one — one that he would call 'risk excellence'.
"Thirty-five years ago, in the face of warnings of the financial ruin for prospective investors in the Caribbean hotel industry, Jamaica's Gordon "Butch" Stewart took the risk anyway," Deputy Prime Minister Davis said while speaking on behalf of Prime Minister and Minister of Finance the Rt. Hon. Perry Christie, at the Sandals Royal Bahamian Grand Re-Opening Ceremony and Reception.  "Butch invested in one hotel in Montego Bay and took risk after risk, growing the now world-renowned brand at a breakneck pace to include 20 successful properties today.
"Every Sandals property touched by the Stewarts has thrived, fully capturing the collective looks and feels that are peculiar to our varied cultures."
He added that his (Deputy Prime Minister Davis') attempt to define the Sandals brand came from the "clearly-transmitted singular commitment to exceeding customer's needs through rigid standards of quality for service and innovation."
"This transmission of ideals and enthusiasm through time, space, and people is no easy feat," Deputy Prime Minister Davis said.  "It requires animated leadership that stifles timidity, half measures and mediocrity."
"Every Sandals associate has caught your fever, Butch," he added emphatically.  "By the actions of each director, administrator, waitress, chef, reservation agent, room server, event manager, concierge, receptionist, and bartender; every customer knows the force of a charismatic, pioneering spirit that delivers customer service with distinction."
To each associate, Deputy Prime Minister Davis said he extended gratitude on behalf of the Government and people of The Bahamas.
More and more, he pointed out, participation confirms that the private sector is a partner in national development. The value of the hotel industry to The Bahamas, he added, could never be overstated in terms of investment, tax contributions and employment.
"For this investment, I thank Butch and Adam (Stewart) and their management team for all that they do to keep Sandals and The Bahamas on top of travellers' minds," Deputy Prime Minister Davis stated.  "You have cultivated a seasoned and professional cadre of sales agents who have been working cooperatively with international tour operators and travel partners through the years, conducting familiarisation studies, seminars and market outreach programmes that have paid back exponentially."
Deputy Prime Minister Davis said that many in the industry stand amazed that Sandals is able to maintain occupancy levels that translate to profits as other properties struggle.  On its own, he said, that accomplishment commanded congratulations for the entire Sandals Team.
He noted that, as the property reopens, the evidence of the investment of another $4 million in capital improvements could be seen.
"Many speculated as to the rationale for the closure on August 15th this year," Deputy Prime Minister Davis said.  "They could not know that Sandals is continually in evolution.  Today, the hotel has been refurbished and boasts a full complement of 750 employees."
Deputy Prime Minister Davis said that the human resources of any organisation is its most valuable asset.  For that reason, he said that he was "very happy" to learn that Sandals Royal Bahamian will re-launch the campus of Sandals Corporate University.
"Training is imperative for success and nothing has greater economic impact on the viability of hotel operations and the sustainability of livelihoods than a professionally trained and certified workforce," he said.
"The University is one of Butch Stewart's most important contributions to the development of Caribbean Tourism," Deputy Prime Minister Davis noted.  "The Sandals Corporate University is affiliated with over 13 regional and international universities and has awarded over $1 million in scholarships since its inception. It provides Sandals' staff and hospitality enthusiasts with opportunities for continuous learning and professional certification at each Sandals property."
To the employees of Sandals Royal Bahamian, Deputy Prime Minister Davis said while it might seem like a lot of very hard work, their contribution gives a value to the customer that, in many cases, represents the culmination of several years of savings and the fulfilment of a desire for moments of pleasure.
"To be able to deliver on that expectation, or exceed it, should be a very satisfying feeling," Deputy Prime Minister Davis stated.  "I encourage you to daily renew your zeal and passion for service.  Your success here can determine your success in this industry – locally or abroad."
Deputy Prime Minister Davis urged them to take advantage of the opportunities for career advancement and professional development presented by Sandals "to learn, to give, to grow and fulfil your God-given potential".
"To the Chairman and Management of Sandals, I again thank you for your confidence in The Bahamas as a destination for investment," he said.  "Your choosing us adds to our portfolio of
successful global hospitality brands and to the development of hospitality professionals in The Bahamas.  I continue to wish you well in all of your endeavours."
By Eric Rose
Bahamas Information Services