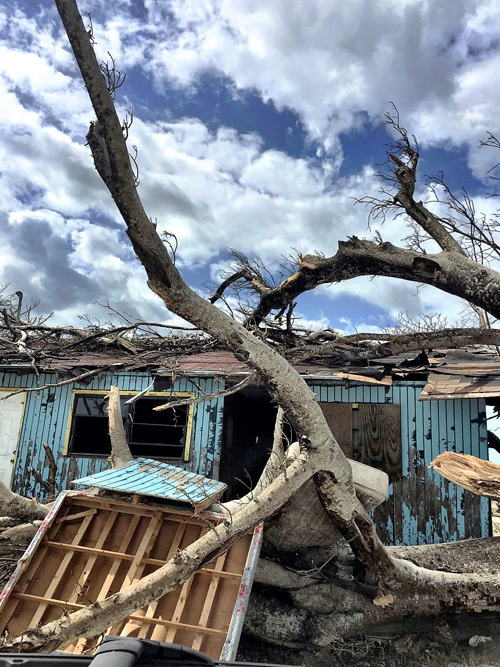 NASSAU, Bahamas. (October 17, 2016) — By the time the clouds had cleared after Hurricane Matthew the team at award-winning resort, Kamalame Cay, had already sprung into action to assist with relief efforts for the people of Andros. The resort immediately initiated a drive under the name "Kamalame Cares" launching a Go Fund Me web page with the goal of raising funds to assist communities across Andros Island. With the quick support of funds and labour from Nassau-based broker dealership Swiss America Securities and other sponsors via the Go Fund Me page, the drive has already raised $58,000.
Andros has been declared amongst the hardest hit islands by the National Emergency Management Agency (NEMA) with many settlements running low on food supplies, dozens of homes destroyed, and many more persons displaced. After seeing the loss and damage first hand, Kamalame directors Michael King and David Hew, assisted by Swiss America Securities Deputy Director Justin Ritchie, decided to lead an effort to aid recovery.
The Kamalame Cares Go Fund Me Page – www.gofundme.com/2tb9cbg  – seeks to collect $100,000 in relief aid to buy essentials such as food, water, clothing, fuel, bedding, medical and cleaning supplies for those affected by the storm in Andros.
"We are very pleased with the response we have received so far from people all over the world and for the generosity of corporate donors like Swiss America Securities," said Michael King, Director at Kamalame Cay. "It is corporate leadership like this that makes a difference and we hope this will encourage others to help the people of Andros – every donation makes a difference."
Mr. King stated that the drive aims to go beyond immediate needs and will work with Andros' communities to rebuild strategically after the hurricane.
"We are focused on rebuilding projects that will have maximum impact within the communities most affected by this tragedy  – buildings which left uninhabitable will render the communities less able to heal themselves," David Hew, Director  at Kamalame Cay went on to say.       –more-
Justin Ritchie, Deputy Director at Swiss America Securities said that this is a time for all to come together in support of Bahamians in need.
"There isn't a person in the country that hasn't been affected by the chaos of Hurricane Matthew, but in Andros, especially Northern Andros, the conditions are especially harsh," said Mr. Ritchie.  "We feel that there is a shared concern for the people of Andros, especially considering that a few of our employees hail from there. We support our friends at Kamalame Cay and their efforts to rebuild the surrounding communities of Andros.   We are confident that they will ensure that our donation is put to the best use to create sustainable and long-term solutions for the people of Andros. We encourage our corporate peers to join us in supporting this cause."
Those interested in giving to the Kamalame Cares cause can donate at their easy-to-use Go Fund Me platform: www.gofundme.com/2tb9cbg; or contact Kamalame Cay at info@kamalame.com.