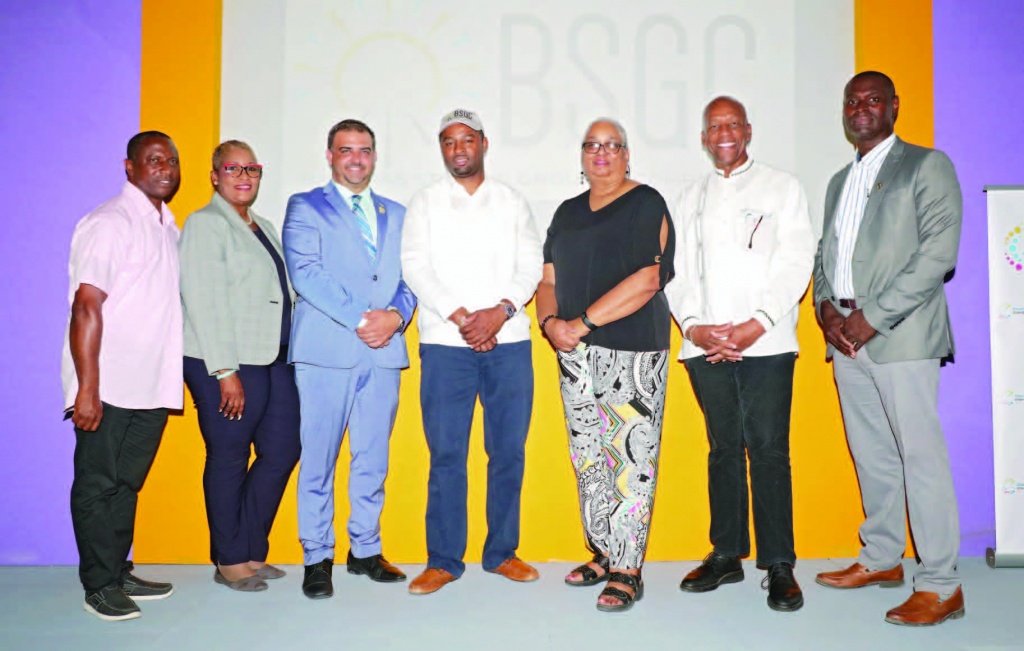 In what was described as a landmark, and a red-letter day for the island of Eleuthera, Caribbean Paving Solutions, a subsidiary of the Bahamas Striping Group of Companies (BSGC), signed memoranda of understanding (MOU's) with two major local Eleuthera road building contractors – Quick Fix Construction, and Nu View Construction – to commence the first phase of a major asphalt Roads Redevelopment Project in Eleuthera.
The contract signing ceremony, which took place on the morning of Friday, June 23rd, 2023, at the Eleuthera Chamber's Business I-Hub in Rock Sound, Eleuthera, saw in attendance, Hon. Clay G. Sweeting, MP and Minister of Agriculture, Marine Resources and Family Island Affairs; Hon. Alfred Sears, MP and Minister of Works; BSGC president, Atario Mitchell; BSGC general manager, Melanie Roach; key principals of Quick Fix and Nu View Construction; along with other local contractors, island administrators, local government representatives, Eleuthera Chamber representatives, local businesses owners, community members, as well as local and national media.
In comments made during the event, Minister Sweeting, expressed sentiments that this level of transformative upgrade in the island's roads infrastructure was a 'long time coming', saying, "Public utilities are essential for the survival of any economy and community. Today marks the beginning of a concerted and focused effort in ensuring that the constituency of Central and South Eleuthera has the basic utilities needed to maintain and to support a healthy economy for  residents… Since September of 2022, we have been working with the BSGC to established a PPP to create a remarkable product, as in Exuma, and also to execute affiliated works that will improve our communities… We also anticipate an abundance of direct employment opportunities, and the addition of new business entrepreneurs and the growth of current ones…" He added with a smile, as well as a sense of sincere caution, "With these 'good roads' coming, I implore Eleutherans to reduce their speeds and drive to arrive alive."
Minister Sears at the beginning of his remarks during the contract signing ceremony, expressed thanks to Minister Sweeting for his 'consistent advocacy', saying, "This occasion today is as a direct result of he and his team – who have been persistent in advancing the interest of Eleuthera."
He continued, "With respect to Eleuthera, we have taken a very comprehensive approach. Today we are dealing with roads, and a massive Road Redevelopment, not patching and paving only, but also rehabilitation and construction of new roads, new infrastructure, expansion of water infrastructure, and also improvement in the supply of electricity."
Minister Sears added that the Ministry of Finance entered into an MOU with Caribbean Paving Solutions, as it recognized the importance of this infrastructure project. "I stand here today filled with pride, not only because of the funding that has enabled the government to advance this infrastructure initiative, but also because it represents the kind of mature, entrepreneurial collaboration – between companies which have established a record of reliability and competence to deliver an infrastructure that is critical for the development of Eleuthera."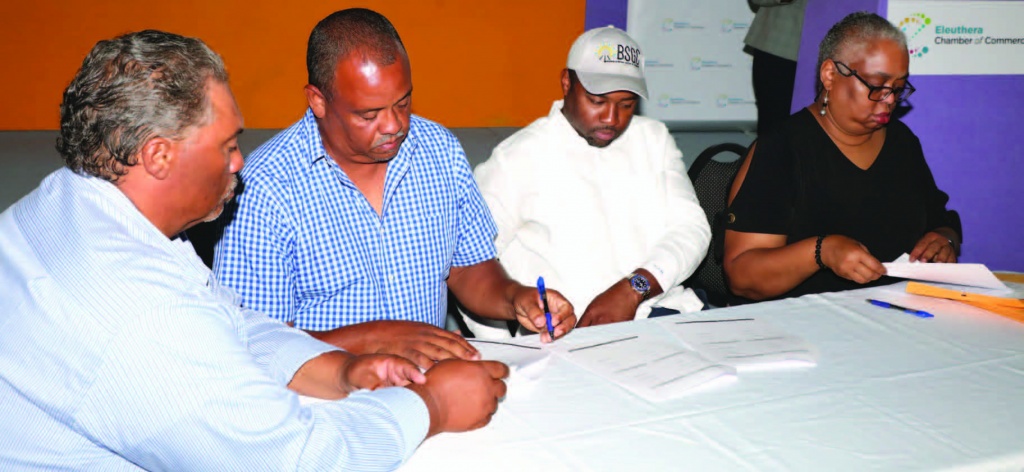 BSGC general manager, Melanie Roach, got into the details of the project, what activities would actually be taking place, and described what Eleuthera residents could expect, along with timelines, saying, "I am very happy to be back in Eleuthera with this great news that we are going to, in the first instance be paving all of the main roads and settlement roads from Bannerman Town in the south to Hatchet Bay in the north, in this first phase.
"That will include 93 miles of highway and 50 miles of settlement roads. Works will commence in the south and move progressively northward. There will be some reconstruction of roads. There will be some milling and paving of roads. There will be portions that have to be totally reconstructed with new alignments, with new road profiles, and also we are going to be addressing the drainage issues that plague most of the islands of The Bahamas.
"So, we will be having an engineering study done to advise which are the best means of addressing particular areas,… such as putting in retention ponds or drainage wells… We will be constructing, where necessary, culverts to take water underneath the road, as opposed to over the road. And in coastal areas, which are prone to storm surge, we will be constructing sea walls.
General Manager Roach continued, "Also included in the public private partnership (PPP) are funds for the upgrade and expansion of Water and Sewerage Corporation construction in south Eleuthera. So, we will be seeing improvement in potable water infrastructure in the settlements and along the main road, including extensions into areas where there is currently no piped water.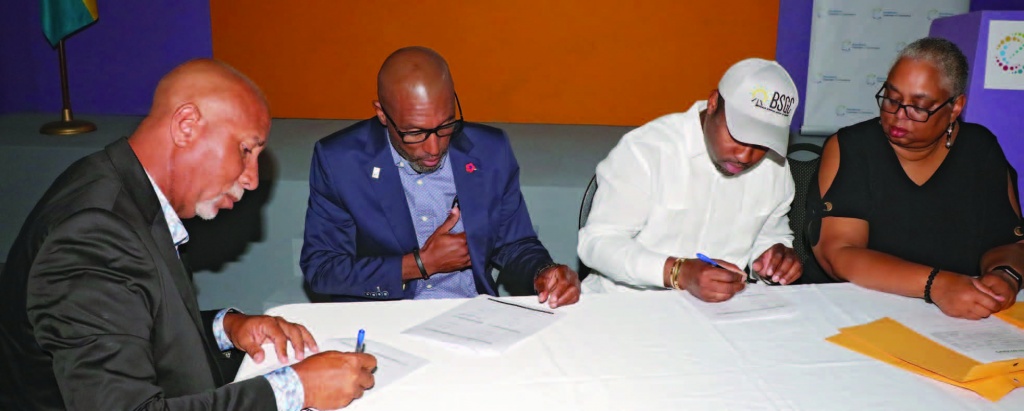 Ms. Roach informed that she had a meeting with the Water and Sewerage Corporation, in the upcoming week to review their proposed areas for water infrastructure construction. She added, "Once we come to an agreement, we will move forward on that.
"It will take a month or two for us to set up for the asphalt paving, but in the interim, we will be entering into contracts with two well-known road building contractors in Eleuthera, that is – Quick Fix Construction and Nu View Construction. They will be responsible for all of the base work reconstruction in the settlement roads.
"As I said, it will take a while, as we are purchasing a new asphalt plant, as well as new paving and striping equipment for the project.
"There will be employment opportunities for local Eleutherans during the project – those who have the necessary skills, those who need to be trained. So, we will be looking for local staff to assist with the project.
"While we are setting up the overall paving operation, we do need to deal with the dangerous situation of the numerous potholes on the island. Today we are signing contracts with seven local Eleutheran contractors to be patching the potholes. The Bahamas Striping Goup of Companies will be providing the cold mix that they will be using, and tomorrow morning, there will be a training session. We have flown in our expert from Exuma, who will be training the contractors in the proper methodologies of patching potholes. So, you will see immediate relief, beginning next week."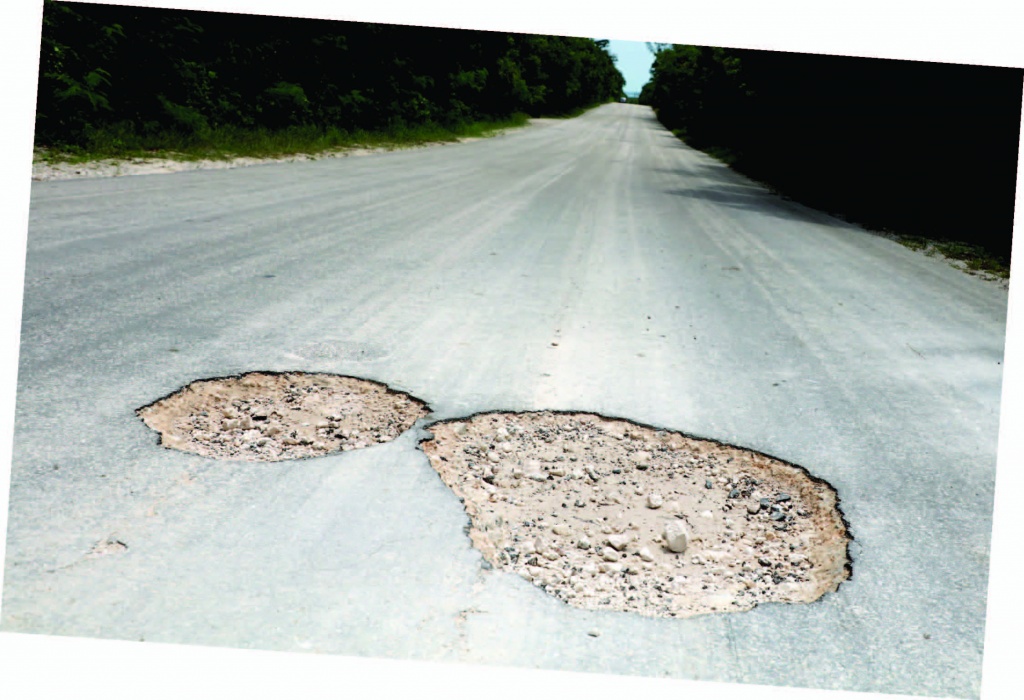 She informed that the cold mix patching material was expected on island, that same day, as it was being flown in, to be available for the patching works contractors to begin the remediation and patching work during the final week in June.
As she wrapped up her presentation, she informed, "The project has a very ambitious timeline. We hope to be completed within 24 months. That will depend on the Water and Sewerage works, and how much of that we have to do, because that has to be done first. But there are areas where the water system is already in, and we can get started with right away. So, look for us in early September to start getting into the road works. In the meantime, we will be doing the pothole patching, and we will also look at starting the verge clearing, as that will be important – and we will look at additional local contractors to undertake that work.
"There is work for those who want it and those who need it, and we look forward to contributing tremendously to the island of Eleuthera."
President Elton Symonette from Quick Fix Construction, commented following the signing event, saying, "We give God thanks for being given this opportunity to partner with the government and Bahamas Striping… This is a red-letter day for the island of Eleuthera. The roads are so terrible and it is a massive undertaking. The good part about this is that both us, as well as Nu View are from the island of Eleuthera, so, the money stays here – to sustain our economy, and there should be spin-offs for a lot of people."
BSGC president, Mr. Atario Mitchell, also weighed on his company's partnership with the government, their commitment to including local partners, and their approach to quality, saying, "We are here today to officially sign our MOU with our subcontractors to carry out road works in Eleuthera… Our company has partnered with the government, by way of a public private partnership arrangement to deliver 164 miles of road construction, which includes upgrades to the underground water system, installation of sidewalks, guard rails, drainage, sea walls, road striping, road signage and cat-eyes.
"We at BSGC truly believe in the empowerment of our people, and our intent is not to come in and do all of this work ourselves, but to work alongside with contractors from the island of Eleuthera – not giving them the crumbs from the table, but a major piece of the pie. So far we have identified two contractors to work with us on this road project – Quick Fix Construction and Nu View Construction, whom we will sign our MOU's with today. Furthermore, to show our commitment to the people of Eleuthera, today we will also be signing seven contracts with individuals from Eleuthera to carry out the much need pothole patching on the island."
He went on to thank Eleutherans for welcoming BSGC to the island, and reminded, "Our company is no stranger to the island of Eleuthera, and just as we promised in the past to give you first-class products, which we delivered. I stand on that commitment today. We will deliver to you a finished product, held to international standards… Our team will put our best foot forward and deliver a product, unmatched in its quality."
Mr. Philip Kemp of Nu View Construction, excited about the opportunity given to partner, expressed Nu View's determination to deliver excellence – coming from decades of experience, saying, "It is real good for Nu View to be included in this contract. We have a history of road building. My brother, and president of Nu View, Peter Kemp has thirty plus years experience in road building. I have about forty-two years, and our other brothers Quinton and John also have thirty plus years. This came down from my grandfather, so, it's now a third generation business, giving quality roads here in Eleuthera. I am happy that they decided to give us the opportunity for this amount of work, and we must say thanks to Bahamas Striping – for the partnership. We are going to make the people of Eleuthera proud, and the Bahamas proud."