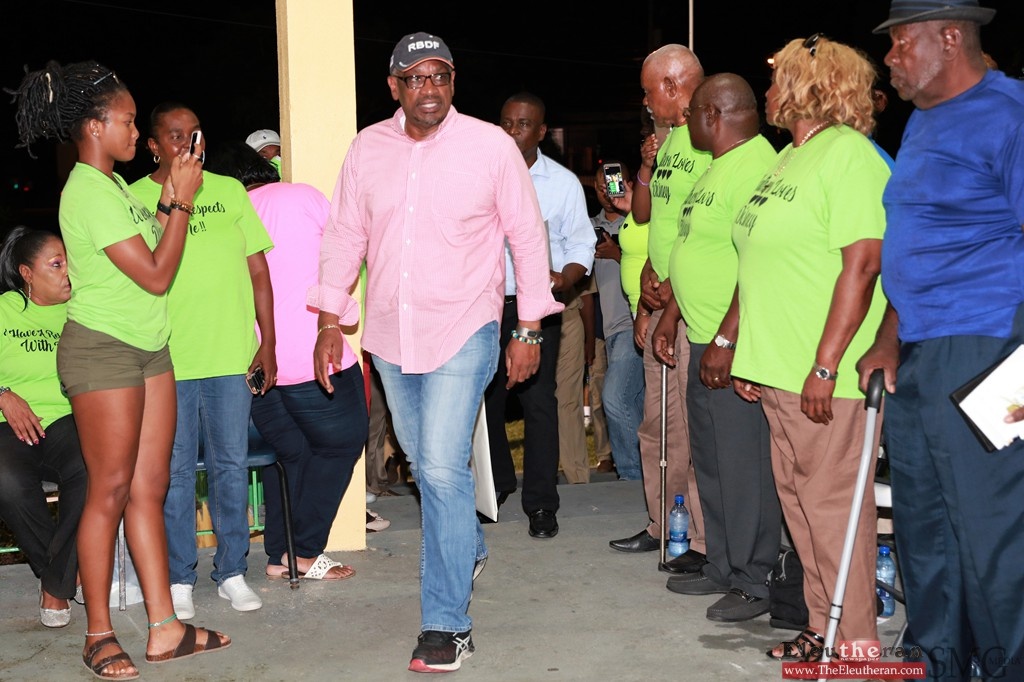 (Eleuthera, Bahamas)  A town meeting in Green Castle, South Eleuthera on Wednesday evening, October 10th, 2018, with Prime Minister Hubert Minnis as the main speaker, was promoted as being held to discuss the state of the economy in Central and South Eleuthera, but with a room full of energy packed, t-shirt wearing attendees, it could easily have been mistaken as a "Pro Disney Rally".
The fill of content focused on the proposed development of the 700-acre Lighthouse Beach property as a new cruise port by Disney Cruise Lines, with reference also made to an alternative sustainable development proposal by One Eleuthera Foundation and other partners.
Several hundred residents were out to attend the meeting, held on the covered porch and grounds of the Green Castle primary school. A large contingent of those in attendance came fully prepared with a pre-organized statement of support for the Disney proposal – sporting brightly coloured t-shirts, emblazoned with the words, 'We Love Disney', 'Disney Loves Eleuthera', 'A Brighter Future With Disney', 'Disney Respects Me!!' and 'We Want Disney', on the front and back.
Given an opportunity during the evening, to voice their opinions to the Prime Minister, those in favour of the Government approving Disney's proposal spoke of it as being the project that will resurrect South Eleuthera from its long suffering. In several instances, while on one hand reiterating what they described as low wages and low working hours at cruise operators that currently exist in South Eleuthera at Princess Cays, and a few miles away at Half Moon Cay, they, on the other hand, touted Disney's proposal as one that they believed would offer more economic benefit to the area.
Those aiming to voice opinions in favour of the alternative plan offered by One Eleuthera, found it more difficult to be heard, as the atmosphere was less than conducive to a cordial presentation of this plan. As they attempted to present some of the merits of the alternative proposal their voices were drowned by the cacophony generated by many who came with fixed mindsets.
"I got information that this was a town meeting where you were coming to speak to us specifically on the economic situation in Central and South Eleuthera. When I arrived, I was very disappointed. I did not know that I was coming to a Disney rally," said Pastor Miller, of South Eleuthera who attempted to voice a considered opinion to the Prime Minister, opining that the meeting was not a balanced forum, where questions were raised and answered, but more of an organized rally in support of Disney's proposal for Lighthouse.
In his opening statement, PM Minnis, explained that the actual purpose of the meeting was to hear what the attendees had to say about the two proposals on the table for Lighthouse Point, saying, "I know that South Eleuthera has been suffering for a very, very long time, and I think it's time that your suffering come to an end. Decisions must be made. You had confidence in me, in voting us in and making me your Prime Minister. I want to show you tonight that we have confidence in you, and we want to listen to you… So, you must tell us what you want."
In the opinions shared, the Prime Minister had ample opportunity to hear the supporters of the Disney proposal, but would have found it more difficult for other points amidst loud heckling and booing of other speakers by some in the room.
Regarding One Eleuthera's proposal, he had this to say, "In all fairness to all investors, I think the One Eleuthera group has a presentation to my team on Friday (October 12th), just like Disney who would have already presented to us. We will take that into consideration."
He further added, referring to the audience, "Your voices were loud and clear."
PM Minnis also shared – in what may indicate his leaning towards Disney, "There are two projects on the table, and I would have heard arguments back and forth, but one particular argument I've heard was that there would be destruction of the land, but I want to show you a picture of what was approved for you (at Lighthouse Point) in 2008. So, the argument about the destruction of land would hold no water. In 2008, a project was approved for South Eleuthera which allowed dredging, and a multiple canal network within that same property – dredging of the salt ponds into the ocean – creation of marinas for mega-yachts – division of land for homes… This is what was approved for that property, that some may argue, that the land would be destroyed. This project, which was approved, would have caused more destruction than what is being looked at today."
He added, "It's also important for you to recognize that the property in question is not owned by the government. It's private property – one private investor selling to another. The government's responsibility is to ensure that its people get the maximum benefit of whatever is coming. Tonight, you in South Eleuthera, will make that decision.
"I have heard your cries, and we've listened. We will go back to our colleagues and tell them what South Eleuthera wants, and that's the decision we will make. Who will know your environment better than you," he concluded.
Referring to a show of hands vote to be taken at the end of the town meeting, Prime Minister Minnis stated, "We know tonight, that you will make the decision as to the direction of your island… As the people's employee, I've come to hear how my employers feel, so, I can take it back to my colleagues and make a definitive decision by next week…"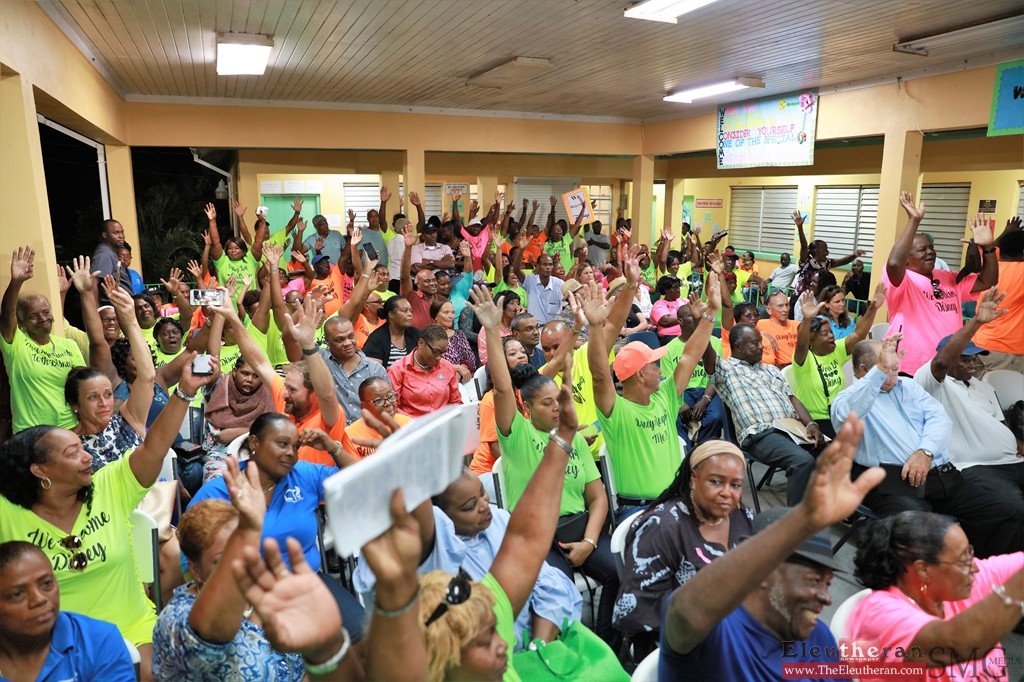 The show of hands vote taken after the commentary segment were reflective of the brightly colored t-shirts, with an overwhelming support for the Disney cruise port project.
The Prime Minister also added that the issue would be discussed in Cabinet on Tuesday, October 16th, and there would be a definitive decision after that Cabinet meeting.
Some supporters of the alternative to the Disney plan wondered out loud following the event, if there was any point to the upcoming meeting on Friday, saying, based on overall tones of the night's event, a decision may have already been made.
During his speech to the attentive audience, Minnis also shared briefly about some of the initiatives his government had put in place that he said has some benefit for Eleutherans in being better prepared for either future development on the island. He spoke about the upcoming free tuition at University of the Bahamas in 2019, to include a $500 monthly stipend, and current free tuition at BTVI, as well as upcoming plans to offer lots of Crown land in Central and South Eleuthera at a cost of less than $15,000, and access to $5 million earmarked to assist new entrepreneurs throughout the Bahamas.