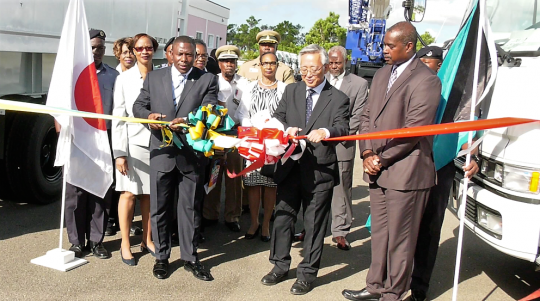 NASSAU, The Bahamas – The National Emergency Management Agency (NEMA) officially accepted equipment and products under the Government of Japan's Economic and Social Cooperation to The Bahamas initiative, during an Official Hand Over Ceremony held Monday, October 1, 2018.
Worth an estimated $1.8 million, the equipment would be used to respond to adverse effects of climate change and especially boost the country's ability to deal with natural disasters.  The contribution would facilitate disaster risk management, disaster response and disaster restoration. In addition, training and other necessary services for operation, maintenance of equipment or consultant services would be covered.
The ceremony was held at NEMA on Gladstone Road, where on hand to receive the equipment and deliver the government's response was the Hon. Renward Wells, Minister of Transport and Local Government.  Also present were Captain Stephen Russell, Director of NEMA, Mr. Shinichi Yamanaka, Charge d'Affaires, ad interim, Embassy of Japan to the Commonwealth of The Bahamas, and other officials.
"During the past years, The Bahamas has continued to forge stronger ties with other regional and international partners to support its mitigation and preparedness activities, all with a view of building capacity and knowledge exchange," Mr. Wells said.
"It is through such relations and diplomatic ties that we are here today, with the Government of Japan handing over this equipment, which augurs well for NEMA's overall disaster management plan."
On Sunday, April 10, 2016 the Government of Japan extended a grant-in-aid to the Government of the Commonwealth of The Bahamas, to acquire much-needed equipment and skills to enhance the disaster management programme of the National Emergency Management Agency, NEMA.
"The challenge faced in the immediate aftermath of a major storm is to render timely assistance to especially the far-flung islands in our archipelago," Mr. Wells said.  The equipment augments NEMA's Emergency Support Function.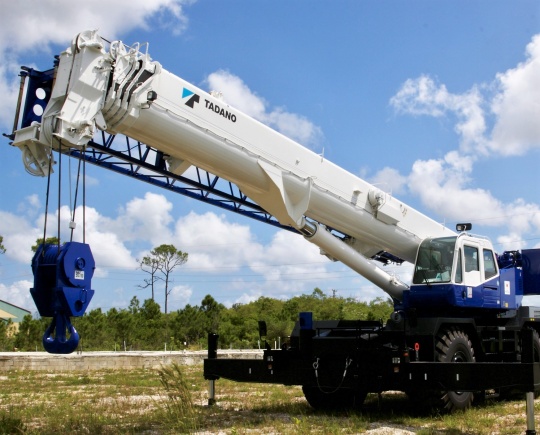 The equipment includes a wheel crane, tractor head, 40-ft. semi trailers, flatbed cargo trucks, and refrigerated container. Other supplies are enroute to The Bahamas.
It is NEMA's aim to have a set of equipment in the Disaster Relief Warehouses of Hawksbill, Grand Bahama (The Northern Bahamas); Coral Harbour New Providence (The Central Bahamas); Great Inagua (Southern Bahamas); and the Royal Bahamas Defence Force Roll-On Roll-Off transporting relief apparatus.
The Bahamas benefited from similar aid from Japan in 1999 in the aftermath of Hurricane Floyd.  Products purchased included portable generators among other equipment used for storms and hurricanes that have impacted The Bahamas over the years: "For this, we are very grateful to the Japanese Government," Mr. Wells said.
Captain Russell noted that local personnel are being trained in how to use and maintain the equipment.  "The collection of heavy duty equipment is to fill a gap as a result of the challenges encountered with our pre and post disaster logistics and transport mechanism," he said.  "I am truly pleased about the continued partnership and friendships between the government and people of Japan, and the government and people of the Commonwealth of The Bahamas."
 By Lindsay Thompson