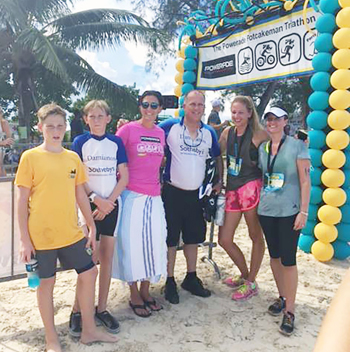 Nassau, The Bahamas (March 12, 2018) — Hundreds of athletes from around The Bahamas will descend upon Nassau to run, swim and bike their way into the record books when the 2018 Powerade Potcakeman Triathlon takes over Clifton Heritage National Park on April 15.
Launched in 2013, the triathlon is an annual fundraiser for Baark!, a volunteer organization which focuses on spay/neuter and educational programs aimed toward encouraging responsible pet ownership through presentations at schools, summer camps and community organizations.
"We admire the Baark! organization, not only for their community outreach programs which encourage compassion and respect for animals, but for the sheer fact that everything they do is 100-percent volunteer-based. They don't receive any government funding whatsoever," said Lana Rademaker, Vice President with Damianos Sotheby's International Realty who will be running at this year's triathlon. "The dedication shown by these volunteers is truly remarkable."
According to the Baark! website, since its inception in 2010 Baark! has provided more than 7,000 free or subsidized spay/neuters of dogs and cats; created interactive education for more than 500 children; and, contributed assistance for pets in nine different family islands—Inagua, Rum Cay, San Salvador, Andros, Abaco, Eleuthera, Long Island, Bimini, and the Berry Islands. Last year's triathlon, the most successful to date, raised $30,000 toward these services.
"Besides the fact that Baark! so clearly provides such valuable and necessary services for The Bahamas, we love the fact that the triathlon offers us a reason to get outside of the office and contribute to the community as a team," Rademaker said. "It's the perfect opportunity to come together with our families and support this extremely worthwhile organization."
For more information about the 2018 Powerade Potcakeman Triathlon, please visit http://www.baarkbahamas.com/potcakeman/