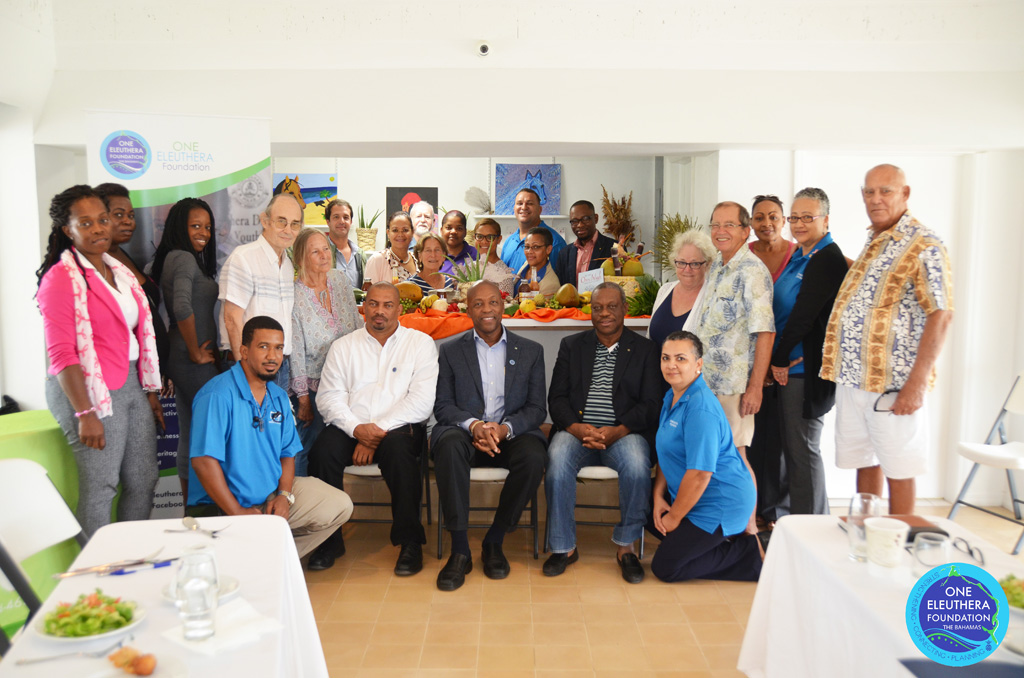 Eleuthera, Bahamas–The One Eleuthera Foundation (OEF) appointed new members to its Board of Directors, at a Board meeting held on Saturday, October 28, 2017 in Rock Sound, Eleuthera.
Mr. Alfred Sears, QC was appointed as Chairman, preceded by outgoing Chairman, Mr. Felix Stubbs. Joining the new board were Mrs. Diane Bowe-Pindling, Mr. Juan Bacardi, Mr. Thomas Whitehead, Ms. Leah Major and Mr. Clifford Johnson. Those continuing on the Board include Mr. Cameron Symonette, Ms. Shelby White, Ms. Marjie Findlay, Mr. Mario Smith, Mr. Ian Carey and Mr. Tom Burns. Retiring from the board were Mr. Edrick Gibson and Mrs. Etoile Pinder. Also retiring, but taking on new responsibilities, in advisory positions, were Mr. Eric Carey, Ms. Jackie Gibson and Mr. Errol McPhee.
On accepting his appointment as Chair, Mr. Sears said, "The One Eleuthera Foundation is a model of community empowerment and sustainable development in Eleuthera, under the ownership and control of local residents. I believe that the growth of this non-profit sector can help to reverse the current underdevelopment in our Family Islands of declining populations, double digit unemployment amongst young people; non-competitive agricultural, financial services and tourism sectors; outward migration to New Providence for jobs and tertiary education; dependence on the diminishing capacity of Central Government to stimulate sustainable development in the Family Islands. I am excited to work with this successful community empowerment model and to expand it to other Family Island communities in our archipelago."
The Board meeting was preceded by the One Eleuthera Foundation's Annual General Meeting (AGM) at its Centre for Training and Innovation (CTI) on Saturday October 28th. Enthusiastic members attending were updated on the ongoing work of OEF and the plans for the work of the organization ahead. Members were able to engage the new Board in discussion and ask questions.
The One Eleuthera Foundation, founded by Mr. Shaun Ingraham, current President and CEO, is a unique non-profit partnership between Bahamians and second homeowners in Eleuthera. The Foundation is dedicated to investing in unique, high–quality projects that strengthen Eleuthera communities through economic, environmental, social, training and entrepreneurial projects. Currently, the One Eleuthera Foundation and partners together employ 45 residents of Eleuthera. OEF projects and partners include the Centre for Training and Innovation (the only nonprofit, post-secondary and business enterprise institution located on a 44-acre property equipped with a training hotel, farm and restaurant), The South Eleuthera Mission (SEM), South Eleuthera Emergency Partners (SEEP), Island Journeys, Eleuthera Arts and Cultural Centre (EACC) and the One Eleuthera Cooperative Credit Union.
Outgoing Chairman, Mr. Felix Stubbs, welcomed the new directors and also assured them of his continued support of OEF as he believes it to be a reputable model for development for The Bahamas.
Appointed Officers were as follows:
Chairman – Mr. Alfred Sears
Vice Chair/Secretary – Mr. Mario Smith
Asst. Secretary – Ms. Leah Major
Finance Chair/Treasurer – Mr. Clifford Johnson
Fundraising/Development Co-Chair – Mrs. Diane Bowe-Pindling
Asst. Fundraising/Development Co-Chair – Ms. Marjie Findlay
Business Development – Mr. Juan Bacardi and Mr. Cameron Symonette
Operations Chair – Mr. Thomas Whitehead
Strategic Planning – Mr. Tom Burns
Director – Ms. Shelby White
Director – Mr. Ian Carey
Honorary Members:
Dr. Graham Cates
Mrs. Michelle Neville-Clarke
Mr. Felix Stubbs
Mr. Craig Symonette
Mrs. Michele Johnson
Mrs. Casuarina Mckinney- Lambert
Ms. Wendy Warren