The month of October signified Breast Cancer awareness month and the Breast Cancer Outreach Program (BCOP) hosted numerous activities to honor the month.  Under the theme "Saving Our Sisters, Strengthening Families", BCOP hoped to increase awareness about the disease, encourage screening, stress the importance of early detection in saving lives, raise funds for the program and celebrate our survivors.
The month was filled with awareness activities including church services, awareness booths, an art exhibit, fashion show and fundraisers.  The BCOP continues to distribute breast cancer literature nationwide (Cat Island, Exuma, Long Island, Nassau and Eleuthera).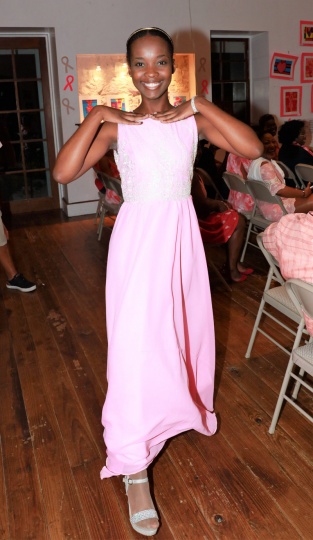 The launch of an Art Exhibition took place on Tuesday October 10th, 2017 at the Eleuthera Arts and Cultural Centre in Tarpum Bay. The exhibition featured art pieces from Preston H. Albury High School art students and local artisans. The event was a fun filled with performances from Invasive Diversity, a dance group from Preston H. Albury High School.  Sarah Allen, a 16-year breast cancer survivor gave a special message urging the audience to "understand that cancer is not a death sentence"; she is living proof.  Maisie Thompson Community Outreach and Membership Coordinator for One Eleuthera and Susan G. Komen Breast Cancer Outreach Program reminded attendees about the importance of "knowing their bodies and reporting any changes to their healthcare provider:"
The month of activities culminated with an auction of the artwork showcased earlier in October, and a fabulously pink Fashion Show, with creations by local designer, Mrs. Verda Gardiner on Friday evening, October 27th, 2017.  At the final event, where young and older gathered in support of the BCOP in Eleuthera, BCOP Coordinators, Maisie Thompson and Ms. Shapreka Clarke, featured a video shot with members of the Eleuthera Sisterhood of Survivors (SOS) cancer support group, sharing their personal experiences and spoke with the audience about how they could continue to support the important work of the BCOP.
The BCOP began in 2013 and has been funded annually by grants from Susan G. Komen and donations from individuals, corporate businesses, Rotary Clubs, and fundraisers.  Through the renewal of a grant from the same organization in 2016, One Eleuthera Foundation (OEF) has been able to continue its efforts of educating women on Eleuthera about breast cancer and recently expanded its reach to provide education and awareness services on Cat Island, Exuma and Long Island as well.
More than 40% of Bahamian women are at stage 3 or 4 when diagnosed with breast cancer.  It is important for the Breast Cancer Outreach Program to bring awareness to the disease and encourage screening because early detection can save lives.
How you can support:
An exciting opportunity to support the Breast Cancer Outreach Program is its crowdfunding campaign that launched on Tuesday, October 17, 2017 and ends November 28, 2017.  One Hundred percent of funding donated will go to the Breast Cancer Outreach Program and its continued efforts to bring breast cancer education and awareness to Bahamian women. To support this campaign, visit www.oneeleuthera.org/SupportBCOP.
You can also support the Breast Cancer Outreach Program by attending awareness activities or volunteering.
To learn more about this and other One Eleuthera Foundation projects visit www.oneeleuthera.org.