On Thursday, October 5th, 2017, the Central Eleuthera High School (CEHS) recognized their best and brightest during the 2017 Summer Term at an Awards Ceremony held at the school, beginning at 9:30am.  Prefects, along with Head Boy and Head Girl positions at the school for the 2017/2018 school year were also installed during the morning's event.  Special Guest Speaker was Mr. Gilbert Kemp, Administrator for Central Eleuthera, who encouraged the student body to 'roar' ahead during the new school year with the aim of doing their very best in their studies.  Teachers at the school were also recognized in observation of World Teachers Day.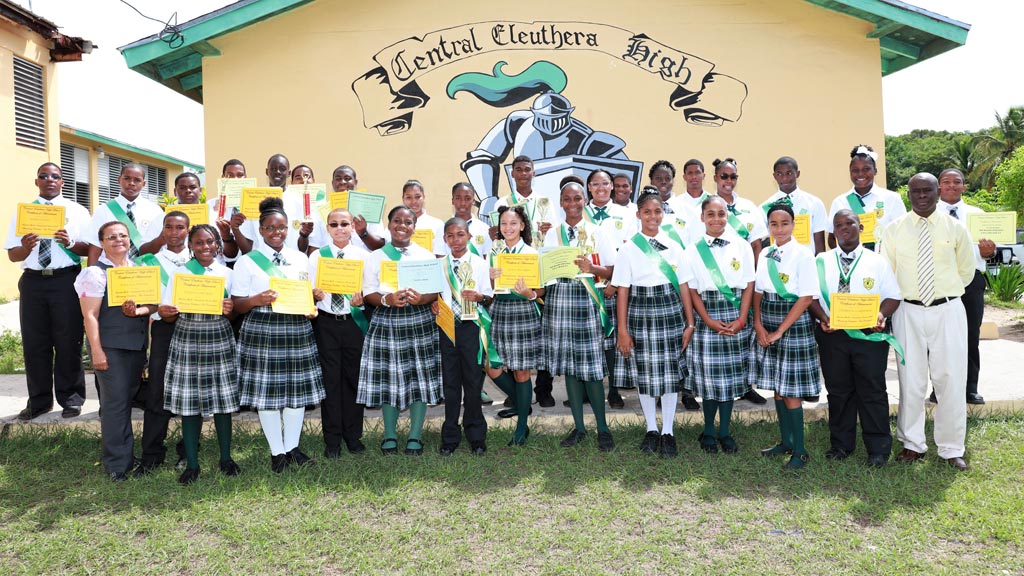 CENTRAL ELEUTHERA HIGH SCHOOL
SUMMER TERM HONOR ROLL 2017
Grades 7-11
PRINCIPAL'S LIST
Knowles, Torii    3.67; McCardy, Jana    3.64; Collins, Antoniqua   3.64; Gibson, Equoia  3.64; Sineus, Lamar    3.55.

HONOR ROLL
Farquharson, Kiara    3.33; Young, Travas    3.27;  Seymour, Jerrimia   3.27;  Moss, Kristman   3.27;  Gardiner, Andreon    3.27;  Taylor, Jahzara  3.25; Sineus Jr., Wallace    3.25; Fox, Vonzell    3.25; Sands, Tre'    3.20;  Jolly, Joshua    3.18; Seymour, Donovan   3.18; Rolle, Wayne    3.18;  Hunt, Jaheim Dovani   3.18;  Farquharson, Sharico    3.18; Edwards, Anique    3.17; Randall, Johnathan    3.17;  Sands, Toccara    3.17;  Cartwright, Janae 3.10; Roberts, Kiara   3.09; Williams, Malika Felecia    3.09; Hanna, Treyquan    3.09; Rahming, Bithiah  3.09; Bethel, Bernard  3.00; Johnson, Cameil   3.00; Gibson, Tamari   3.00; Culmer, Philena    3.00.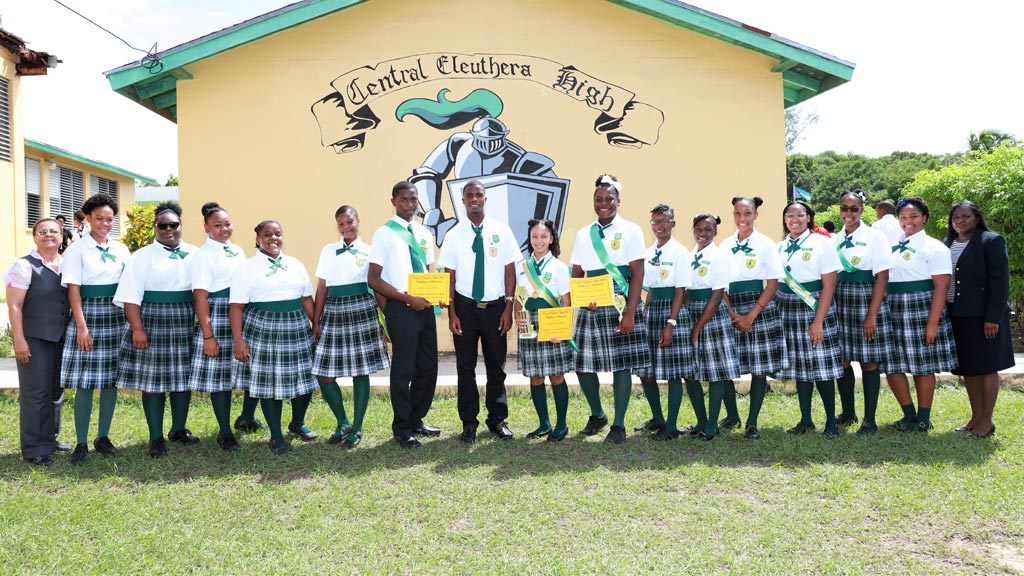 CENTRAL ELEUTHERA HIGH SCHOOL
Installed Prefects and Students Leaders 2017/2018
Head Boy: Tyler Sealy;  Head Girl: Jana McCardy
Deputy Head Boy: Travas Young;  Deputy Head Girl: Jerrimia Seymour
Prefects: Antoniqua Collins, Delinique Swann, Lakia Thompson, Vanntae Johnson, Derveline Joseph, Jamika Gibson, Cameil Johnson, Mikeya Fox, Gervantae Cartwright, Janus Shephard, Shercal Thompson, Kimberly Thompson.