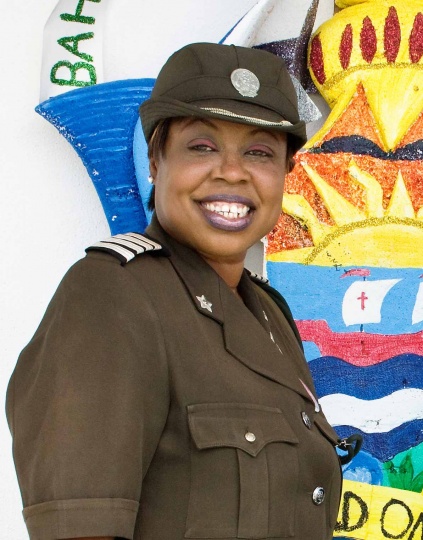 (Eleuthera, The Bahamas)  During an interview with The Eleutheran Newspaper recently, Chief Immigration Officer for Eleuthera, Mrs. Shema Darling, without revealing details, stated that the Immigration Department on island had upgraded their 'intelligence' capabilities, and were now even better equipped to carry out their duties.
Between January and September of 2017, approximately 400 immigrants were apprehended throughout Eleuthera, either residing in or attempting to enter the Bahamas illegally, with what was described by Immigration officials as very limited manpower.  The summer months of 2017 was said to have had a surge of illegal sloop landings on Eleuthera, with Immigration responding to seven of them, and reports of at least three others that may have possibly made landfall undetected.  Special thanks was conveyed to the Royal Bahamas Police Force for their continued support given to the Immigration team on island.
In addition to illegal immigrants apprehended during the year, several people were placed before the courts in Eleuthera.  One American national was charged and found guilty for possession of dangerous drugs.  The individual was fined with a conditional discharge.  Two Haitian nationals were charged with aiding in illegal landing and found guilty.  Work permits were revoked and the two individuals were deported.  Another Haitian national was charged with harbouring illegal migrants.  She was deported along with her husband, who was found guilty of aiding in illegal landing, and their three children.  Residents were reminded that any person found engaging in illegal activities would be charged and could face fines and/or imprisonment.
Mrs. Darling stated that the government is presently working on several amendments to legislation, making provisions for the arrest and prosecution of people found to be involved in the practice of renting to illegal migrants, as well as those purporting marriages of convenience.  Also tabled, she said, were increases in the penalties regarding the various infractions, which could range from 3 to 5 years imprisonment and fines up to $10,000.
A main current concern are people working outside of the scope of their permit, as it pertains to either their job description or their employer, expressed Mrs. Darling.  "There will be a major crackdown on that," she said.   Also, she shared that many documented immigrant parents came in during the summer months to regularize their children.  They were encouraged to continue to do so.  "This is a continuous effort, so it's not too late.  They can still come in."  She did however, emphasize that the parents must have legal status.
Regarding work permit renewals, Mrs. Darling advised that they should be submitted at least one month prior to the expiration date.  Also, when submitting a renewal application, all required documents would now have to be presented at one time, and that incomplete applications were no longer being accepted.  All documents in a foreign language must be submitted with translations and apostilled (verified by the Ministry of Foreign Affairs).  All translations must also have the $10 postal stamp affixed.  A reminder was also given to ensure that all permit renewal applications included an NIB (National Insurance Board) letter of good standing.
People who have submitted renewal applications, and wish to travel, were advised that travel letters are no longer issued from the local offices in Eleuthera.  Requests for travel letters could still be submitted through Eleuthera Immigration offices, however, Mrs. Darling advised those travelers to submit their request at least two weeks before their travel dates, to give ample time for their request to be facilitated through New Providence.  Processed travel letters, clarified Mrs. Darling, could be collected through the Eleuthera offices, or from the airport in New Providence.
Mrs. Darling advised, that all employers seeking to employ a foreign national, must have that person provide documents stamped from their homeland and must show proof that they are not presently in the country.  The department, she said, will not consider any first time applications of people who are in the Bahamas at the time of application.  She advised that employers with first time applications already submitted, have the potential employee leave the Bahamas and provide proof of departure, submit those documents and have them wait in their homeland until approval is granted.
She explained, "Those people must leave and return to their homeland to be verified at the Bahamian embassy or consulate office.  It is not necessary to wait until a verification letter has been received to leave for verification.  A request letter from the employer and a receipt showing proof that the application was submitted would suffice, and the interview can be conducted.  Failure to do this would further delay the approval process."
She warned that failure to adhere to the verification policy by both employer and employee could lead to them being arrested and charged for illegal hiring and working without a valid work permit.
Another important policy Mrs. Darling wanted the public to be aware of was the policy instituted by the Bahamas Government requiring all residents of the Bahamas to have a government issued passport of their homeland.  This policy requires all people born in the Bahamas to foreign parents to obtain a passport of their parents' homeland.  "This does not prevent one from obtaining Bahamian Citizenship, rather it makes the process easier when applying for citizenship as documents required would have already been gathered," she explained.
Further to this policy, she added, all people in the Bahamas are required to have some form of legal status, whether it be citizenship, naturalization, permanent residency, belonger's permit, work permit, permit to reside or as a visitor.  Any person not having any of the aforementioned status documents would face arrest, prosecution and deportation.  "Let me take this opportunity to remind people born in the Bahamas, that the period for applying for citizenship in the Bahamas is one year, from the eighteenth to the nineteenth birthday.  After that period one can still be naturalized," added Mrs. Darling.
"In keeping with the Ministry of Foreign Affairs and Immigration, and the Director of Immigration's mandate, we are not only continuing but we are increasing our efforts to apprehend all people residing in Eleuthera, and the Bahamas illegally," said Mrs. Darling, adding, "Here in Eleuthera we are continuing with random patrols of communities and known hotbeds of illegal activity.  We will continue our surveillance of the major transportation hubs, including the ferry docks and airports as well as conducting checks of all domestic and international aircraft and boats entering our district.
"We will remain vigilant in executing our three mandated duties of facilitating and regulating the movement of people throughout the Bahamas; timely processing of applications for permits, residency and citizenship; and last, but not least, protecting our borders for future generations."