(Updated: Monday, August 28th)  Sometime on Saturday, August 26th, 2017, two speedboats manned by both Bahamian and Haitian nationals, all employees of a Harbour Island winter resident of U.K. nationality and owner of both vessels, went out on a day long fishing expedition, accompanied by an unconfirmed number of visitors.  On their return to Harbour Island near dusk on Saturday, one of the speedboats were reported to have collided into Royal Island Cay.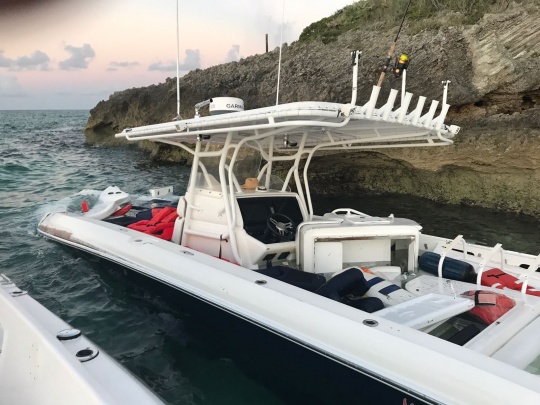 All four men on the speedboat were said to have been ejected from the vessel as a result of the impact.  They were assisted by occupants within the second speedboat, and taken to nearby Spanish Wells, where the four men were seen by local medical personnel at the Spanish
Wells Clinic.
Three of the men received serious injuries, and were airlifted into New Providence for further treatment.  Two of the seriously injured men, one Bahamian (William Higgs of Harbour Island), and one Haitian national (Harold Cadichon of Harbour Island), were listed as stable, according to local authorities. The third seriously injured man, a visitor of Spanish nationality (Montesdeoca Perez), received critical head injuries, and as of Monday, August 28th, 2017 was still under observation after surgery on Sunday, August 27th, 2017, in New Providence, said officials.
The fourth man involved in the incident, a Haitian national (Raymond Bien-Aime) was reported to have been released after being seen by medical personnel in Spanish Wells.
The scene was revisited on Sunday morning, August 28th, 2017, by local Police, and the vessel involved in the incident was towed to Spanish Wells, where it is currently being kept for safekeeping.  The incident remains an open investigation by the Royal Bahamas Police Force.