There are some things they just don't teach in Real Estate 101 – like how to get the world to sit up and take notice of you when there are 500 others doing what you do, trying to get to the top of a competitive real estate field.
Three years ago, two local agents, Ryan Knowles and Shamon Campbell, hit upon a solution that would brand them in a way that no other agent or broker in a crowded field would ever match.
Knowles and Campbell created The White Party, a local version of a trendy event that marries fashion, art, food, music and the luxury experience with an invitation-only chic-chic crowd dressed in pure white glitz and glam. It's not that the concept of a White Party was unknown. There have been private ones for years and rapper and fashion mogul Sean 'Puffy' Combs, better known as Puff Daddy or P Diddy, probably holds the record for the most lavish white parties of all, bashes at his $2.5 million manse in the Hamptons complete with flowing champagne, Bentleys and Rolexes. But Knowles and Campbell, both leading agents at HG Christie Real Estate, took the concept a step further and threw the parties at someone else's home.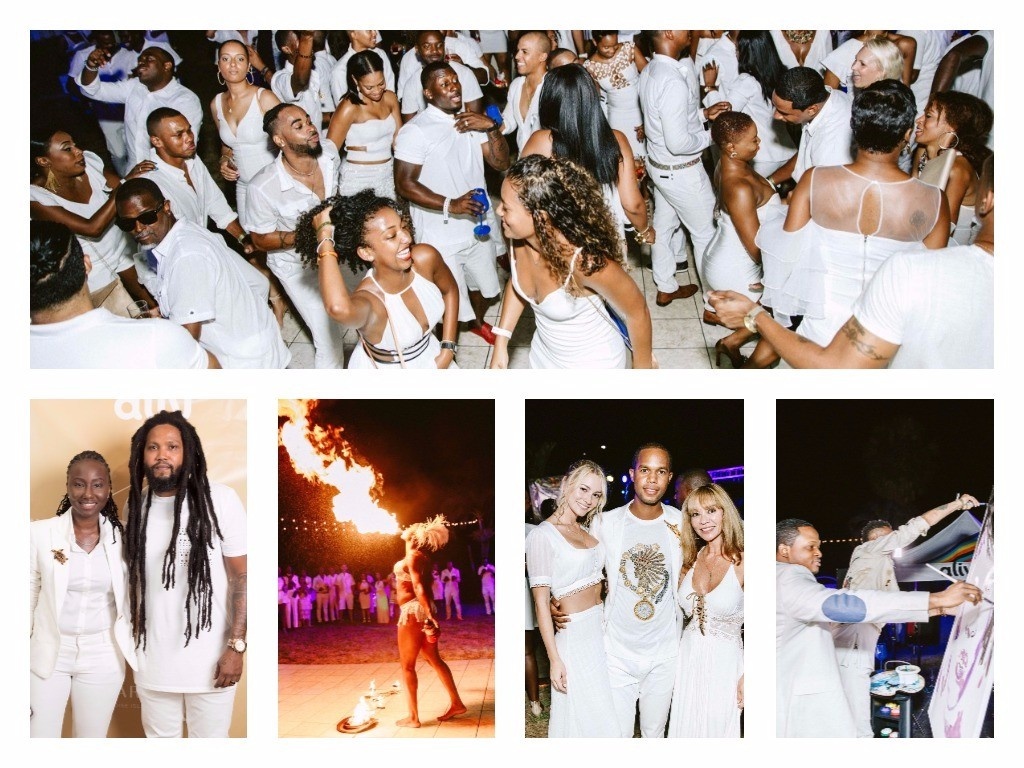 "We had high-end listings and thought, 'What better way to show them than to show them off at their grandest, under the stars with entertainment and a group of people who would dress as elegantly as their surroundings,' " said Knowles. The first year's event was an instant hit with photos burning up local social media. In 2016, they did it again and, again enjoyed such a reception that this year they decided to risk even more, to extend the one-day party to three days of sheer celebration and to charge to cover expenses and provide proceeds for a named charity.
"We went all out, three days of entertainment, an art party at One Ocean, Paradise Island, which was a fantastic setting by the poolside overlooking Nassau harbour, so beautiful. The second day we hosted a beach party at the very private and secluded Villa Beata and the third day was the most lavish bash, the full White Party at Gold Blossom Estate, Cable Beach, an historic, 1936-era, still stunning, 5-acre estate whose famed celebrity guests included King Edward VII and Clark Gable. The waterfront estate along Goodman's Bay on West Bay Street rents for $2,250 a day and this time, invited guests were able to get a sneak peak for a fraction of the price.
They paid willingly, say founders, knowing that partial proceeds would be donated to Hands for Hunger.
"This was our best White Party – or White Parties – ever," Knowles and Campbell agreed.
"We do not expect a direct sale from our White Party events, but the people who attend and experience these luxury properties at their finest are most likely those who have a client or colleague who may be interested. Guests include lawyers, accountants, financial analysts, business people, private bankers, architects and more," Knowles said.
"Creating an extravagant atmosphere has been our standard from the beginning and each year we wonder what we can do to match last year and each year, we outdo what we did before. Now we have set a standard our guests have grown to expect and I don't know what we will do to raise the bar even more next year," said Campbell, "but I know we will try. Again we will align with brands whose names are synonymous with affluence, lifestyle, wealth and success. Over the years, our partners have displayed fine timepieces, jewelry collections, cars, yachts and premium cigars among other items. This year, we included more live art with Trilogy who were a huge attention-getter."
Event partners included Aliv, Artscape, Bahamian Escapes Magazine, Bristol Wines & Spirits, Diane Phillips & Associates, JetLink Adventures, Tyreflex Star Motors (Mercedes Benz), NUA Insurance & Brokers, RBC Bahamas Limited and Warwick Paradise Island.