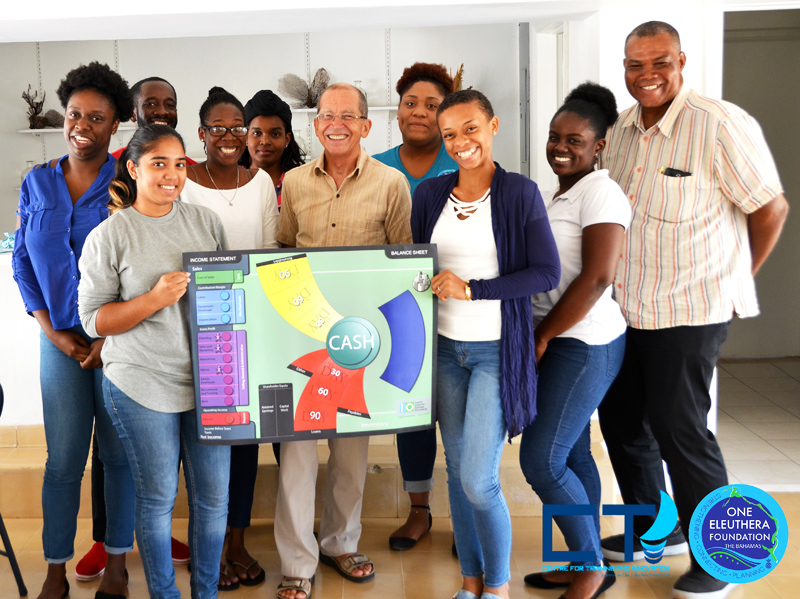 (Eleuthera, The Bahamas)  On Wednesday August 2nd – 3rd, CTI's Expedition Interns who are students from the University of the West Indies and a couple of local business owners, participated in a Business Simulation Workshop held in the Tea Room at Centre for Training and Innovation.  The workshop was facilitated by the simulation's developers, the founders of Andromeda Simulations Robin Helweg-Larsen and his wife Eliza.
Andromeda Simulations has been running workshops for over 25 years.  The workshop was a partnership between One Eleuthera Foundation (OEF), Centre for Training and Innovation (OEF), and Andromeda Simulations.
"For OEF and CTI, this workshop fits into our goals which is to the build capacity of organizations and potential and existing businesses by providing them with resources. In this case that resource was knowledge, delivered in the innovative style presented by Andromeda Simulations", said Gacintha Gordon, Registrar and Grants Manager for CTI.
"Finance is the language of business. You need to understand and speak the language if you want to be successful in business", stated Robin Helweg-Larsen, Facilitator of the workshop.
Participants were divided into small teams, and each team ran a simulated business at their own table on their own game board, which modelled the activities of the business, the employees, the cash flow and profits, and the financial statements.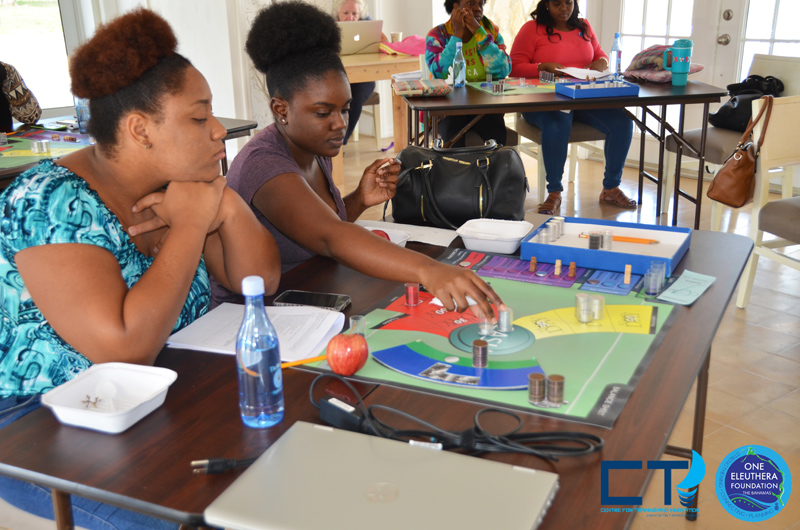 The teams competed head-to-head against each other to try to win customers and make the most profitable sales in a growing market. At the end of each round they completed their Income Statement and Balance Sheet, and then teams were compared to see who made the most money, and why. Coming out on top were participants Josiah Joseph, Charlotte Rajkumar and Lionel Fernander with their business 2 in 1 Innovations.
"At first winning wasn't the goal for me, I was just excited about the learning process. It was a fun and exciting way of learning and being exposed to real life business operations. It helped us engage our theory with practical thinking", said Charlotte Rajkumar, CTI's Expedition Intern.
"Our strategy for winning involved thinking about current decisions and how it would impact the business in the future. Also knowing our competitors and anticipating their next move and taking calculated risks. Therefore, we priced and bid accordingly in the market. I would definitely recommend this workshop to individuals and organizations", Charlotte concluded.
"I learned so much in this workshop and it was really fun. The workshop was great because it broke accounting down and made it very simple.  My team didn't win because we expanded too early and didn't bid high enough", stated Jenielle Rhone, CTI's Expedition Intern.
There are plans to offer the workshop later again this year. Stay posted through CTI's Facebook page or by emailing CTI@oneeleuthera.org.