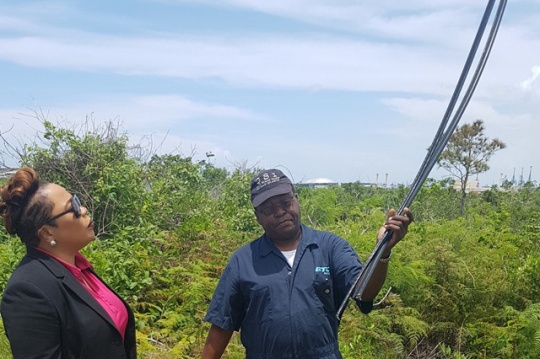 Freeport, Grand Bahama – At around 1am on June 29th, a BTC substation in Lewis Yard became the target of copper thieves who severed wires resulting in widespread service outages for area residents including the communities of Pinder's Point and Hunters, as well as portions of the Hawksbill area on Grand Bahama.
Restoration teams were immediately dispatched to the area and have been working to replace the damaged wire and restore services. However residential and commercial customers in the area can anticipate delays in the resumption of their services for land and cell.
"We want to ask the public to be alert in instances like this" noted Northern VP Eldri Ferguson Mackey. "The impact is large and the cost is significant, but we want to work with the police department. We are asking citizens to call in with any tips you may have to the Police, and we're offering a reward to anyone who can give us a lead into who is doing this and disrupting everyone's essential services."
This incident represents the second time in four days that the company has been targeted by copper thieves and this presents significant challenges to both BTC's commercial and residential customers, who depend on the services.
BTC apologizes for any inconvenience that this incident has caused and asks for the public's patience as they work to address this issue. "Our team here in GB has worked diligently to repair our services after Hurricane Mathew," said Ferguson. "Now that we are back to full service it's so disappointing that our customers are forced to deal with this inconvenience because of a few dishonest persons."