(Tarpum Bay, South Eleuthera, The Bahamas)  Preston H. Albury High School (PHAHS) celebrated the best and brightest of their student body during an Honor Roll and Awards Ceremony held on Friday morning, June 16th, 2017 at the Ebenezer Gospel Chapel in Tarpum Bay.  The service which was held under the theme: "Excellence Without Excuse", got underway at 9:30 am and students from grades 7 to grade 12 were recognized for their academic achievements during the 2016/2017 school year.
48 students maintained a grade point average of 3.0 or above to attain a place on the Honor Roll, and an additional 8 high achieving students attained a grade point average of 3.5 or above to be included on the Principal's List.  Principal's List students awarded for their excellence included, Sarah Carey, Brianna Hall, and Jasmine Hall, from grade 8; Jayden Miller from grade 9; Geordante Neely from grade 10; Tiara Jones from grade 11; as well as Hannah Ingraham and Fransisca Louis from grade 12.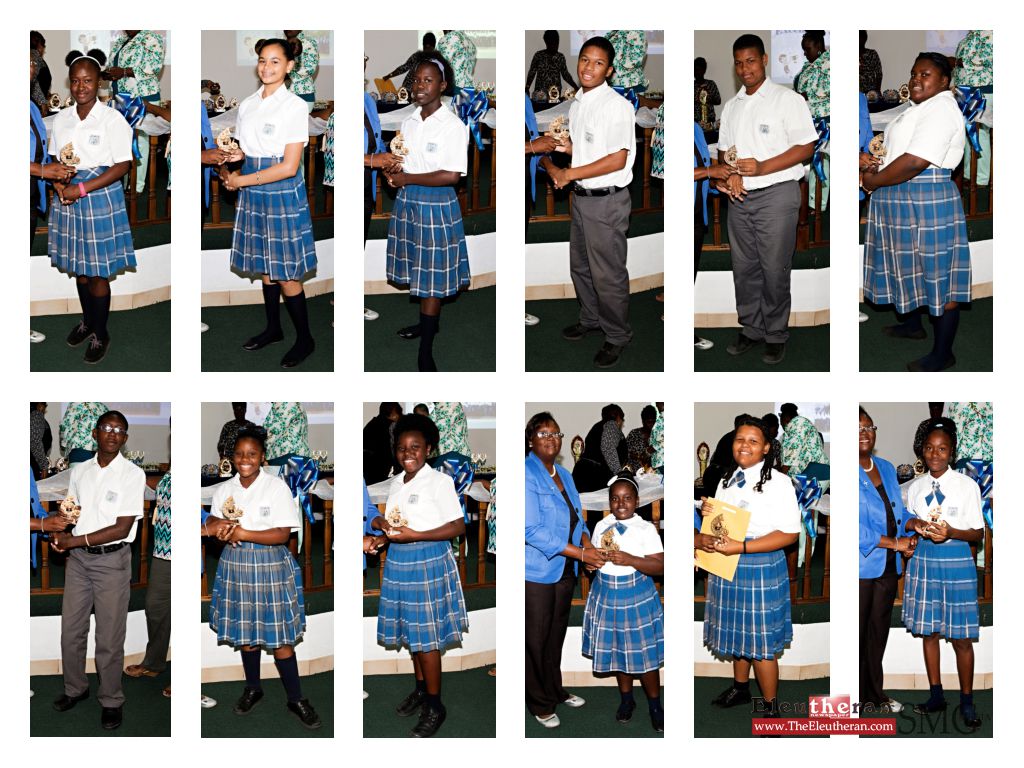 PHAHS Principal, Mrs. Fontella Knowles, during brief remarks near the beginning of the service commented on the invaluable support provided to the school by many of the parents and other south Eleuthera community members, encouraging them to continue and to do even more.  District Superintendent for The Eleutheras, Mrs. Helen Simmons-Johnson, was also in attendance and gave remarks.  She encouraged the students to celebrate their success and to continue to strive and to give their best.  Mrs. Simmons-Johnson also stressed the importance of parents, students, the community, and the Ministry of Education engaging in a collaborative effort to ensure the success of students throughout south Eleuthera.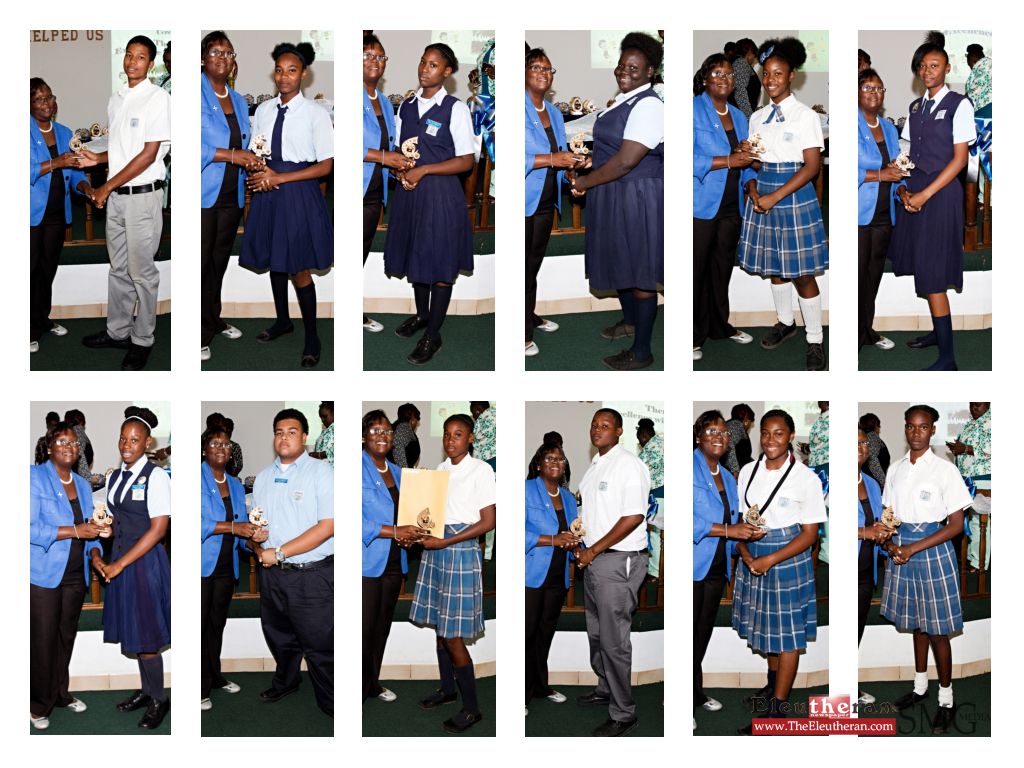 Special guest speaker for the event was Father Bradley Miller of the Anglican Diocese.  He congratulated the students for their outstanding achievements, remarking to them that hard work always pays off.  He told them not to underestimate themselves, emphasizing that they had unlimited options ahead of them.  He went on to inspire the young audience with a number of tips for excelling, including; being disciplined, staying focused on their goals, managing their time well, and keeping the right company or friends, among others.
During the ceremony, the audience, made up of family members, friends and well-wishers from throughout the south Eleuthera community, were entertained with musical selections by the Preston H. Albury High School band, an inspiring poem by honoree Antonya Miller, and a liturgical dance by the Assemblies of God dancers before coming to the highly anticipated presentation of awards.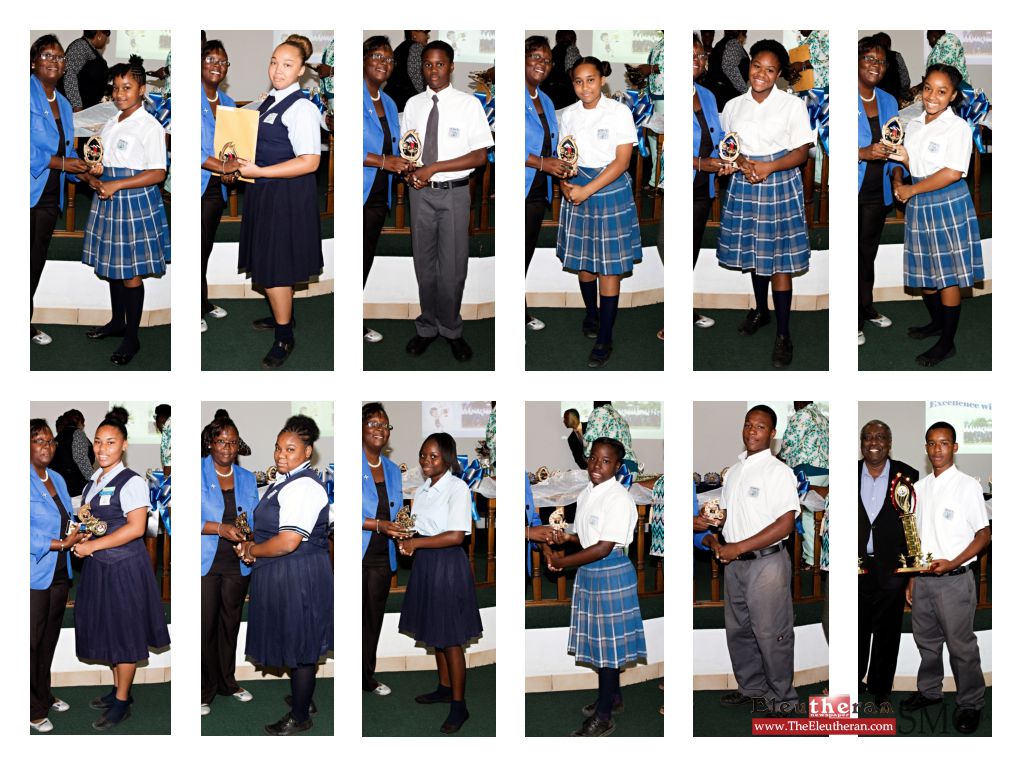 The 48 students recognized for achieving Honor Roll status included:
Grade 7:
Micquel Cartwright, Kristan Ingraham, Lael Knowles, Shicara Knowles, Sarai LaFrance, Jodi Oldham, and Anthonique Wallace.
Grade 8:
David Elliott
Grade 9:
Joshua Claridge, Valentino Stubbs, Nathalia Brown, Yasmine Brown, Kayleaser Burrows, G'Ann Morley, and Carlissa Seymour.
Grade 10:
Donovan McKinney, Precious Rolle, Oriana Carey, Traliyah Carey, Glenderia Francis, and Giltavia Goodman.
Grade 11:
Brawley Gardiner, Montez Horton, Cargill Munroe, Shaquellia Allen, Dennis Carey, Avery Hall, Javar Jones, Kyleisa Albury, Tatyana Burrows, Marinique Leary, Raylonda Miller, Joenique Munnings, Ameiah Pinder, Nastascia Tynes, and Broneka Williams.
Grade 12:
Term 1
Martin McCartney, Perez Sands, Martina Campbell, Merissa Jolly, Leslya Munroe, and Marinique Thompson.
Term 2
Bentelette Culmer
Terms 1 & 2
Waldisha Gibson, Shanika Gomez, Marrissica Louis, Anthonya Miller and Garnitra Pinder.