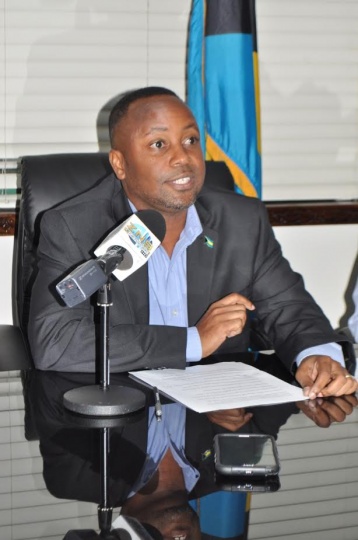 FREEPORT, Grand Bahama – Minister of State for Grand Bahama, Senator Kwasi Thompson gave a preliminary assessment of how hurricane relief funds were spent on the island of Grand Bahama, submitting that the manner in which those funds were instructed to be spent "were quite disturbing."
During a media briefing at the Office of The Prime Minister on Thursday evening (May 25, 2017), Minister Thompson told the media that his report was an effort to keep the public informed on matters that pertain to them and the public's purse.
Upon preliminary appraisal, he questioned what seemed instances of irregular practice in relief fund disbursement.
"It was alarming that funds to the tune of well over one million dollars was paid to one particular person for clean up without any scope of works on file, no bids submitted and no written verification from the Ministry of Works, that the work was performed for the money spent," said Minister Thompson.
"It is troubling that persons were provided contracts of employment for $18,000 per year and received salaries to be liaisons with Family Island Administrators and the persons never reported to the administrators.
"Also troubling what I found to be troubling and what may be in violation of the law, is the fact that contracts in the amount of up to $200,000 were issued to persons to repair public buildings without Cabinet approval, without the required public bid process and little documentary evidence that the proper verifications were done before these monies were paid out."
Minister Thompson said that an audit of these and other matters will be undertaken to ensure that the public received value for money spent. He added that his office has instructed that proper protocols be reinstated to prevent abuse.
"This is a preliminary assessment. Further audit needs to be done and once that is completed, whatever action is appropriate, that action will be taken."
The Minister of State for Grand Bahama in the Office of The Prime Minister noted that although Hurricane Matthew hit The Bahamas in October 2016, residents in Grand Bahama continued to face challenges caused by the devastating storm; however efforts willl be made to ensure that residents of Grand Bahama who have been severely impacted by the storm would receive the help necessary to assist them in the recovery efforts.
By Andrew Coakley
Bahamas Information Services