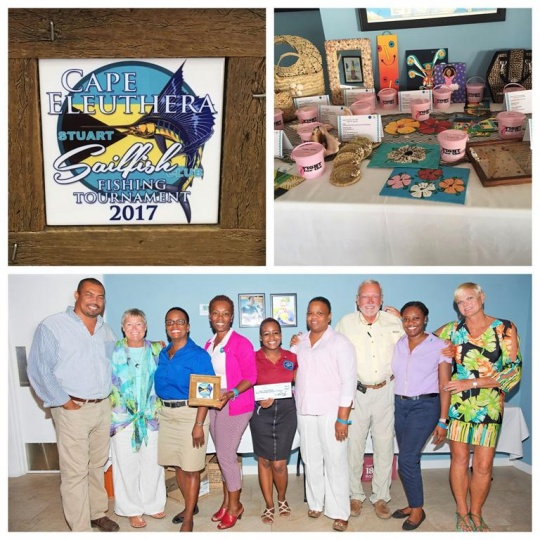 Eleuthera, Bahamas: The Stuart Sailfish Club hosted a 6 day fishing tournament at Cape Eleuthera Marina May 6th thru May 12th. The Club, located in Stuart Florida, is one of the oldest sports fishing clubs in the United States and this was the club's first Flotilla event at the Cape. "The flotilla included 10 boats and 60 members. The members were very impressed with Cape Eleuthera and voted to make this tournament an annual event.", said Tom Dyer, Chairman of Board, Stuart Sailfish Club Foundation.
During their annual event in Florida, the club always donate to local community organizations and this event was no different. One member of the Stuart Sailfish Club shared the club's reasoning for supporting one project in particular.
"Being a breast cancer survivor myself, I am very passionate about helping One Eleuthera Foundation's Breast Cancer Outreach Program. I parallel their wishes to educate Bahamian women on breast cancer." said Margaret Dyer, Chairperson of Stuart Saltwater Lady Angler Tournament, Stuart Sailfish Club.
"As a longtime charity fundraiser, I am extremely interested in the progression and needs of establishing a mammogram and ultrasound facility on Eleuthera", she continued.
The Club enlisted the help of Community Outreach Coordinator, Maisie Thompson and Community Outreach Assistant, Shapreka Clarke to help with their Chinese auction, a component of their flotilla event with proceeds going to the Breast Cancer Outreach Program. The duo collected items donated by local artisans that were put up for auction during the event. The idea was not only to raise funds, but also to give the sail club members the opportunity to take a piece of Eleuthera with them upon their return to Florida. Local artisan donating to this cause were: Charles Strachan, Erica Allen, Merionette Hall, Mavis Emily Munnings, Audrey Carey, Shorlette Francis, Susan Culmer and Holly Burrows (The Blue Seahorse).
During the closing ceremony of the flotilla, the Sail Club invited representatives of One Eleuthera Foundation's Breast Cancer Outreach Program along and presented the program with a donation.
Shaun Ingraham, CEO of One Eleuthera Foundation expressed gratitude to the club for their contribution. "We are most appreciative for the kindness and generosity shown by our new friends and allies from Stuart", he said.
"It's always very encouraging when persons recognize what we are doing in the community and offer to become partners with the work. Early detection can save lives and education can make a huge difference in the lives of our women and young girls. Every bit of assistance helps us get this information out there." said Maisie Thompson, Community Outreach Coordinator of the Breast Cancer Outreach Program.
To learn more about this and other One Eleuthera Foundation projects visit www.oneeleuthera.org.