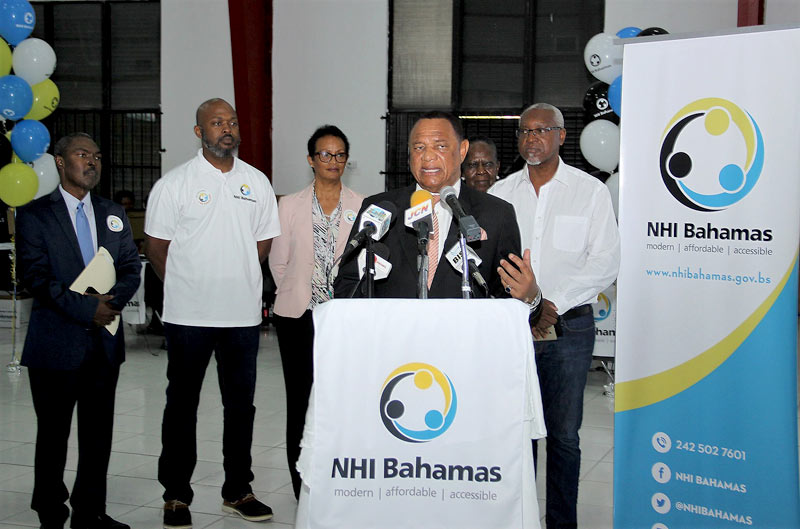 NASSAU, Bahamas — Prime Minister and Minister of Finance the Rt. Hon. Perry G. Christie said NHI Bahamas has been strengthened by a fund that will receive $24 to $30 million annually to cover "catastrophic illnesses."
Prime Minister Christie said the fund is a result of primary healthcare providers posing the questions, "What happens if we diagnose someone with a catastrophic illness? What do we do since this programme currently covers just primary care?"
The Prime Minister was speaking at the launch of Phase Two of NHI Bahamas: Enrolment at Enoch Backford Memorial Auditorium, Monday, April 24, 2017.
He said, "We decided to strengthen the programme even though it is a graduating programme where you graduate to the point where you cover such illnesses," and that under established criteria, doctors concerned with operating this programme will be in a position to determine who is eligible to access that fund.
The Prime Minister started the enrolment process for himself during launch.
Permanent Secretary, NHI Bahamas Secretariat, Peter Deveaux-Isaacs; NHI Bahamas Project Manager, Dr. Delon Brennen; Director of the National Insurance Board, Patricia Hermanns and other stakeholders were in attendance at the launch.
During the Enrolment Phase, Bahamians select their preferred doctor who they will receive Primary Care services from once that phase of coverage begins. Bahamians will be one step closer to receiving Primary Care services at no cost at point of care.
He said healthcare should be for everyone and this is an historic achievement for the country and more importantly the Bahamian people.
Prime Minister Christie said his Administration had to deal with the national healthcare issue during both its first and second terms as the Government, giving it the opportunity to speak to large numbers of the Bahamian people with a view to sensitizing them on the importance of protecting themselves, which was very significant because of the high number of persons with non-communicable diseases.
He said the medical community, consistently rates The Bahamas as having one of the highest rates or the highest rates of non-communicable diseases in the region as a result of lifestyle choices.
He noted that in addition to NHI Bahamas, there will have to be parallel programmes taken to educate children and adults on how to take better care of themselves to avoid the health challenges that continue to plague the nation.
The Prime Minister said doctors and nurses along with the Bahamian public were consulted to determine firsthand how the healthcare system could be made better.
"It is about pushing past obstacles and doing big things no matter how hard, all of which is intended to serve the Bahamian people."
He explained that he has visited Princess Margaret Hospital purposefully to see patients in the public wards to sensitize himself that the overall intention of NHI will be to provide a different kind of environment for patient care.
"My Government is committed to ensuring that every Bahamian on every island has the healthcare they need, and my Government will carry this change forward; we cannot afford to stop our progress now," Prime Minister Christie said.
By Llonella Gilbert
Bahamas Information Services