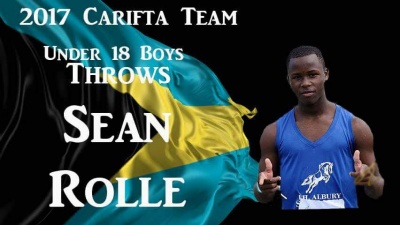 Of the 65 athletes ratified by the Bahamas Association of Athletics Associations (BAAA) to compete for Team Bahamas, at the 2017 Flow CARIFTA Games slated for April 15-17 in Willemstad, Curacao, one young Eleutheran, Sean Rolle from Preston H. Albury High School, made it through in grand style in the under 18 javelin. Sean is a member of the Golden Compass Track and Field Club in South Eleuthera.
Twenty Six (26) countries and territories in the region  are expected to field more than 600 athletes at the multi-purpose Ergilio Hato Stadium in the capital city of the Dutch Island for the traditional Easter weekend championships – a meet considered the breeding ground for many world-class athletes from the region.
In 2013 Denzel Pratt, another Golden Compass member, became the first javelin thrower from Eleuthera to make the Bahamas CARIFTA team with a throw of 58.23 meters. Denzel also won the bronze medal for the Bahamas at the 2013 CARIFTA games as well as the silver medal at the 2014 CARIFTA games.
The games, begin at 9:00 am on Saturday, April 15th and wrap up with their closing ceremony at 7:15 pm on Easter Monday, April 17th.
Golden Compass Head coach Miss Jamie Williams commented ahead of the 2017 games, saying, "After Pratt's accomplishment, our young athletes began to realize that they have what it takes to compete. Sean Rolle, three years later, decided that he would also make his mark in javelin with a throw of 58.68 meters at the High School Nationals, breaking his old teammate's record and winning the event. He didn't stop there. At the CARIFTA Trials held at the end of March 2017, Sean Rolle captured the hearts of the audience by breaking his personal best and setting a new record for the under 18 boys division with a throw of 61.42 meters."
Sean's event is scheduled to take place on Sunday, April 16th, 2017 during session 4 at 4:05 pm. Along with his proud Mom, Ishka Rolle, Eleutherans will be pulling for young Sean, as the solo athlete representing the island on the Bahamas team in Curaçao.
Participating Countries & Territories:  Anguilla, Antigua and Barbuda, Aruba, The Bahamas, Barbados, Bermuda, British Virgin Islands, Bonaire, Cayman Islands, Curacao, Dominica, French Guiana, Grenada, Guadeloupe, Guyana, Haiti, Jamaica, Martinique, Saint Kitts and Nevis, Saint Lucia, Sint Maarten, Saint Vincent and the Grenadines, Suriname, Trinidad and Tobago, Turks and Caicos Islands, and the United States Virgin Islands.