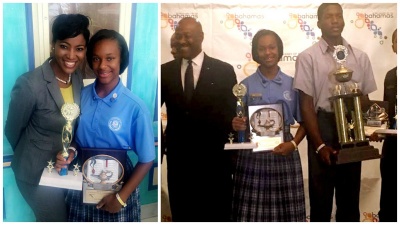 Tillia Leary, Eleuthera's winner in the Jr. Minister of Tourism Speech Competition held on March 24th, 2017, at the Cancer Society's Wellness Center in Palmetto Point, went on to take second place in the national Jr. Minister of Tourism Speech Competition in New Providence this month.
Fourteen young finalists from islands throughout the Bahamas went head to head in the event, which took place on Thursday, April 6th, beginning at 9:30 am at Breezes Resort.  They all presented on the topic; :  Bahamas Endangered: Promoting Sustainable Development.  Along with a trophy and plaque, Tillia , a student of Windermere High School, in Savannah Sound, was rewarded for her excellent presentation with $300 in cash, as well as $300 cash for her high school, as well as a laptop and a cell phone, with an Aliv gift bag.
.
The overall winner of the competition was  Michael Wallace, a student of St. Anne's High School in New Providence as outlined the Press Release below:
Michael Wallace is Junior Minister of Tourism 2017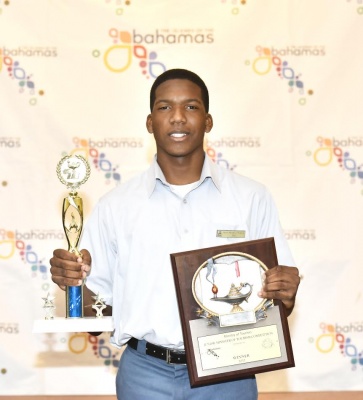 NASSAU, Bahamas: Michael Wallace has been declared the new Bahamas Junior Minister of Tourism after beating out 13 other students from throughout the Islands of The Bahamas in a highly competitive speech competition.
Wallace, a student of St. Anne's High School in New Providence, said the experience has been invaluable.
"This has been a great experience so far engaging in conversations with all the persons who have been here from the preliminaries, the semifinals and finally the finals. To win this competition is a great honor, there'' so much that I'm looking forward to what I intend to do as the new Junior minister of tourism," he said.
Patrice Wallace, Michael's mother, believes that he will exceed expectations as Junior Minister of Tourism 2017.
"I'm looking for Michael to obtain his goals. I know he's going to do great things because he's a determined young man. He's focused and willing to go the extra mile. The expectation is for him to do his best and knowing that he puts his all into everything, I know he will achieve it," she said.
The new Junior Minister of Tourism will not only receive the title, but also the Patrick S. Bain scholarship, an all-expense paid four-day trip to Caribbean Tourism Organization (CTO) Youth Congress, $500 cash prize and a trophy. St. Anne's will also receive $500 and a floating trophy to commemorate the accomplishment.
Second place went to Tillia Leary of Windermere High School in Eleuthera. Carlton Taylor of Exuma's St. Andrew's Anglican School was third.
As the United Nations has declared 2017 the International Year of Sustainable Tourism for Development, students passionately spoke on the topic of, "Bahamas Endangered: Promoting Sustainable Development."
Minister of Tourism Obie Wilchombe praised the students for their great contributions. He also reminded the attendees that events such as the Junior Minister are hosted for a reason.
"When you think about what people come to The Bahamas for, they come to interact, they want to understand what it is that makes us so special. We have festivals, Junior Minister of Tourism, Bahamian Ting Song Competition where we're looking for the number one song in the country but we're doing it because we want to continuously go back to who we are as a people and celebrate that," Wilchombe said.
Michael succeeds Gabriele Josephs of Mary Star & the Sea in Grand Bahama. Although he handed over his national title, Josephs will continue to serve as Caribbean Junior Minister 2017/2018.
Speaking highly of the outgoing Junior Minister, Wilchombe noted that Josephs will one day be a distinguished leader.
"There is a young man in this room, our former Jr Minister of Tourism who I tell you many years from now, you will see him because he has all the potential, the capacity and certainly the determination to be an outstanding leader," he said.
The speech competition was the last phase of the Junior Minister competition. Leading up to the competition, the students were required to go through a two-phase format that included a sourcing interview and speech preliminaries. A reception was also held at Conch n' Kalik to test the student's skills whilst giving them a chance to mix and mingle with their peers.
The Junior Minister of Tourism Program offers one candidacy, per island including New Providence. It is also open to Bahamian citizens of both government and private 11th-grade students. The 13 other finalists will serve as Junior Directors of Tourism for their respective islands for the remainder of the school year.
In addition to the Ministry of Tourism, the competition was sponsored by Bahamas Hotel & Tourism Association, Micronet and Aliv.
The Junior Minister of Tourism program was launched in 2002 to promote awareness of the country's number one industry among high school students.