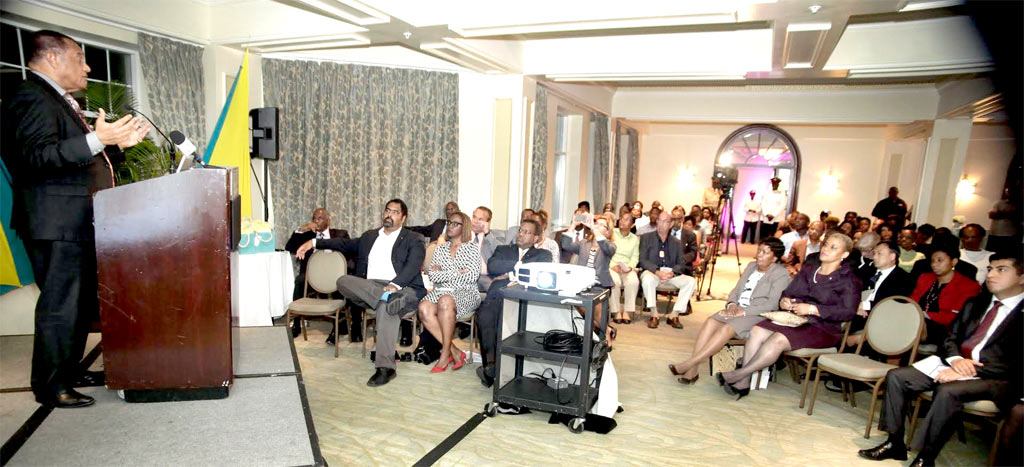 NASSAU, The Bahamas — Prime Minister and Minister of Finance the Rt. Hon. Perry Christie speaks, on April 6, 2017, during the Official Launch of The Bahamas Trade Information Service Portal, held at the British Colonial Hilton.  The initiative is the first of its kind in The Bahamas and one of only a few Trade Information Portals in the Caribbean Region.  The establishment of the Trade Portal, in collaboration with The Bahamas Chamber of Commerce and Employers Confederation, is an important part of the Government's ongoing efforts to diversify the Bahamian economy by expanding trade in both goods and services with regional, hemispheric and international trading partners.   (BIS Photo/Derek Smith)

According to the pre-launch press release (By Betty Vedrine, Bahamas Information Services):
The objective of the portal is to diversify the economy through trade initiatives and to address the need for reliable, current and readily available trade information.
The portal, which is a public-private partnership with the Bahamas Chamber of Commerce and Employers Confederation, will serve as an online platform for buyers, sellers and businesses through which to communicate as well as conduct the operations of their business.
As one of its main objectives, the portal would provide businesses with reliable trade data, collected, collated and conveniently stored on a centralized and user-friendly platform.  Consequently, Bahamian entrepreneurs would have online access to market access requirements for a given commodity/category of commodity in foreign markets of interest, and vice versa.
Additionally, the Portal would serve as an important business facilitation measure as it will reduce the cost and time required to access trade information thereby increasing the ease of doing business for Bahamas-based businesses and their trading partners.
Further, the portal would develop The Bahamas as an important value-added trade centre in the Caribbean based on the utilization of its numerous assets. These include trade logistics infrastructure (container port, transshipment terminals and shipyard repair facilities), its strategic location at the crossroads of the Americas, its free trade zone potential, and recognition as a world-class financial centre.
Funds for the portal were derived from grant funding provided under the 10th tranche of the European Development Fund (10th EDF), a technical assistance component made available by the European Union through the CARIFORUM-European Union Economic Partnership Agreement (EPA). The EPA, the first reciprocal trade agreement signed by The Bahamas in 2008, seeks to strengthen economic and trade relations between the signatories through the enhancement of trade and investment flows.