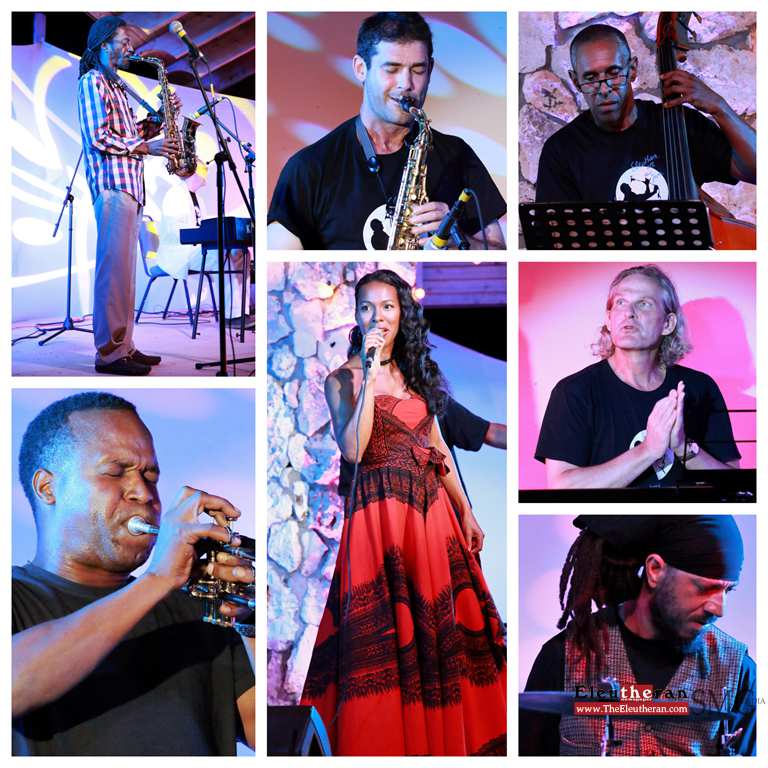 (Governor's Harbour, Eleuthera, The Bahamas)  The 5th annual Eleuthera… All That Jazz 2017 overtook Governor's Harbour on the weekend of Wednesday, March 29th to Sunday, April 2nd, with a series of events that brought the soothing and swinging music of this year's performers to beach fronts, fish fry, ocean fronts, historic churches and the signature Saturday evening concert under the pavilion of the Leon Levy Native Plant Preserve on the Banks Road.
Capacity audiences were treated to fantastic performances, tapped off by renown headliner, Myra Maud with captivating mood, melody and spirit.  The incredibly talented line-up included a number of Bahamian artists, including: vocalists, Anuschka Wright, Osana Neely and Eleutheran Brendalee Petty, as well as musicians; Kevin Dean, Tino Richardson, Lamont Gibson, and Adrian d'Aguilar and The Jazz Cats.  International artists, included; Italian saxophonist, Tommaso Starace; composer, arranger, and pianist, Massimo Colombo, also of Italy; The Steve Koven trio, with artists, Steve Koven, Rob Clutton, and Anthony Michelli; along with Johnny Schutten, who also serves as the musical director for the Eleuthera… All That Jazz festival.
Myra and other performers also took time out on Saturday morning, during the education segment of the Jazz festival weekend, to meet with a myriad of young Eleutherans, from mainly the north and center of the island, introducing them to their favorite instruments as well as vocals and giving time for questions and interaction, bringing music to their ears and smiles to their faces.
Direct proceeds from this event supports the Haynes Library, while the wider impact supports others throughout the community. Some of the sponsors included: The Levy Preserve, Bob Colman, Ferri Lighting Design & Associates, Aliv, Damianos Sotheby's International Realty, HG Christie, Holowesko Pyfrom Fletcher, and BTC.