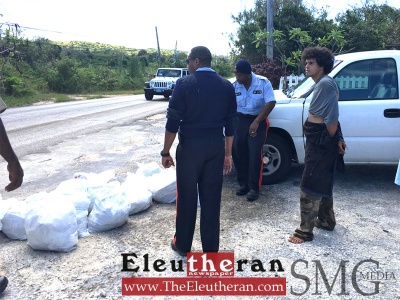 (Eleuthera, Bahamas) –  21- year old Alexander Michael Medon of Governors Harbour,  who has been at-large and wanted by police in Eleuthera and who is suspected of numerous break-ins during the past three months, was found by police on Friday morning March 10th, 2017,  hiding at the rear of the Sunset Inn restaurant in nearby bushes sometime after 9 a.m.
Police Superintendent Christopher Wright commented, "Since early December 2016, we experienced an increase in house breaking incidents within the Governors Harbour area. Our intelligence led us to believe that a possible suspect known to the police for various break-ins by the name of Alexander Medon may have been responsible. We followed up that line of inquiry and during the holidays we had a break-in at the Governors Harbour bakery where he was captured on surveillance footage."

He added, "The break-ins continued sporadically and during the early hours this morning Highway Service Station, here in Governors Harbour, was vandalized again, where a number of jewelry, groceries and household items were stolen.  We did our inquiries within the area. I got my entire team together and we canvassed the area and we were able to capture  our most wanted house break-in suspect Alexander Medon in bushes near Sunset Inn."
Police were able to recover a number of items that were suspected as stolen.
According to Superintendent Wright, the suspect, will remain in police custody and will be charged for a number of break-ins during the past several months and remanded to the Bahamas Department of Corrections.