(Nassau, Bahamas) – Eleuthera set the standard and Andros was not far behind in the 2016, National Jr. Junkanoo Championship, which saw the Family Islands' prowess in the capital on Saturday evening, December 17th.
South Eleuthera's Preston H. Albury High School finished first ahead of  South Andros and Mangrove Cay High in second and Anatol Rodgers High of New Providence in third.
Tarpum Bay Primary, also of South Eleuthera, outdid their counterparts in the archipelago by being the only school in their division who put together a group to compete and to do so in stellar Junkanoo style.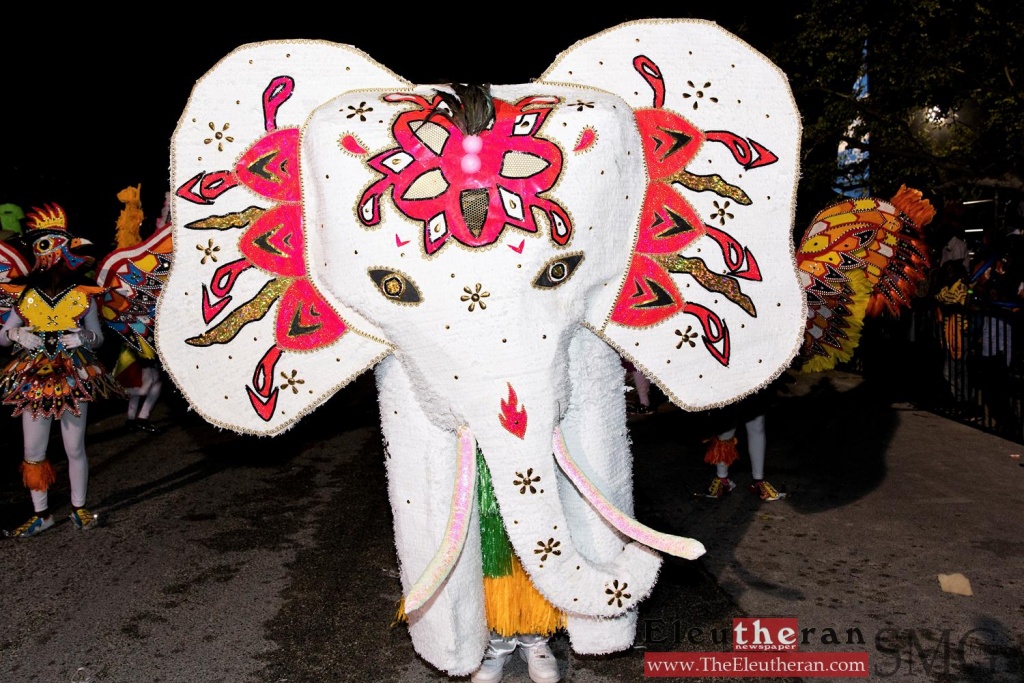 Seen in the photos in the Gallery included, are many portraits of young south Eleutheran's, part of the Jr. Junkanoo Championship winners from Preston H. Albury High School, adorned in traditional Junkanoo attire, beating goat skin drums, blasting the horns and brass, dancing in chorus, and shaking the cowbells along the thoroughfare of Arawak Cay, where the national competition was hosted on New Providence.
Among the unique artistic creativity demonstrated by the group was this detailed white elephant , part of the elaborately themed and pasted junkanoo costumes presented under the theme of the biblical flood.
Spectators were treated to beautiful standalone pieces including a showcase of  Noah's ark incorporating the use of pasting, straw work as well as coconut tree materials.  The myriad of themed costumes also highlighted a wide selection of animals, flood rain and clouds, olive branches and doves, as well as rainbows and more.
(Click "Load More" below the gallery to view more images. ) 
Winners in the four divisions included:
Sr. High Schools –
1st Place, Preston H. Albury High School
2nd Place, South Andros and Mangrove Cay High
3rd Place, Anatol Rodgers High.
Jr. High Schools –
1st Place, Discovery Learning Center
2nd Place, The Community School
3rd Place, Atlantic College
Primary Schools –
1st Place, Tarpum Bay Primary School
Preschools –
1st Place, One on One
2nd Place, Big Apple
3rd Place, Vision Academy