(Eleuthera, Bahamas) – Young athletes from across The Eleutheras, excluding Harbour Island, came together on Friday, November 18th, 2016 for the 12th annual Alvin Adderley road race event.  The road race, is held each year in remembrance of former Eleuthera educator, Mr. Alvin Adderley, who died as a result of cancer a year before the event was started. It was staged at the Bayfront Park in Governor's Harbour, starting shortly after 10am.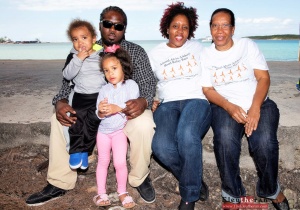 Just prior to race time, the family of Mr. Adderley were honoured in a short ceremony, with a recollection of his contribution to education in Eleuthera and a plaque presented to his wife, Mrs. Lula Adderley, who attended with her children, Carla and Terrell, and grandchildren in support of the event.
Three (3) Eleuthera Senior High Schools, and eleven (11) Primary Schools participated in the hotly contested relay event.
In the Primary School Division, ten member teams competed in half mile legs passing on the baton to teammates at the designated spot within Bay Front Park.
The High Schools competed in five divisions; under 20 boys, under 20 girls, under 16 boys, under 16 girls, and under 14 boys – also with ten member relay teams, but a longer leg distance of 1 mile, which took each competitor from Bay Front Park, south to the forked junction at Governor's Harbour's southern approach, then back, running north along the Queen's Highway into Bay Front Park.
Central Eleuthera High School by default in most cases, finished on top in 4 of the 5 divisions. Preston Albury High School also had a strong showing with a gold medal finish in the girls under 16 division and a silver medal finish in the boys under 20 division. Samuel Guy Pinder All Age took the silver in the under 16 girls division.
Notably, two high schools, North Eleuthera High School and Harbour Island All Age were not in attendance. Also, Preston Albury High School brought teams to compete in only two of the five age divisions and Samuel Guy Pinder All Age competed in just one of the five age divisions, resulting in the boys under 14, boys under 16, and the girls under 20 divisions having just one team participating (so teams ran from Central Eleuthera High School uncontested).
In the Primary School Division
1st North Eleuthera Primary
2nd Position – Emma E. Cooper Primary
3rd Position – Green Castle Primary
In the High School Division
U20 Boys: 1st – Central Eleuthera High; 2nd – Preston Albury High
U20 Girls (1 Team): Central Eleuthera High
U16 Boys (1 Team): Central Eleuthera High
U16 Girls: 1st – Preston Albury High ; 2nd Position – Samuel Guy Pinder; 3rd Position – Central Eleuthera High
U14 Boys (1 Team); Central Eleuthera High