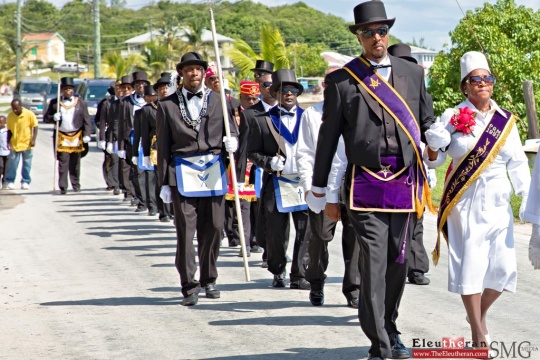 (Eleuthera, Bahamas) – Lodge Chapters of Black Free Masons throughout Eleuthera celebrated the beginning of their organization with a week of special activities, which began with a grand march and church service on Sunday, September 9th, 2018 in the township of James' Cistern.
The parade began with members in full formal dress marching from the Cork Tree along the main thoroughfare in James' Cistern to the Wesley Methodist Church at 3pm that afternoon, where Masons, Order of Eastern Stars members, sojourning brothers, and all other concordant bodies gathered to celebrate the life and legacy of the founder and visionary of Black Freemasonry, in the year 1775, Prince Hall (1735-1807).
The week of celebration was held under the auspices of District Deputy Grand Master Brother Javarro Kemp, representing The Most Worshipful Prince Hall Grand Lodge Commonwealth of the Bahamas Free & Accepted Masons of District Number Two, Eleuthera.
Past Master Michael Culmer who was the master of ceremonies for the commemorative service, commented following the week of activities, that the celebrations were successful in strengthening the links between the lodges and families involved throughout Eleuthera, adding that the bar this year had been set high and they didn't know how they would top it next year – with every concordant body having been represented at this year's commemorative service.
The overall success he explained was also highlighted in the measure of impact the organizations were having in local communities and the encouraging feedback received. Another positive outcome said Mr. Culmer was a better understanding of the lodges by the public, pointing out that the lodges in Eleuthera included people from all walks of life, and did not prescribe to a specific type of worship, but rather encouraged members to be devoted and committed to what they believed, and not to think just of themselves, but about others.
Activities during the week, following the church service included a Family Fun Day, held on Saturday, September 15th on the Longley Newberry Park in Savannah Sound, where free food, drinks, games and entertainment were available for families. Other fellowship events were also held during the week at St. Glenelg's Lodge Hall in Tarpum Bay and St. Patrick's Lodge in Hatchet Bay.