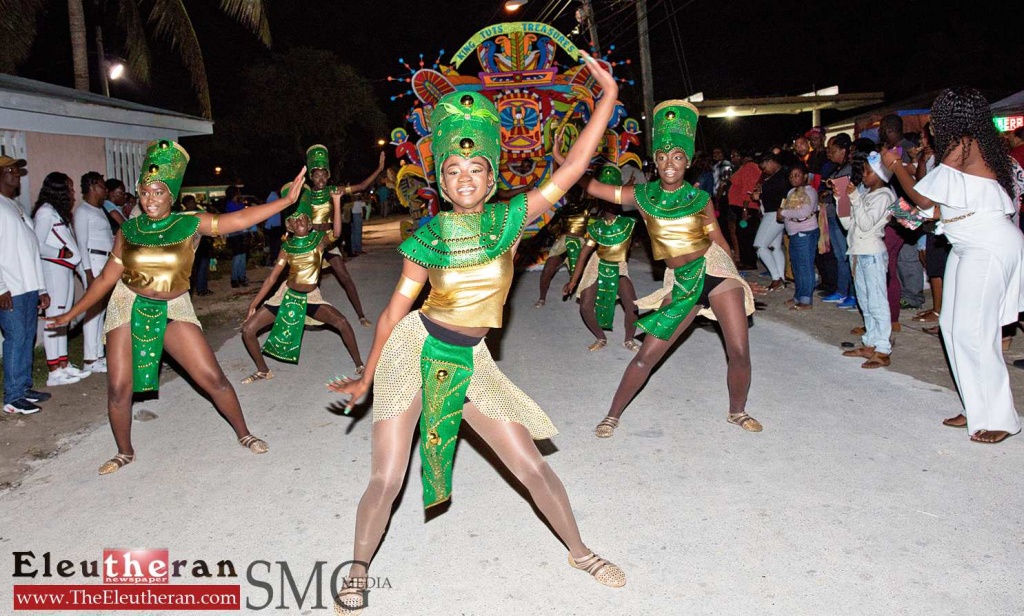 (Gregory Town, Eleuthera, The Bahamas)  The Eleuthera Christmas Day Junkanoo Parade 2017, which kicked off the month long season of Junkanoo in The Eleutheras, was held this year in Gregory Town, where three groups – representing townships from north, central and south Eleuthera came together to compete for the Christmas Parade title.  See photo gallery of the Christmas Junkanoo Parade Competition below:
Tarpum Bay United, The Hatchet Bay Village Boys, and The North Eleuthera Cowboys did not disappoint the crowds assembled along the main thoroughfare in Gregory Town on Christmas evening, entertaining with a colourful spectacle of creative lead banners, costumes and off the shoulder pieces, choreographed dance troupe routines, combined with heart pounding and foot tapping Junkanoo music.
The overall performance results saw Hatchet Bay reigning on the night, taking the 2017 title with 508 points.  The North Eleuthera Cowboys came in a close second with 452 points overall, and Tarpum Bay United followed in third garnering 309 overall points.  Best lead banner was awarded to North Eleuthera.  Best music, best off the shoulder costume, and best lead costume all went to the winning Hatchet Bay group, as well as the best choreographed dancers title.
The beautiful cultural celebration continued on Boxing Day evening in Harbour Island with an energetic and colourful, but friendly face off between the Zulu and the Barracks Hill Warriors, who entertained the visitors that swelled the island population during the holiday weekend.  Harbour Island Boxing Day Junkanoo photos coming soon.
Junkanoo festivities continued in The Eleutheras on New Year's Day with rush-outs in Deep Creek, and another performance in Harbour Island.  The 3rd installment of the highly successful Eleuthera Junkanoo Festival is also set to take place in Governor's Harbour on Friday, January 5th to Sunday, January 7th, with the main parade, featuring five Junkanoo groups from throughout The Eleutheras, including Harbour Island, scheduled for Saturday evening, January 6th, beginning at 7pm.  See event information here.
Junkanoo season on island wraps up on Saturday, January 13th, 2018, at the Eleuthera Junior Junkanoo Parade, being held in Governor's Harbour (the date for the Junior Junkanoo Parade has been moved to Saturday, February 17th, 2018).