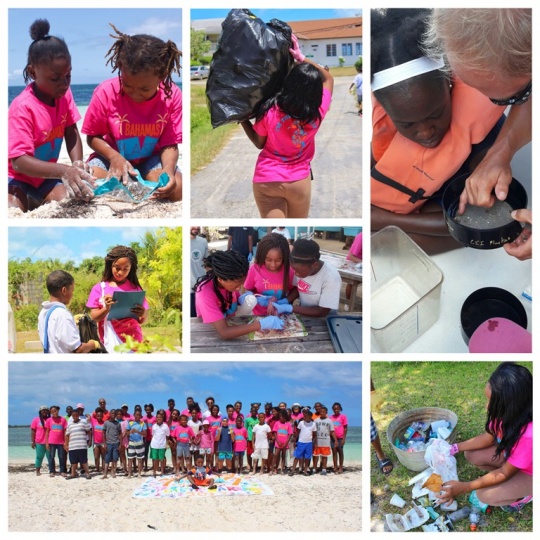 (Tarpum Bay, Eleuthera) – For the week of June 24th, children of Eleuthera were equipped with the power to save our beautiful environment from the issue of plastic pollution. This year marks the fourth summer the Bahamas Plastic Movement (BPM) has held the Plastic Pollution Education and Ocean Conservation Camp at the Eleuthera Arts & Cultural Center in Tarpum Bay, Eleuthera. Thirty children were specifically selected to attend the camp that focused on innovating solutions to plastic pollution.
Plastic is a synthetic material made of crude oil and toxins like bisphenol-A (BPA). When exposed to environmental conditions, like sunlight, it releases toxins into living organisms and breaks down into barely visible pieces of micro plastics. Since plastic can never fully degrade, fish mistake it for their food and ingest it. As plastic works its way up the food chain, humans consume the plastic polluted fish, introducing plastic into our bodies. Wildlife can get entangled in this so called "miracle product", hindering them from taking precautionary measures of survival.
Through the routes of art, scientific research, political advocacy, lifestyle change, and business engagement, students applied what they learned about plastic pollution to spread their creative fixes to others. Placed in the tracks of their greatest strengths and highest interests, the campers spent two days diving into the five categories of plastic pollution solutions. A vibrant mural consisting of plastic found collected from the beach clean-up during the camp displays a polluted wave and marine life affected by the trash that winds up in their habitat. It is planned to be hung in the community to bring awareness about this issue to the locals.
During the scientific research track, six groups of campers collected 2,000 pieces of trash around the local library, park, dock, alleys, and streets like Lord Street in under forty minutes. After extensive calculations, they found that 77.2% of the debris collected was made of plastic. The intention of this data is to have statistics that apply to the place we live and support that the issue of plastic pollution threatens this small island nation.
While calculations were conducted, another group of young activists took the initiative to shoot a Call to Action video that is hoped to be viewed by MP's and the Prime Minister himself. Speaking on human health and animal endangerment, the activists hope that their video will gain a lot of momentum behind the push for banning plastic bags in The Bahamas.
The lifestyle change group focused on changing our everyday necessities from products surrounded by plastic to DIY alternatives. Rather than relying on products that are packaged in plastic and can have up to 600,000 microbeads in them, campers learned how to make your own toothpaste and body scrub. Also, using old T-Shirts to create reusable bags, you can take them to the store with you to replace the short life of a plastic bag.
Another group of Plastic Warriors grabbed some "Plastic Free July" posters and went to 5 local businesses and successfully got them to agree to join the campaign. For the month of July, partnering business have pledged to serve straws only upon request rather than giving them out with every beverage they sell.
With the students' newfound understanding and answers to plastic pollution, the week concluded with an Expo. The mural that is hoped to be hung somewhere in the area of South Eleuthera was on display for parents. Tables set up with information about how much plastic was found locally, how the Call to Action video is hoped to create a nationwide movement, how to make your own body care products and more information about the Plastic Free July campaign portrayed the ambition, dedication and care these Plastic Warriors have. Information skits, songs, and raps were performed furthering teaching those in attendance about solutions to plastic pollution.
Twenty-five percent of the world's population is comprised of youth, but they are one hundred percent of the future. These Plastic Warriors have what it takes to be the change this country needs when it comes to our plastic habits.