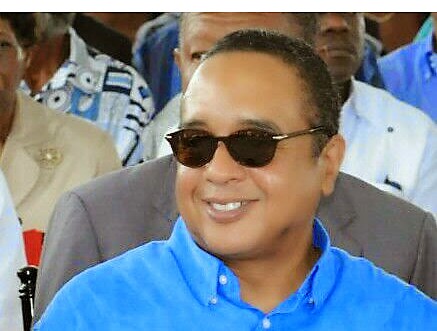 The member of parliament for Central and South Eleuthera in a release to his constituents has confirmed, what had been rumoured, that he will not be running in the upcoming 2017 General Election, stating near the end of the following Press Release, "After prayerful consideration of the Party Leader's invitation for me to sit out this election, we have decided to accede. The P.L. P. Branch is free to choose a new standard bearer."
(Press Release, MP Gomez) – Happy New Year! My family and I extend Seasons Greetings to Bahamians everywhere and especially those who live in Central and South Eleuthera.  We have enjoyed the privilege and responsibility of the confidence of Central and South Eleuthera over the last four and a half years. We are grateful to report the accomplishments in the Constituency which are partially attributed to our advocacy and tireless efforts on your behalf.
South Eleuthera remains amongst the poorest districts in our Commonwealth and in dire need of economic attention to ports and other infrastructure aimed at reducing the cost of living and of conducting business. . We have championed her cause as best as we could. In spite of my best efforts the private sector has not responded as timeously as expected with Scotia Bank abandoning the District altogether in 2015, and being replaced by the Bank of The Bahamas. It is hoped that in the immediate future the principals of Cotton Bay, Sea Shells and Winding Bay properties will commence or recommence their respective hotel developments.
Central Eleuthera has fared better with hotel and second home construction at levels above those I met in May, 2012. In contrast the private sector in Central Eleuthera has answered our call for investment and job creation. The Cove Hotel and French Leave on the Bay have inspired a Renaissance in Governors Harbour with new developments under construction and major renovations planned for Cigatoo Hotel under its new ownership and at Pot Latch also under new ownership. Not to be left out, the Coco Di Mamma group has indicated to me it's continued commitment to the Eleuthera economy.  Our investment in the rebirth of the All Eleuthera Regatta and the South Eleuthera Regatta has seen both become major touristic attractions to the Constituency adding to economic and job opportunities. The various Homecoming Committees throughout Eleuthera are to be commended for their successful efforts at promoting Eleuthera as a tourist destination. We continue to see strong increases in tourism arrivals. Thank you all.
My advocacy for a hospital in Eleuthera for the provision of relevant medical services is a matter of public record. The Government has recently started the land clearing in preparation for the construction of the new mini hospital in Palmetto Point. We look forward to its completion in the new Parliamentary term. We also anticipate the utilization by the RBPF and the community of the Workers House acquired from the Bahamas Hotel Catering and Allied Workers Union two years ago.
I am happy to report that the youth of our constituency have responded positively to the provision of resources in the public school system. Academic performances have been encouraging as have their performances in sports, music and junkanoo I have attempted to assure them of our confidence in their abilities by making annual donations of school supplies to the children attending schools in the Constituency. Also, I have co-operated with stakeholders across party political lines to revive the Eleuthera Softball Association which now thrives. Like other sporting bodies monies have been made available by us to promote the talent of our youth.
We have also promoted the work of B.A. M. S. I. and B. A.I. C. In the development of agriculture, fisheries and light manufacturing, funding public meetings and marketing efforts. There is much to be optimistic about, if only our people will access the opportunity being afforded them. More by way of  policy and leadership needs to be offered to develop the enormous mari-culture potential of Eleuthera. It is an untapped economic sector requiring exploitation.
We continue to be concerned about the supply of public utilities to consumers. There are far to many disruptions in the supply of electricity and water. Likewise, we are concerned that only one doctor is stationed on an island of 110 miles long with responsibility for medical services to Harbour island and Spanish Wells. We continue to be anxious about improving our road surfaces and preventing Road fatalities. These matters require urgent fixing.
We shall not be offering for re-election in the 2017 general elections. After prayerful consideration of the Party Leader's invitation for me to sit out this election, we have decided to accede. The P.L. P. Branch is free to choose a new standard bearer. I remain committed to the principles of honesty in public life and transparency in public and private life, values that inspired the formation of the great P. L. P. I am available to the Party and to the people of this Commonwealth whenever the opportunity for renewed public service re-presents itself.
We thank our supporters in Central and South Eleuthera for their friendship, loyalty, and commitment. Without you, we would not have been able to achieve that which we have succeeded in accomplishing. I also thank our detractors, whose criticisms have assisted us in focusing on important issues with clarity and resolution. Thank you all for the honour of being your voice in Parliament.
God bless the island of Eleuthera and the Commonwealth of The Bahamas!