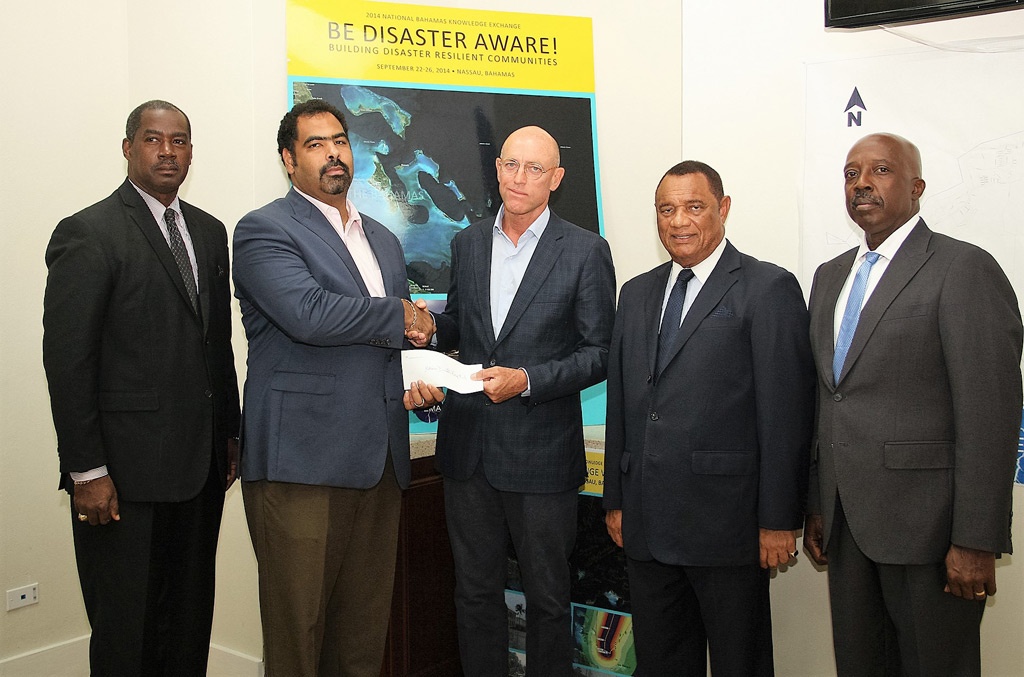 NASSAU, The Bahamas (NEMA)– In a ceremony on Tuesday, November 1, 2016 at the National Emergency Management Agency (NEMA) on Gladstone Road, Mark Holowesko, Chief Executive Officer, Chief Investment Officer and Director of Holowesko Partners Ltd. presented a cheque in the amount of $50,000 to NEMA and pledged another $50,000, once the need is identified, towards local relief and restoration to repair the damage of recent Hurricane Matthew.
The donation by Holowesko Partners Ltd. to the disaster relief fund brings the fund total — the amount given to NEMA towards the Hurricane Matthew relief effort – to an estimated $1.4 million.
On hand for the occasion were: The Rt. Hon Perry Christie, Prime Minister and Minister of Finance; the Hon. Shane Gibson, Minister responsible for Recovery and Restoration; Captain Stephen Russell, Director, NEMA; and Gowon Bowe, member of the National Disaster Relief Committee responsible for the accounting and fund raising.
Mr. Holowesko revealed that the company already donated $50,000 to its employees impacted by the Category 3 storm, which struck New Providence on October 5.
Mr. Bowe applauded the outpouring of financial donations from the private sector, which is also supporting their employees thus relieving the Government of those efforts. "There is a lot to be done and we accept this with the greatest appreciation."
Indicating that there is "a great challenge ahead of us," Minister Gibson thanked Mr. Holowesko for the generous donation.
He also confirmed that to date, the disaster relief fund stands at an estimated $1.4 million received from private donations.
Mr. Gibson said that there is an aggressive team in all the affected areas ensuring that the needs of residents are met: in some cases up to 1,000 meals are being prepared daily. He said that Cabinet is also about to approve meal vouchers as another systematic way of rendering assistance.
Also supporting private sector assistance, Prime Minister Christie said there would be consultations as to how the additional $50,000 pledged by Mr. Holowesko would be used.
He noted that there are ongoing efforts in Freeport to restore that community to normalcy. However, there are challenges ahead with a number of hotels closed.
"That is what we are trying to aggressively deal with," the Prime Minister said. He added that there are talks with Hutchison Whampoa and other businesses in Grand Bahama with a view to getting things up and running in the nation's second city, Freeport.
"We have to spend money for restoration and the public/private partnership enables the Government to continue without a debt burden," he said.