(Eleuthera, Bahamas) – The Cancer Society of Eleuthera's – Walk For A Cure, which had as its theme, "Honoring the Taken, Supporting the Survivors", took place on the morning of Saturday, October 29th, 2016.  Fifty five registered walkers and runners, and sixteen volunteers took part in the event, which is one of the Society's annual fundraisers.
There were two route choices this year, A longer 4 mile walk from Governor's Harbour's Bayfront park to the Cancer Society's Wellness center in Palmetto Point and a shorter route through the community of Palmetto Point.  Although this year's walk was not a competition, the first to cross the line with the short route was 13 year old Trequan Hanna, and in second was Mrs. Delores Thompson of Palmetto Point.  Coming in first from the Governor's Harbour to Palmetto Point route were runners Jude Vilma, Kristen Johnson, Ashton Johnson, and Devon Hepburn, respectively.  First male walker was Dwight Pinder, and first female walker was Cheryl Ferguson.
Despite the blustery and sometimes wet weather that dominated throughout the previous evening into the morning, mother nature cooperated it seems for just the right amount of time.  Cancer Society President, Jacqueline Gibson commented, "What was so great, was that the last walkers crossed the line about 3 minutes before the rain came down.  So I think we were really blessed to have walked and not had the rain until afterwards."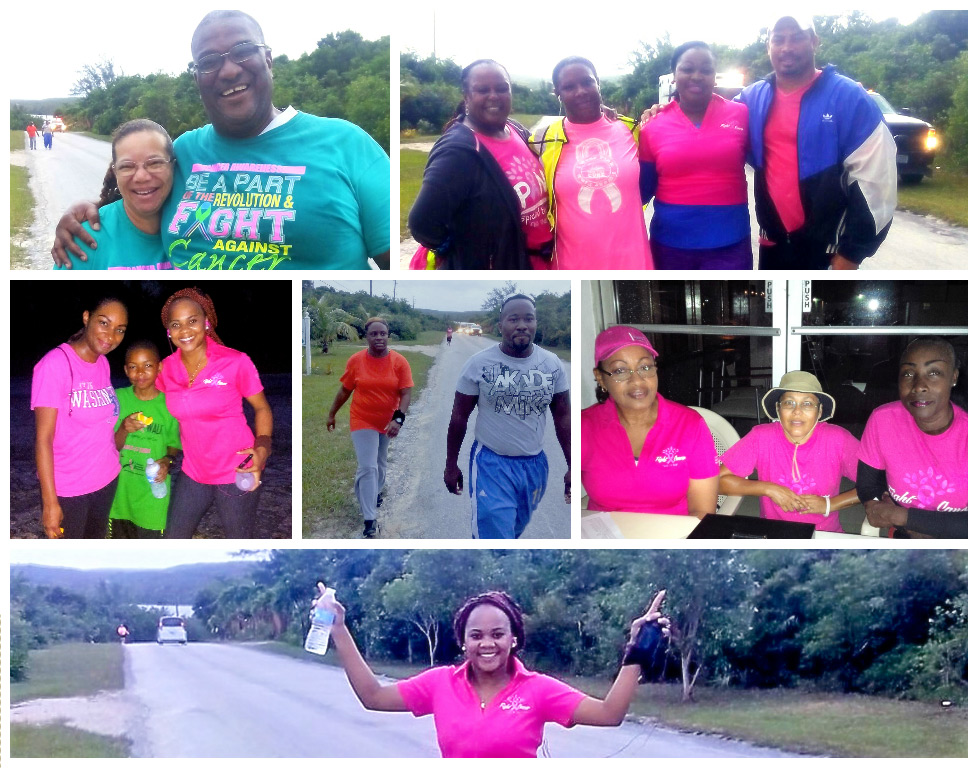 President Gibson added, "It was really amazing that people walked for the cause with all the things that were going on, the turnout was very good, all things considered… At the end we were also able to do a little fellowship with the sale of souse, which also went well."
Organizers also lauded the presence of Administrator for South Eleuthera, Mr. Glenn Lightbourn and his wife Mrs. Lightbourn, along with Anthony Richardson and Shanta Kerr-Richardson, from the Anoo Association Inc., who travelled in from New Providence to participate in and support the Eleuthera Cancer Society Walk. A special thank you was expressed to key organizer,  Chinnici McDonald, and all the volunteers that helped to make the Walk happen, as well as to Chris Gosling and HACE, and SEEP with the breast cancer awareness ambulance "Miss Vicki".
In recognition of all those who participated, Ms. Gibson shared, "We are also so grateful to the people who registered this time, we asked them to forgo getting a complimentary T-shirt as we didn't get a sponsor for that.  So that means that we didn't walk in official t-shirts, as we wanted to use the funds raised for the cause. Thank you so much for your support!"