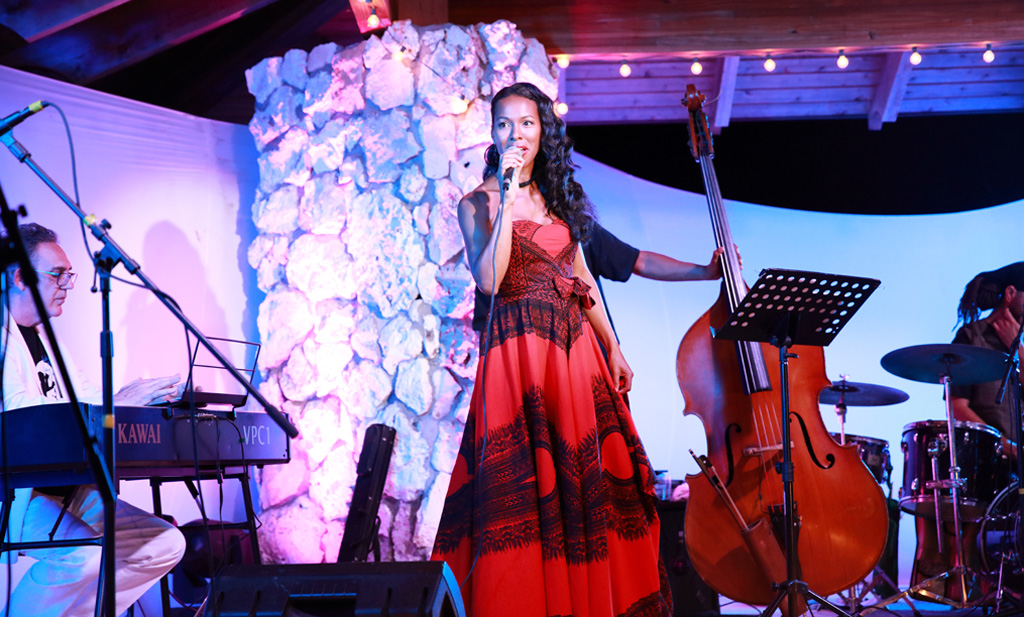 ELEUTHERA, The Bahamas — Prestigious musicians from around the world will join Bahamian artists in venues all over Eleuthera when Eleuthera All That Jazz returns April 11-15.
Founded by Patricia Oakes Leigh-Wood and listed in USA Today as one of the top 10 Caribbean musical festivals to see in 2016, Eleuthera All That Jazz has been steadily growing since 2012.  The annual music festival, now in its sixth year, is a crucial fundraiser for Haynes Library in Central Eleuthera which provides invaluable support and resources to the community through a multitude of free services and outreach programs.
This year's lineup consists of Myra Maud, a beautiful singer based in Europe, with her roots deep in Martinique. She will be backed by Tommaso Starace on sax and Massimo Colombo on piano.  Back by popular demand is the flamboyant and theatrical guitar player, King Solomon Hicks from N.Y.  The Steve Koven Trio from Toronto are returning after their successful run in 2017.  Coming from Nassau are Adrian D'Aguilar, Tino Richardson, Kevin Dean and Lamont Gibson as well as The Jazz Cats (ages 12-16) and singer Osano Neely.
"The Haynes Library is not only a place where you can check out books, but, more importantly, it's a place where residents of Eleuthera can go to develop new skills," said Lana Rademaker, Vice President with Damianos Sotheby's International Realty, one of the festival's top sponsors. "With the resources so often limited in the Family Islands of The Bahamas, libraries can be the only places where people can go to further their education."
The jazz festival adds to this educational objective by running a "meet the instruments" session at the library for local children.  Steve Koven is taking the lead, with Myra Maud doing vocals, at the two educational events programmed for the children of Eleuthera, during Eleuthera All That Jazz 2018.
"I am a firm believer that education is critical in forging a pathway toward success," added Joan Braithwaite, a sales associate in the Eleuthera office of Damianos Sotheby's International Realty.  "I think it's wonderful that the community of Eleuthera prioritizes education in this way and remains dedicated to finding new and resourceful ways to support and encourage literacy and learning."
The festival opens on Wednesday, April 11 with An Afternoon of Jazz on The Other Side, Whale Point from 4:30-7:30pm. All inclusive tickets are $75.  Thursday, April 12 is Jazz Vesper's at St. Patrick's Church, Governor's Harbour at 5:15pm. Thursday, evening at 7:30pm at 1648 Restaurant with a $25 cover charge. Friday, April 13 Jammin' at Fish Fry, in Governor's Harbour from 7:15-9:15pm – no charge.
On Saturday, April 14 the Levy Concert will be held at the Leon Levy Preserve Banks Rd. with a reception at 6:15pm and concert start at 7:15pm. Tickets are $75 in advance and $100 at the door. Sunday, April 15 is the Jack's Bay Club Lunchtime Concert, Rock Sound. 11:30am-3:15pm.   $150 advance purchase $175 on the door. Tickets include lunch prepared by Celebrity chef and wines sponsored by Young's Fine Wines.
Tickets are available for Levy and Jack's Bay Club at Haynes Library in Governor's Harbour and on eventbrite.
For more information about Eleuthera All That Jazz, please visit www.eleutheraallthatjazz.com.