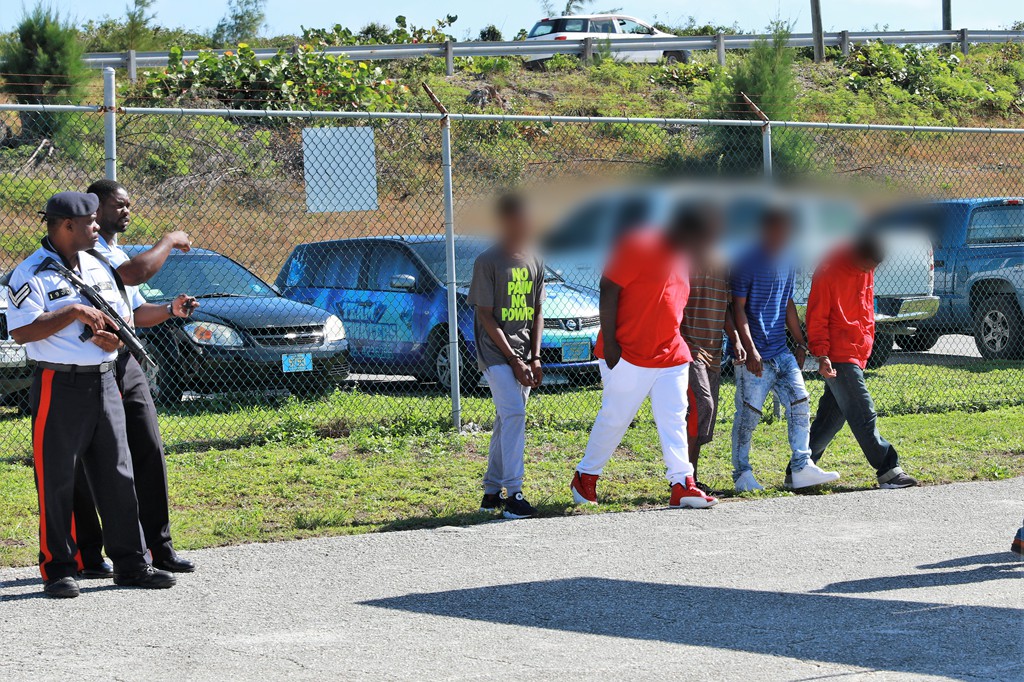 Five young men were taken into custody by members of the Royal Bahamas Police Force (RBPF) Eleuthera Division during the past weekend in relation to the armed robbery and shooting incident which took place in Palmetto Point on January 18th, 2018 as well as a house break-in incident in Rock Sound on January 29th, 2018.  On Monday morning, February 5th, they were transferred from Eleuthera to New Providence via RBPF aircraft at the Governor's Harbour Airport to face charges in the capital.
Four of the young men were arraigned before magistrate court #11 in New Providence on Wednesday afternoon, February 7th, 2018.  Sinario Miller of Green Castle, Ezra Petty Jr. of Green Castle, Lamar Wilchcombe of Nassau, and a juvenile from south Eleuthera were all charged with house break-in for the January 28th incident. Lamar Wilchcombe, and the juvenile from south Eleuthera were both also charged with two counts of armed robbery and one count of attempted murder – in connection with the January 18th armed robbery and shooting incident, while Sinario Miller, faced charges of conspiracy to commit armed robbery and conspiracy to commit attempted murder.
Police confirmed that the men arraigned were not required to enter a plea and were remanded to the Department of Corrections.  The case was adjourned to April 5, 2018 for service of a voluntary bill of indictment.
On January 19th, 2018, we reported:
According to the Royal Bahamas Police Force Eleuthera Division, an armed robbery incident took place in Palmetto Point at a local service station on Thursday evening, January 18th, 2018, shortly after 10pm.  The proprietor of the service station contacted Governor's Harbour Police by telephone and reported that the business had just been robbed by three masked gunmen.
A male employee at the service station was said to have been shot, and a male customer gun-butted during the robbery incident, before the masked gunmen escaped with a large sum of cash.  According to an eyewitness the victim was "heartlessly" shot to the chest subsequent to the gunmen's demands being met.  Officers quickly responded to the scene which was then processed.
Police reported on Friday morning, January 19th, 2018 that as a result of ongoing investigations, three adult males were taken into custody.  The three suspects currently being held in relation to Thursday night's armed robbery, were described as having recently moved to the island from New Providence.  A team of Police Officers from New Providence are also currently on island assisting with the investigation.
The employee who was shot was confirmed to have been airlifted into New Providence by emergency flight for further medical attention.
Police recorded one attempted armed robbery in Eleuthera during 2017.