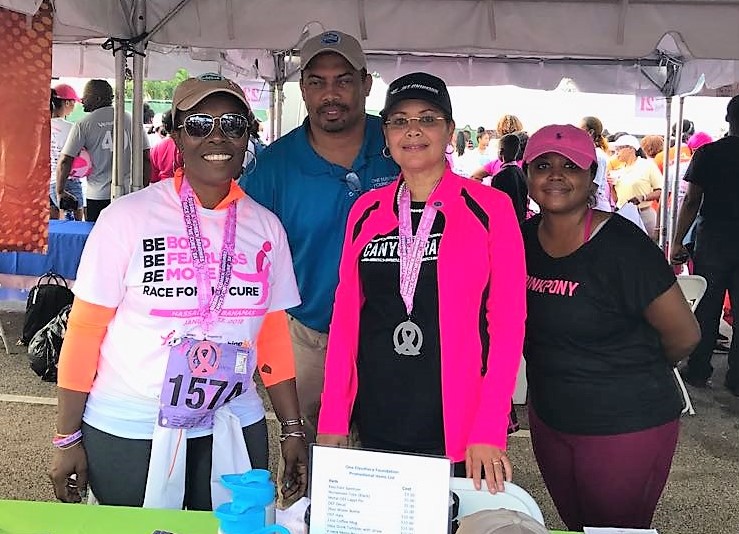 One Eleuthera Foundation's (OEF) Breast Cancer Outreach Program (BCOP) was represented at the Komen Bahamas Race 2018 event on Saturday January 13th. Community Outreach Coordinator, Maisie Thompson and Community Outreach Associate, Shapreka Clarke both participated in the walk along with hundreds of other excited walkers/runners.
The event which is hosted annually in Nassau by Sunshine Insurance to raise awareness and funds for the fight against breast cancer in the Bahamas, also celebrates survivors, and honours those who have lost their battle to this disease.
"It was wonderful to participate once again in such an event and to contribute to such a great cause! This was my 4th time attending the event and it never gets boring! What was notably different for me this year was that we were able coordinate and allow two of our local breast cancer survivors to also have the experience of the event. It has been my wish from day one to have some of our family island survivors see firsthand what the event is really like," said Community Outreach Coordinator, Maisie Thompson.
For the first time this year the Breast Cancer Outreach Program, which is also funded by Susan G. Komen, coordinated for two of its Sisterhood of Survivors Cancer support group members, Vandora Johnson and Suzette Kemp, to participate in this event. This was made possible by efforts from Sunshine Insurance and sponsorship from Stone Arch Bahamas.
"I was elated to experience the event for the first time. I look forward to attending the event again and having fellow survivors from Eleuthera participate in the annual event", stated Vandora Johnson, breast cancer survivor.
Following the walk, OEF operated an information booth where breast cancer literature was distributed and information and brochures on One Eleuthera's partner programs were on display for visitors. Assisting at the booth was CEO of One Eleuthera Foundation, Shaun Ingraham, member of the Board of Directors, Diane Bowe-Pindling and volunteers, D'Shanti Cooper and Melanie Hilton.
BCOP began in 2013 and was funded on a year to year basis by Susan G Komen. Through the renewal of a grant from the same organization in 2016, One Eleuthera Foundation is able to continue its effort in educating women on Eleuthera about breast cancer and has expanded its reach to Cat Island, Exuma and Long Island.
To learn more about this and other One Eleuthera Foundation projects visit www.oneeleuthera.org.