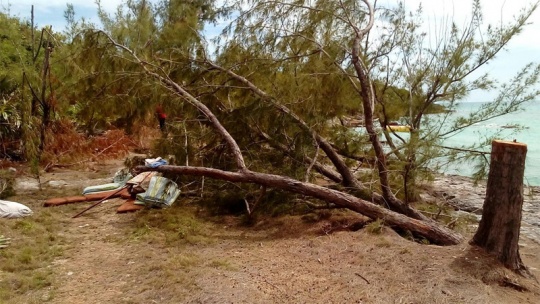 (Eleuthera, Bahamas) – Police are investigating the death of an American male, part-time resident of Eleuthera, who appeared to have died after having been struck by a tree.
Reports indicate that police in North Eleuthera were first notified of the incident sometime around 11:49am on Sunday, 30/7/17, when the  man was brought to the North Eleuthera Clinic with injuries.  The victim was identified as 61 year old, Robert Scott Devenny, a native of Delaware, U.S.A.
Officers visited the Clinic where they saw and spoke with an adult Bahamian male who identified himself as the caretaker for the property of the injured American male.
According to the caretaker, sometime around 9:00am they were cutting down some trees along the shore line at his property at Gaulding Cay. While attempting to cut a 20ft Casuarina tree they had some difficulty. His boss then attempted to push the tree which fell striking him in the head; he also suffered a broken leg.
After several unsuccessful attempts to revive the victim, he was pronounced dead by the medical officer for North Eleuthera.
An autopsy will be performed to determine the exact cause of death.
(Updated on August 2nd, 2017)