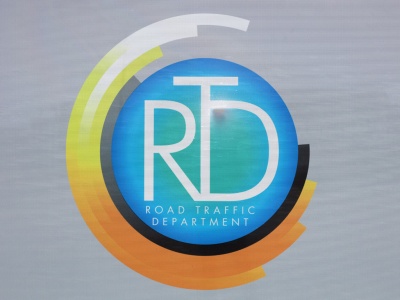 On Wednesday, March 8th, 2017, the Road Traffic Department's new Transport Management System was launched throughout the Eleuthera district.  The Department, which operates five stations in The Eleutheras, including: Spanish Wells, Harbour Island, Lower Bogue, Governor's Harbour, and Rock Sound, now requires all persons wishing to conduct any business with the Road Traffic Department to be registered.
During the first week in March, a full team from the Road Traffic Department in New Providence was on island in preparation for the Eleuthera launch, which was the third island, after New Providence and Grand Bahama to have the new system implemented.  Ross Smith, Controller with the Road Traffic Department accompanied the launch team to Eleuthera, and commented, "We are continuing the rollout of our new automated system…  We have five stations in Eleuthera, which is a large group of stations, so we wanted to make sure we could cover as many individuals as possible as quickly as possible."
He continued, "Eleuthera has given us that opportunity, and we believe from what we have seen so far that things will go well with the new system… It's an automated system, which allows persons to register online, or register within the Road Traffic Department in some cases, and then come in and do the licensing aspect.  It is changing the way we do business, and in the long run it's going to be a very efficient system.  During the first year there may be some longer lines than usual, because we will have to get everybody in the system, but once we have them in the system, we shouldn't have any issues moving forward."
Citing some of the benefits of the new system, Controller, Ross Smith stated, "Major changes are that we move from a paper driven system to an electronic system, where we can save all this information and not have to ask people for the same information every year.  You ask them for that information once, and we shouldn't have to do that the next year.  The other thing that we don't often talk about is that in the second year persons don't have to come in and request a new driver's license.  You can go online and request that driver's license, pay for it online and just pick it up here."
"For your car registration, that would be different.  You will have to come in, but again, in the second year that process will be very short, because there is only the inspection, scanning in one or two documents, depending on what it is and you could be out in 5 to 7 minutes.  Right now, it's a matter of getting everyone registered in the system… We have it staggered over a 12 month period. We still register persons during their birth month until we've completed everybody.  So by next year March, we would have finished all the people in Eleuthera," he added.
Training across all five stations in Eleuthera took place over the course of two days, beginning Monday, March 6th, 2017, with stations up and running and ready for new registrants on March 8th.  Road Traffic Department staff from New Providence continued to be present at Eleuthera stations following the training for two weeks, in support of local staff.  Controller, Mr. Smith, explained that they would  also return again to make sure local stations had the support they needed.
The recurring problem with having driver's licenses printed are also hoped to be, "A thing of the past," said Mr. Smith.  The new system would now allow driver's to be able to receive new/renewed licenses by next day at all Road Traffic Department stations in The Eleutheras.
Local Road Traffic Department stations are asking customers to please be patient as they implement the new system, mentioning that the registration process can be timely. Customers are asked to pre-register online which is said to speed up the process. Customers can visit the following link online (https://tms.roadtraffic.gov.bs/RegisterUser), to create an account and pre-register.
The following list of documents are needed to properly register:  Citizens are asked to bring in their Passports (Voter's Card if you do not have a Passport), NIB Smart Card, and Driver's License when coming in to conduct Road Traffic Business. Non-citizens must present their Passport, Driver's License, and Immigration Status (Home Owners/Work Permit/Permanent Residence/Residence Card). More information is available on the Road Traffic Department's website at http://roadtraffic.gov.bs/.
Some quick reference information (also found at  http://roadtraffic.gov.bs/):
To renew your Driver's Licence on-line, follow the steps below:
Click Log In at the top right of the screen
Enter User Name and Password emailed to you after registering at your local RTD Office
Once logged in click on the pad and pencil icon to activate the Renew Licence Page
Select the RTD Office where you would like to pick-up your Driver's Licence
Enter the duration of the Licence
Enter the Payment Details and click on the "Process Payment" button
Cost to renew your Driver's Licence:
| | |
| --- | --- |
| Year(s) of Renewal | Cost |
| One (1) yrs | $20 |
| Three (3) yrs | $60 |
| Five (5) yrs | $100 |
The cost to licence and inspect a vehicle varies depending on several determining factors. Below breaks down these charges as they apply to your vehicle:
Category
Vehicle

Licence Fee

Inspection

Fee

Title

Certificate

Plate Fees

(New Plates)

A

(0-5000cc)

$160
$35
$15
$15
B

(5001-6900cc)

$560
$35
$15
$15
C

(over 6900cc)

$710
$35
$15
$15
Eleuthera Stations (Contact Information)
Bogue (North)
Office: (242) 335-1837
Vibe: (242) 225-3303
Fax: (242) 335-1838
Rock Sound (South)
Office:(242) 334-2234
Fax: (242) 334-2597
Governor's Harbour (Central)
Office: (242) 332-2188
Fax: (242) 332-2896
Harbour Island (Administrator's Office)
Office: (242) 335-1837
Spanish Wells (Administrator's Office)
Office:: (242) 333-4409