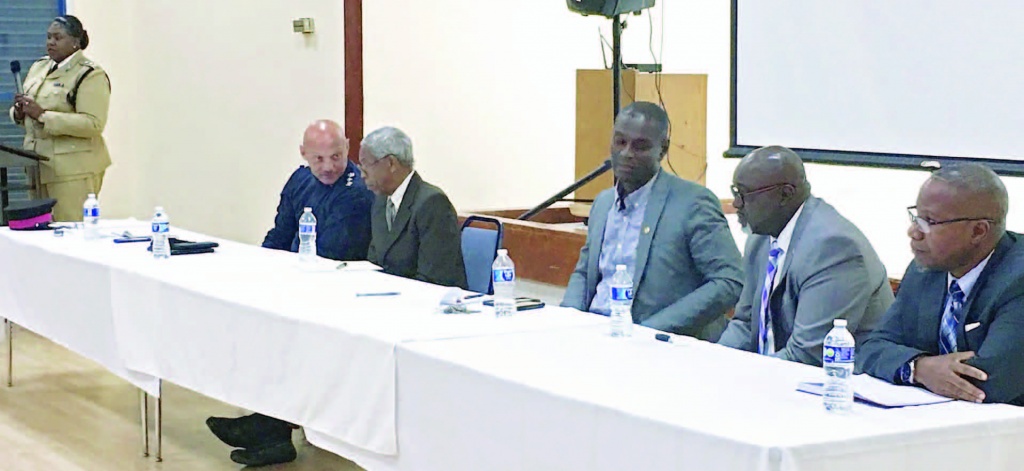 During the evening of Wednesday, January 18th, 2023, Commander of the Royal Bahamas Police Force (RBPF) Traffic Division, Chief Superintendent David Lockhart, and his accompanying team, along with representatives of Road Traffic and the Ministry of Transport, were in Eleuthera to host a town hall presentation on road traffic safety.
In his presentation to the audience of Eleuthera community members, Commander Lockhart, expressed, "The Ministry of Transport, Road Traffic, and the Police Department are all concerned about the amount of traffic crashes we have had in Eleuthera during the last year (2022), compared to the year prior. We thought it fitting to come to the island. Eleuthera is the first island visited, with plans for us to visit several other islands to also deal with their particular issues.
"When we look at our statistics, especially our fatality rates, we saw that when we compare 2021 to 2022, there was a 600% increase of fatalities (from 1 in 2021 to 7 in 2022). In 2021 we had one (1) fatality in Eleuthera, and in 2022 we had seven (7).  We thought that was very alarming for a small, quiet community as Eleuthera. Despite it being very long – it is still a small, quiet community.
"In 2021 Eleuthera had 73 crashes, and in 2022 that number jumped to 117 crashes. In 2021, accidents with injuries on the island were high, with 78 – in 2022 that decreased to 57. In 2021, Eleuthera recorded 28 serious accidents, and this number decreased in 2022 to 26 serious accidents. So, overall for last year (2022) on Eleuthera there were a combined 207 traffic crashes. Most of these crashes should not have happened. They happened because somebody was doing something other than paying attention to driving their vehicle, when they should have been paying attention to the road.
"This was a big concern for the Minister of Transport, the Commissioner of Police, and Road Traffic.  We hope that by coming here and bringing to the public's attention that there is a serious problem – and I can tell you, I was here last year to conduct speed checks, and we clocked some persons at almost 100 mph (miles per hour). That should be a serious concern to everyone in the Eleuthera community. If you look at the fatalities in 2022, most of them occurred in settlements. The speed limit in settlements is 15 mph. The highest speed allowance in the Commonwealth of The Bahamas is 45 mph. Nobody does it… Eleuthera, Nassau, Exuma, Abaco, Grand Bahama – no one maintains the posted speed limit.  Posted speed limits are placed on the roads, because that is the highest speed that the road is capable of safely accommodating.
"We decided to do Eleuthera first, because its rates were more alarming than the other islands.  We know that these crashes should not be occurring, and they are occurring for reasons that are very much controllable. People are not paying attention, people are falling asleep, people are not adhering to all the traffic rules and regulations – whether it be speeding or driving under the influence of alcohol, and other breaches of the law… We thought it would be wise to come and heighten the awareness – so people would understand our concern."
Chief Supt. Lockhart pointed out as well the burden that traffic accidents cause to families and the health care system, when there are injuries, also the loss of vehicles, and the burden for insurance companies.  He further warned that if Eleuthera's drivers do not pay attention to their driving behaviours, 2023's traffic fatality numbers could continue to increase.
He highlighted that the incidence of people driving with unlicensed and uninsured vehicles on the roads was also a growing problem throughout The Bahamas. He emphasized the critical nature of this regulation, especially  when involved in an accident. "I am going to be pushing for even stiffer penalties for persons driving unlicensed vehicles, because that is a major concern, and that is one of the offences that is being breached on a daily basis." He also spoke on the increasing illegal trend of people swapping plates between vehicles.
Without pointing to specifics concerning the cause of a number of the recent traffic accidents in Eleuthera, which were still under investigation, RBPF Officer Ms. Dorsett, accompanying Commander Lockhart, gave a presentation to the audience on the general contributing factors of traffic accidents, along with tips to heighten the safety of motorists, cyclists, and pedestrians using the roads.
Some of the most common contributing factors in accidents on the road, she pointed out, were speed, inattention, inexperience (young or unlicensed drivers), defective vehicles, bad road surfaces, disobeying traffic signs, and a lack of proper signage.
Motorists were urged to always wear their seatbelts, including both front and rear passengers. Making sure that lights and brake lights were working, especially at night was another recommendation. She highlighted the importance of taking your time to get to a destination without speeding. Drivers were urged as well to stay off their cell phones and electronic devices while driving. Children under a certain age, it was also said, should be secured in a child safety seat.
Cyclists were advised to wear light or reflective clothing, to wear safety gear (helmets, knee and elbow pads etc..), to use lights on the cycle, to not ride against the flow of the traffic, and to avoid riding at night. Pedestrians were asked to be fully aware of their surroundings, to not walk on the streets, and to use sidewalks where available.
In response to the presentations, audience members asked questions, and also made comment on some of their experiences with both authorities and other drivers on the road. One resident commented on the lack of accountability in crashes on the island, as well as the response time by police – relaying their wait time of two hours after being in a crash with a speeding driver, before police came on the scene – with the offending driver having fled the scene by that time. Several school bus drivers relayed the lack of respect some drivers had around buses as they dropped of students in the settlements, recounting speeding drivers overtaking as students were exiting, despite the stop signs. Other motorists complained of the disturbing trend of flourescent blue lights being used by some vehicles on island at night – which the Commander confirmed was actually illegal – as only amber or white lights are allowed – as well as a new danger of large, blindingly extra bright LED bands installed on some trucks and larger vehicles. Speeding in the middle of local communities was also a major concern raised by a number of audience members along with many other observances.
Officer-In-Charge of Eleuthera, Chief Superintendent Shanta Knowles, in response to a number of the concerns raised, responded, "We will address the concerns that we hear here tonight, and I hope that you will also take the message to the people, who you think should have been in this meeting, especially the young people in our communities."
Following the meeting, when asked about points he wanted the Eleuthera public to pay special attention to, Commander Lockhart commented, "What we want people to do always, is to adhere to all the rules and regulations of the Road Traffic Act, because they are put in place for guidance. Without guidance the country would run amok. So, we want them to adhere to that. We want them to wear their seatbelts. We don't want them to use cell phones when they are driving. We want them to be very careful of how their passengers are seated in their vehicles or on their trucks. We did have one fatality on this island that did involve a truck. So, we want drivers to always be conscious of their surroundings and their driving behaviours."
He also wanted all motorists to be aware of the change in law in 2022, concerning drivers involved in traffic fatalities, saying, "People need to be aware of this. Last year, February, the new vehicular manslaughter law was gazetted, which gives stiffer penalties to persons who cause the death of someone. Before February of last year, the charge was 'Killing in the course of dangerous driving'. You could pay a $10,000 fine and go back home. Today, the charge is now 'Vehicular Manslaughter', which carries a seven (7) year jail sentence. The law does not leave it for persons to just pay a fine and walk away. So, we need people to be aware that the penalties are a lot stiffer now. It's life changing."