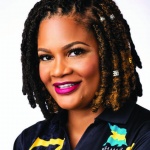 Terneille Burrows – music executive, performing artist, songwriter, producer, humanitarian and the list continues – professionally known as 'TaDa' in the music/entertainment industry, burst back onto the stage in December 2022, performing in her first live concert in 12 years, at the Atlantis Theatre on Paradise Island, New Providence.
An Eleutheran descendant, with her paternal roots in Governor's Harbour, Terneille, following her come-back performance, sat and chatted with The Eleutheran about her return to the world of music, how she got her start, her time in-between, and plans for the future.
Probed about what had sparked her return after more than a decade since her last performance, TaDa shared, "Well I realized at some point that this year marked 25 years since I first recorded in a studio as a recording artist. I've been holding out so long – had redirected my focus to advocacy and activism, primarily around child protection for that duration. So, I figured let me step back into the music scene, recording artist scene and put on a show. Throughout the years I had been asked to perform at various places, and just refused most of them.
"I want to say to my loyal fans that they are a big part of why I love doing music, and it warms my heart every time they sing a song or a jingle or something that I have produced. And yes, every single time I leave my house and go in public, someone would ask – oh, are you still doing music? You should do music… So, they [my fans] had a hand in the 'come back'. I appreciate their persistence."
Commenting on her live concert performance at the Atlantis Theatre on December 10th, TaDa described, "It was hosted by Vividly Val, an up and coming entertainer. The opening acts were Shad Fer and Tebby, with back up singers, Tarai Rolle and Khonica Prosa. Shad did some music and some comedy. Tebby, who was a winner in the NBC songwriter contest 'Songland' a few years back, and also wrote a song for John Legend – at the concert, we were able to show some clips with her being featured on that network, and she gave a little background in terms of having been judged by me at the age of 16 at a talent contest when she really first started getting into the whole acting, singing and performing thing. So, the whole event essentially ended up being a bit of an investment in not just relaunching my artist career, but kind of introducing some newer Bahamian talent – as both those acts are young.
"I had Tarai do a solo of one of his original songs, and Khonica led the song "As", otherwise known as "Loving You Always" by Stevie Wonder. So, they had a chance to shine a little bit too, which was cool."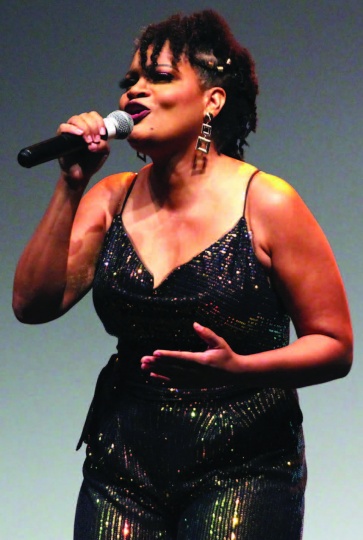 TaDa's concert offered a mix of timeless international pieces, original song releases, as well as classic Bahamian melodies. "I actually opened with Rihanna's "Lift Me Up", Sade's "By Your Side", and Cold Play's "Fixed To You" – those were the three cover songs that I did… The originals that I did included, "Footprints in the Sand", – which Glenys Hanna Martin said was her favorite TaDa song. I also did the TaDa song – which is called "Introducing TaDa" – which [when introduced] played on Canadian  and Bahamian television, and on MTV/Tempo in the Caribbean. So, those would be the two most notable ones, but I also did quite a few others. I also did a 'mash up' like a medley, of Bahamian folk songs, including 'Brown Girl in the Ring', to 'Did You See Uncle Lou', to 'R-A-T-T-L-E' – that kind of thing."
Asking her to take us back to 25 years ago when she first recorded, TaDa reminisced, "When I was 17 in 1997, that was the first time I would have recorded in a studio and released a song. It was a song called "Bahamian Celebration" that I wrote and recorded with D-Mac (Dillon Mckenzie). I had entered it into a national song writing contest. And don't remember clearly, but I was a finalist – or something, but I had to perform at Clifford Park and this was my first 'to do'."
TaDa would go on to produce music in a variety of genres and forms from 1997 to 2013, when she released her final album – 'Element'. "I started as an inspirational artist primarily, but in 2000 at the age of 19, I actually won an international songwriting contest – the John Lennon songwriting contest, in the Hip Hop category. That was a mainstream hip hop song and it was judged by a lot of really popular recording artists of the day, including people like Wyclef Jean. That kind of set the tone for my career moving forward, and around the same time I released the inspirational album called 'Sanctigroove'."
Terneille would then go off to study recording arts management in Toronto, Canada, which opened further doors for the budding artist. "After doing the music business studies in Toronto, I actually was awarded about $90,000 to do two music videos over the span of a couple years. That's when I did the 'Introducing TaDa' video, and the 'Keep Moving' video, because I had collaborated with Canadian songwriters and performers on those songs. Then I came back home."
She continued, "For a couple of years, when I had just returned from recording arts management studies in Canada, I did jingle production [starting in 2003], and actually won the Subway Junkanoo Jingle contest – so, that's how it began. Thereafter, I started –  I decided, well if this is a way to actually make money in music, then I guess I'm going to do it. So, I produced about 30 jingles around that time. I also in later years – around 2008 was the voice of the "Better In The Bahamas" ad that ran on television in the USA by the Ministry of Tourism. The most recognizable jingle that I actually wrote was the 'Shoe Village' jingle. That's my most notable."
Throughout the 2000's TaDa continued to produce music albums, including her 'F5' album in 2006 and the 'I'm That Girl' album release in 2009. She was also invited to perform her title song, 'I'm That Girl' at the Miss Teen USA competition hosted that year outside of the US at the Atlantis Resort in New Providence. Her last album, called 'Element', was released in 2013. All of her music, said TaDa, are on streaming services, like Spotify, ITunes, Apple Music, Amazon and others.
Since then, just in 2022, she did a collaboration with Christopher Duncanson. "We did a song that was actually backed by the Charitable Arts Foundation and Atlantis," said TaDa. "We were able to produce a song and promote it online, called 'We Won't Rest', and it's a child protection themed song."
During the course of Terneille's career – personal experiences, current events and interests collided to expand the focus of her energies. She relayed that in 2009, while in New York, recording and songwriting, she learned about a death and assault case, involving a very young child at home in The Bahamas. She shared, "I don't know what came of that particular case, but a few other women had voiced their concerns about it and wondered – what could we do – we can't allow things like this to happen without doing something. So, at that time a few of us, a handful of us formed 'Bahamas Against Sexual Violence and Child Abuse', which was pretty much an online cause that sought to raise awareness of these sorts of issues."
She continued, "Eventually we liaised with the Crisis Center, and tried to promote different things that they advocated for and tried to support them in whatever ways we could. We posted different news reports through the web page – and just kept active in that sense. But by 2012 or so, I just wanted to elevate the level of activism. A couple years after that, we hosted a 48 hour demonstration calling for good governance, and government accountability on Rawson Square. 'RISE Bahamas' was formed – it was 2014. Subsequent to that, the major issues that we tackled as RISE Bahamas were MARCO's law, which is comprised of a MARCO missing child alert system, and the sex offender registry, and we also were highlighting public disclosure breaches by parliamentarians. Child protection and good governance were our pillars at that time. Over the pandemic we actually got registered as a non-profit."
In relation to her activism on good governance, Terneille, also had a stint where she threw her cap into the political pool. In 2016 she announced that she would run as an independent candidate in the 2017 general elections, in the 'Elizabeth' constituency of New Providence.
With the recent relaunch of her performing career, when asked about her planned focus going into 2023 and beyond, TaDa revealed she would be taking a global approach. "I'm going to focus on international opportunities as much as possible – that would be as a songwriter, a recording artist, as an executive producer – whatever capacity. I, even this year [2022], directed a short play that featured in 'Shakespeare in Paradise'. So, really anything entertainment related. I'm also going to start to look into different avenues elsewhere, because I don't believe that we have a developed music industry in The Bahamas. And it's going to take someone or people attaining some level of international acclaim for there to be a real motivation to build a local industry here."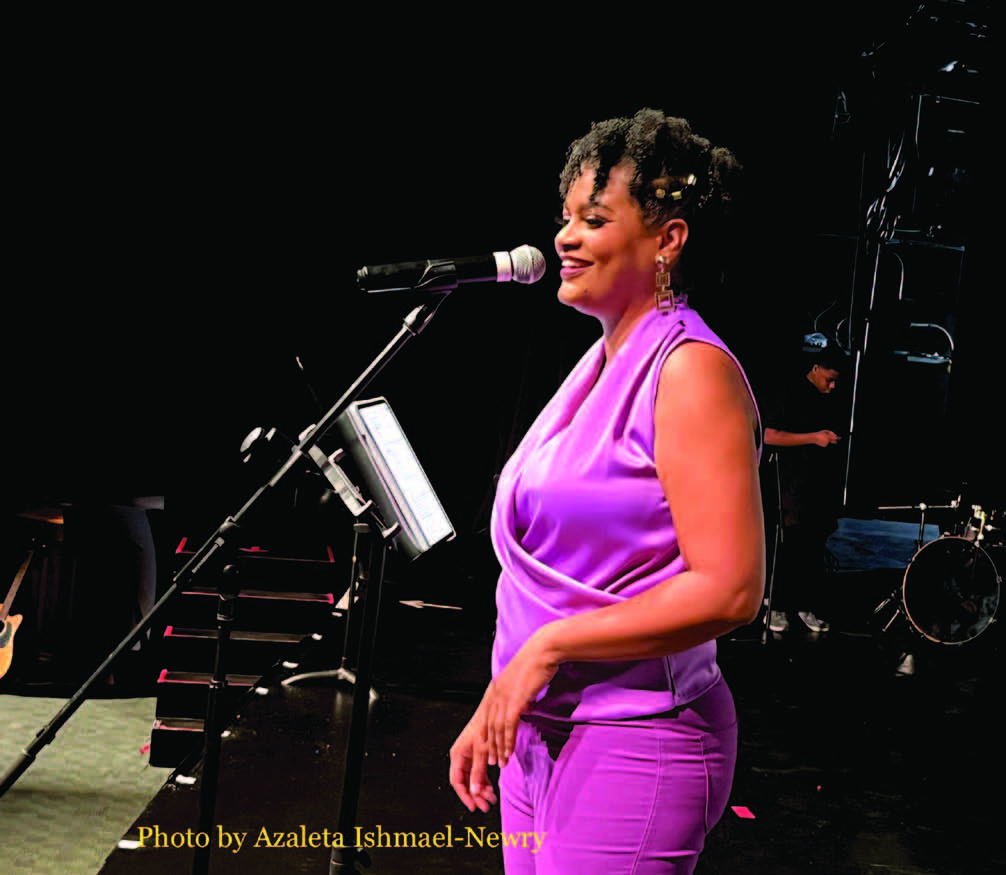 She explained further, "If we look at Jamaica and Trinidad, their model is much different from ours, they actually invested in creative industries. They actually cultivated the arts. They have genres of music that are known as indigenous to them, that are worldwide and world renown. So, The Bahamas has really missed the ball, and its unfortunate – but it's not too late to get on board with creative industries as a priority in this country."
Asked about how she could advocate for that and push it forward, she replied, "Some of my early advocacy was around that, around the music industry, because in 2008 – I was in Atlanta at the time, and was told that Lil Wayne was going to be performing in The Bahamas. I was asked by a promoter, 'what's your information and how can we book you to perform'? So, I sent the information and when the time rolled around and the show was being planned – a different promoter for the same event, met with about ten different Bahamian artists, and had a meeting. They had all been selected to perform. And at some point, she said, 'And we really appreciate that you guys had agreed to do this for free.' I was like 'what'! So, after the meeting I took her aside and said, 'that's not the agreement that I have. I'm not opening for a Lil Wayne concert for free'. And they were like, 'Oh we can talk about it'. I called them later, and they said, 'We don't have a problem paying you TaDa, it's just that we don't want the other artists to be asking for any payment, because we have already met our $300,000 budget'. So, I told them, 'That's okay, don't worry about it, I'm not going to perform – I'm going to go to the press.'
True to her word, TaDa shared her experience with the press, and as a result was informed that the Bahamas Musicians and Entertainers Union (BMEU) had received some form of payment from the event organizers. After speaking with the BMEU, she learned that the union's stance was that they ensured Bahamians were included in the show, however, ensuring that those Bahamians were compensated or even adequately paid, was not the case.
TaDa commented further, "I would say that music industry advocacy was where I really first started. In 2011 IFPI (International Federation of the Phonographic Industry) an international music federation connected with me and we hosted a symposium, regarding proposed amendments to the copyright law – that would expand our rights as Bahamian performers who actually receive remuneration – for performing or records – similar to how songwriters and composers receive compensation when their original compositions and songs air on radio and television and that sort of thing. That is, radio and television anywhere in the world, but created by or performed by Bahamians… That still hasn't come to fruition, so that is something I would definitely advocate for as we organize and go forward."
The vision of seeing the Bahamian creatives industry grow deeper and further, said Terneille, would need systemic local policy support and backing as well. Highlighting radio and television content laws, and using Canada as an example, where they require that a certain amount of content on radio and television has to be of Canadian origin or collaborations, she urged, "So, something like that – if it were to be employed by The Bahamas you could look at that model – where they have government agencies, private organizations and corporations such as broadcasters offering grants and backing and funding to be able to facilitate building the content – to be aired on the networks."