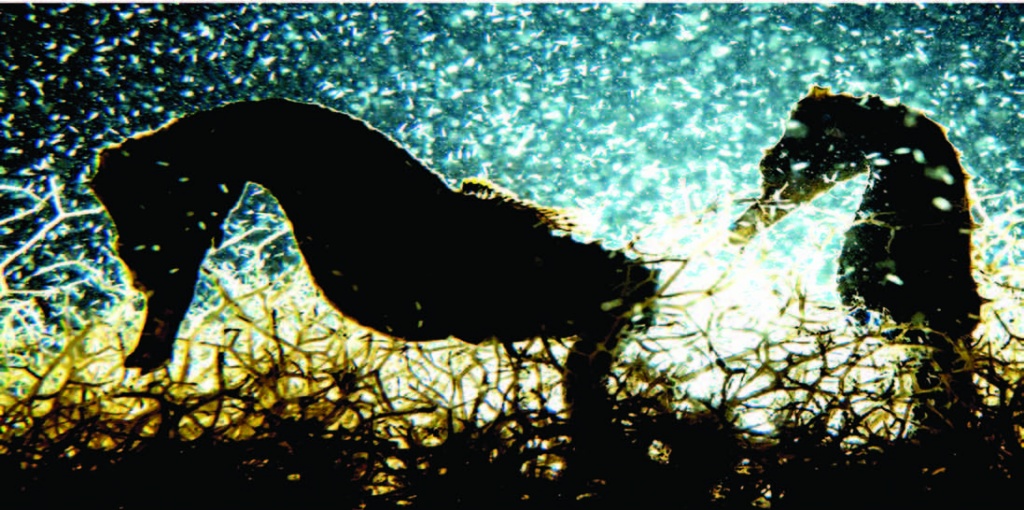 On Thursday, September 7th, the Minister of Works and Family Island Affairs,and the MP for Central and South Eleuthera, the Hon. Clay G. Sweeting along with The Bahamas National Trust (BNT) and The Bahamas Agricultural and Industrial Corporation (BAIC) announced the designation of Seahorse National Park at Hatchet Bay Cave and Sweetings Pond on Eleuthera with a lease-signing ceremony. This announcement, described as 'monumental', comes after years of efforts from the BNT and its partners in advocating for the protection of Sweetings Pond and its surrounding areas as an official national park under the BNT's management.
Sweetings Pond is a large, land-locked saltwater pond in Hatchet Bay, Eleuthera. It has many unique natural features, but the most notable of them all is its incredible seahorse population, which is believed to be the densest population of seahorses in the world. The new 548-acre national park protects the entire one-mile-long pond and the surrounding terrestrial area. The land surrounding Sweetings Pond is a blend of intact coppice, mangroves, and farmlands. In addition, the new national park includes the extensive Hatchet Bay Caves system. This historic cave system is a popular attraction and contains a number of impressive geological features. It is one of the longest dry cave systems in The Bahamas.
Since 2014, the BNT has been leading efforts to have the area declared as a national park. This included years of public outreach and stakeholder consultations in communities across Eleuthera; education presentations in local schools; science and research efforts; and engaging consecutive government administrations. In 2018, the BNT submitted the "20 by 20 Marine Protection Plan" to the government, which included the recommendation to declare Sweetings Pond and other areas in The Bahamas as protected areas.
During the lease signing ceremony for Seahorse National Park, Minister Clay Sweeting, said, "This lease agreement for Sweetings Pond has been a long time coming. It represents a milestone in our journey towards sustainable development. It symbolises our collective responsibility to safeguard our natural heritage and create a harmonious relationship between economic progress and environmental preservation.
"I would like to express my gratitude to all stakeholders in this process of drafting and finalising this lease agreement. Their dedication, expertise, and commitment has been crucial in ensuring that this agreement falls in line with our vision of creating a thriving ecosystem while promoting responsible usage. Let us continue to preserve the jewel that is Sweetings Pond for many generations to come."
Lakeshia Anderson-Rolle, BNT Executive Director, said, "Today's lease signing is the pinnacle of a decade-long effort to protect Sweetings Pond. The declaration of Seahorse National Park is more than just a designation; it is our shared promise to our community, to future generations, and to the world that we are committed to conserving our unique and diverse ecosystems for the benefit of all Bahamians. It also shows our shared responsibility in expanding and enhancing the national park system of The Bahamas. We are excited to now have our 33rd national park in The Bahamas, and our second in Eleuthera.
"We believe we can transform Sweetings Pond into a world-class national park, conserving all of its biodiversity while boosting the economy of Eleuthera through ecotourism. We will use The Leon Levy Native Plant Preserve (LLNPP) located in Governor's Harbour as a model for sustainable development, as it was until now the only national park on Eleuthera, and is recognized as a world-class, accredited botanic garden," she added.
The BNT Executive Director said the organization plans to continue working with BAIC, local farmers and other stakeholders on Eleuthera to initiate the strategic next steps for Seahorse National Park, adding, "We have proactively created a comprehensive conceptual plan that will guide the sustainable development of park infrastructure, amenities, and facilities for public use. This includes the development of walking trails, recreation, and entrepreneurial programs, research initiatives, signage, and educational exhibits. The BNT is especially devoted to developing a science-based ecotourism plan to support local businesses on the island while conserving the park's sensitive natural resources."
She continued, "The BNT thanks the Government of The Bahamas, especially Minister Clay G. Sweeting, and The Bahamas Agricultural & Industrial Corporation (BAIC) for its partnership and continued trust. The BNT also recognises former BNT Executive Director Eric Carey for his leadership in advancing this declaration during his tenure; BNT's Botanist Dr. Ethan Freid; BNT Parks Planner Chantal Curtis; seahorse researcher Dr. Heather Mason; the scientific research community; and many other conservation partners for their efforts leading up to this designation. The BNT acknowledges with significant gratitude the Leon Levy Foundation for continued financial support of its conservation and advocacy efforts on the island of Eleuthera, and all local community members who raised their voices to show support for Seahorse National Park.
"The BNT invites the public to stay tuned for more news about its plan for the country's newest national park: Seahorse National Park at Hatchet Bay Cave and Sweetings Pond!"
To learn more about the role the BNT plays in managing terrestrial and marine national parks, conserving wildlife, and informing environmental policy, visit its website: www.bnt.bs and follow/subscribe to its various social media channels: Facebook, Instagram, Twitter, and YouTube.