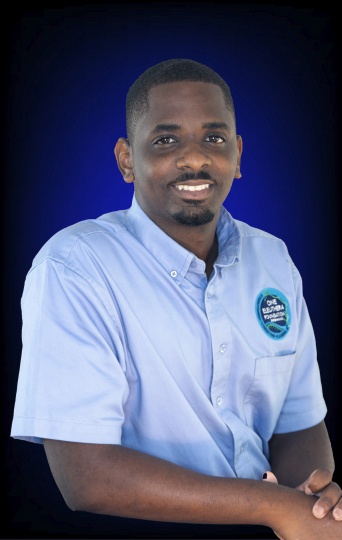 The One Eleuthera Foundation (OEF) and Centre for Training and Innovation (CTI), two non-profit community development organizations centered on sustainable community and national development, announced a transition in leadership on Tuesday, July 4th, 2023. As of June 30th, 2023, Shaun Ingraham has stepped down as President and CEO, passing the baton of leadership to Keyron Smith. The Board of Directors announced the promotion of Keyron Smith from Chief Operating Officer to President and CEO, effective July 1st, 2023.
The released statement further read, "As the founder, Mr. Ingraham played a vital role in establishing OEF's vision, mission, and organizational infrastructure on Eleuthera, centred around sustainable development in five key areas: education, economic growth, environmental protection, community health and wellness, and culture and heritage. During his tenure, Ingraham steered OEF and its sister organization, CTI, into becoming two of the country's most successful non-profit community development organizations.
The scope of work accomplished by Mr. Ingraham over the past eleven years has contributed significantly to the growth and advancement of Eleuthera's people, communities, and economy. Under his direction, OEF also elevated the role and impact of non-profit entities as the third sector of the economy of The Bahamas in delivering essential services, food security and sustainable agricultural innovation, localized training and capacity building, and humanitarian and disaster relief. The latter was particularly evident in OEF's mobilization and provisioning of crucial services following Hurricane Dorian and during the COVID-19 pandemic.
Mr. Ingraham will continue to serve as a director on the OEF and CTI boards.
Looking to the future, he is enthused about the trajectory of both organizations and Keyron's ability to carry the mission forward.  "OEF has enabled me to serve my community and country in meaningful ways far greater than I envisaged starting out. I am extremely proud of what we have accomplished. United in service as team players, board directors, generous donors, partners, supporters, and community members, we have created a model that works and laid a strong foundation for the next generation of change-makers to build upon. I have dedicated much of my life, energy and passion to this cause. OEF is fundamentally strong and well-positioned to increase its development impact in The Bahamas and the region. For sustainability and succession
purposes, it is necessary for every organization, including OEF and CTI, to embrace and engage the next generation of competent leaders. I am confident in Keyron's ability to continue the charge and advance the mission. He and the entire leadership team have my unwavering support."
Reflecting on Ingraham's career, OEF Chairman Mario Smith notes, "On behalf of the Board of Directors, we wish to express our sincere gratitude and appreciation to Mr. Ingraham for his tireless dedication, selflessness and remarkable contribution over the years. His visionary leadership has shaped OEF and CTI into a respected force for positive change while addressing some of our country's most urgent challenges. His innovative thinking has challenged the status quo and inspired OEF's proactive approach to improving lives and communities."
Keyron's family roots are grounded in Green Castle and Lower Bogue, Eleuthera. He spent his formative years on the island, developing a special bond and connection that has increased with time. Holding a Masters Degree in Governance and Public Policy from the University of Manchester, UK, and as a certified Project Management Professional (PMP), Keyron has been an integral part of the OEF and CTI leadership team for approximately three years. He has climbed the ranks within the organization from Project and Strategic Planning Manager to Chief Project Officer to Chief Operating Officer. His appointment as President and CEO heralds an exciting new chapter for the organizations.
Commenting on the transition, Chairman Smith says, "The Board of Directors wishes to congratulate Keyron on his new appointment, which was part of a carefully planned succession process. His proven track record of success, strategic acumen, and expertise in development, local governance, and policy writing make him an ideal choice to lead the team through the next phase of expansion and advancement. His deep understanding of OEF's values, mission, programs, and stakeholders uniquely positions him to drive continued growth and impact for the benefit of our communities."
The leadership transition coincides with OEF's fiscal year-end on June 30th, 2023. Moving forward, Keyron is ready to take the helm with a clear vision and strategic methodology backed by a strong executive team.
"It is truly an honor to lead OEF and CTI into its next chapter and to continue the vital work of evolving and expanding our successful community development model. I value and appreciate the extensive groundwork laid by Shaun in building a strong foundation for community development on our island and within the country and sector. I intend to build upon past successes while focusing on increasing our community impact and embracing new opportunities to realize the vision for Eleuthera. Our approach will remain 'locally rooted and globally minded,'" explains Keyron.
"The world around us is constantly changing, demanding innovation, adaptation, and collaboration to find sustainable solutions for our communities. I am committed to leading OEF in addressing these growing needs and ensuring that our organizations remain progressive and effective. Collaboration and collective action will be key to our success.  I look forward to working closely with OEF's Board of Directors, leadership team, staff, partners, donors, local and international organizations, and community stakeholders. Together, we will bring our strengths and resources to the table to strengthen our local communities and extend our impact to the rest of The Bahamas and the region."