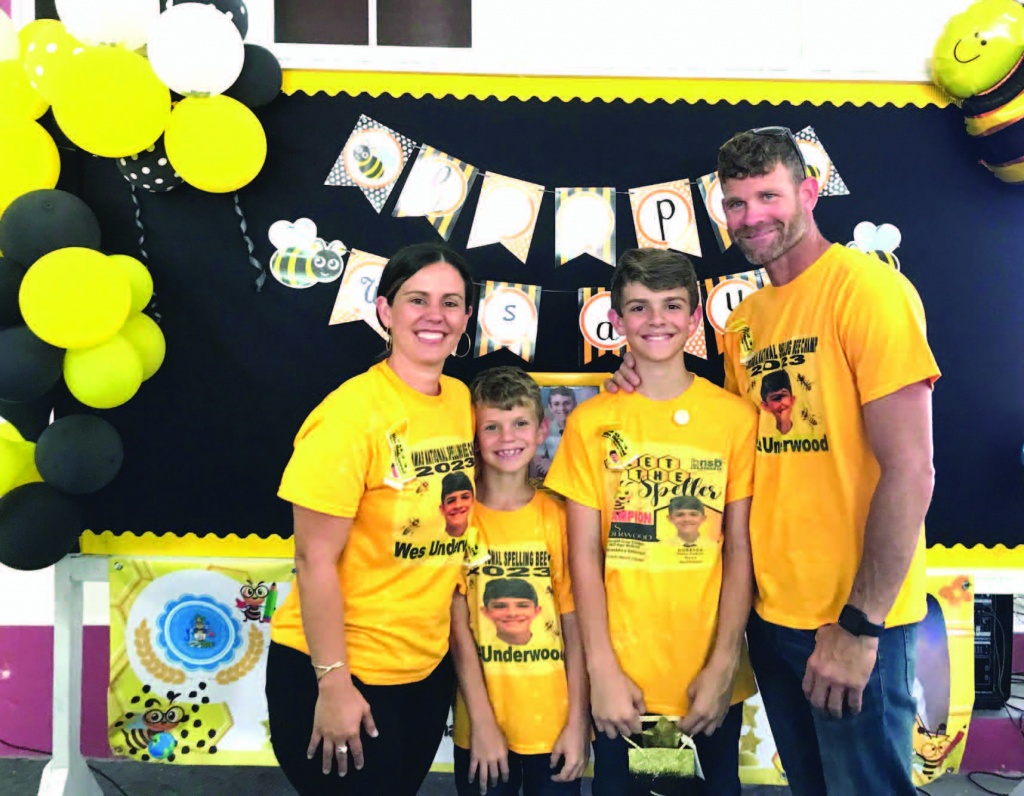 Wes Underwood, an eighth grader at the Samuel Guy Pinder All Age School (SGPAAS), on Sunday, March 19th, 2023, competing in the National spelling Bee, representing the island of Eleuthera, won the national championship, becoming the second young Eleutheran in the past five years to earn the National Spelling Bee Champion title. His accomplishment is an example of true determination and perseverance, having competed in Eleuthera district spelling bees – representing his school – since grade 1.  Wes placed in the top three every year, and he won the island spelling bee titles in both grades 2 and 3, and finally again in grade 8.
At the 2023 Bahamas National Spelling Bee, held at the Breezes Resort in Nassau, Wes' winning word was 'syntrophism'. In his mother, Natalia Underwood's words, "The Bee was a nail biter, lasting four hours." At one point in the latter part of the competition, she described, "Wes and the other two contestants left in the Bee all got their words wrong twice, but luckily, the final time, Wes was the only one in his round to spell his word correctly, which was 'bascule'. After the other two misspelled their word, he then had the opportunity to spell his winning word."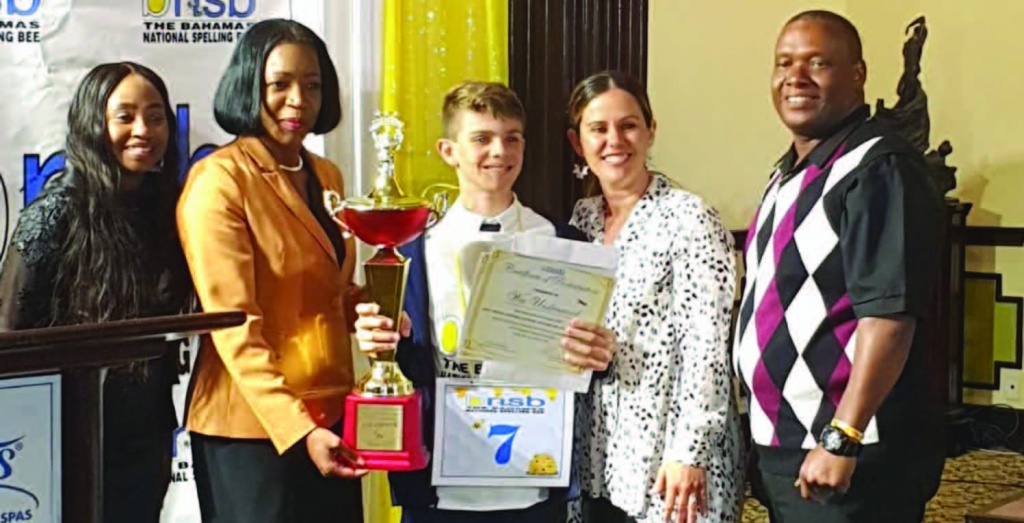 "He never dreamed he would win, coming from such a small public school and island, going up against students from Nassau," said Mrs. Underwood. To celebrate, as a family on the evening of the win, she shared that they walked over to BahaMar for a treat of ice-cream and candies.
At the Bee in Nassau, which annually brings together spellers from across The Bahamas together for several days ahead of the Sunday finale, Wes made a number of new friends and enjoyed visiting the 'Clifton National Heritage Park' with the spellers group. He also enjoyed talking with Roy Seligman, the 4-time national spelling champion – who offered words of advice.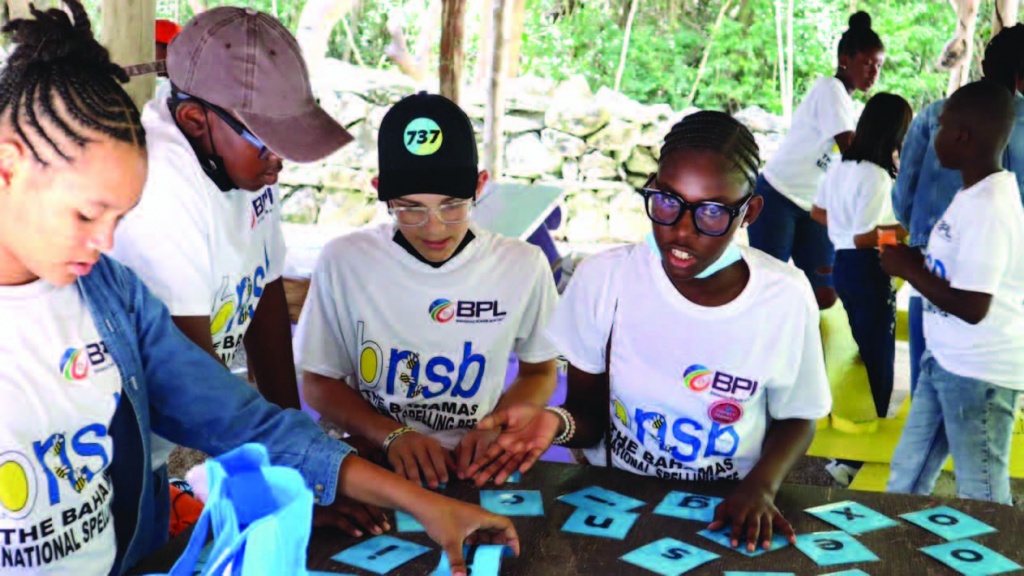 On his return to Eleuthera on Monday morning, March 20th, a large delegation of his student peers from SGPAAS, greeted Wes with lots of cheers, hugs and congratulations – proudly celebrating his stellar achievement. On Tuesday, April 25th, the SGPAAS hosted a day dedicated just to him – called "Wes Day". T-shirts were bought and worn and the school will have students continue to wear them every Wednesday until the school year is over.
The celebrations on 'Wes Day' began with a motorcade around the island and then a ceremony to honour him where the District Superintendent of Education, Mr. Michael Culmer; and MP for Central and South Eleuthera, Minister Clay Sweeting; along with Mrs. Ocilia Petty, wife of North Eleuthera MP – Mr. Sylvanus Petty – attended and gave him words of congratulations and encouragement. Minister Sweeting, also presented Wes with a special 50th Independence gold pin. Afterwards, Wes' family was treated to a meal and delicious sweets, described Mrs. Underwood.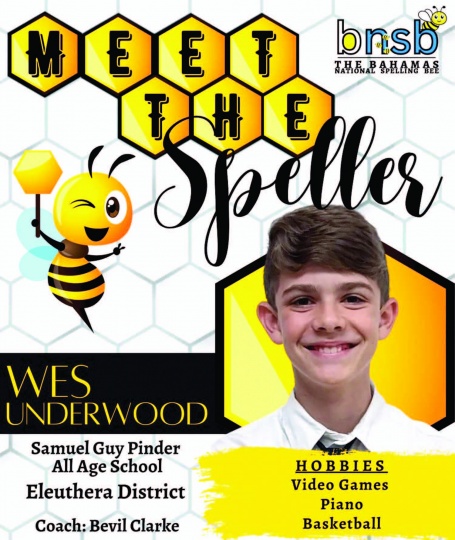 Wes continues to prepare, working with his coach, Mr. Bevil Clarke – and is said to be excited to head to Maryland, USA for the Scripps International Spelling Bee on May 28th – June 3rd, 2023. "I am studying hard every day and using all of the online sources that are available to me. I am also excited to go somewhere new and represent my country," he said.
In Nassau, Wes won a champion's trophy, a laptop, and a $750 cash prize. He also placed 2nd in a quiz that the national spelling bee participants took at the national park, on information that they had learned that day. He said that he thought that it was a great experience in Nassau that he would never forget, especially since this was his last year that he was eligible to compete.