Reception parties hosted by the Ministry of Tourism for the communities of foreign winter residents throughout Eleuthera made a comeback this year, after the three-year pandemic hiatus.
The winter residents reception on the Eleuthera mainland, hosted this year in Governor's Harbour at the Leon Levy Native Plant Preserve, was well received, said Eleuthera Tourism Office Manager, Mrs. Glenda Johnson-Ingraham. "Winter residents here were excited when we posted it on our calendar [for this year]. The excitement was out there, and then they started calling, as we had a date change – having to push it from March 2nd to the 16th instead. So, they were excited to be back with us, as we celebrated them… The reception is all about them, actually, and us showing our appreciation for them and the contribution they make to the economy of Eleuthera."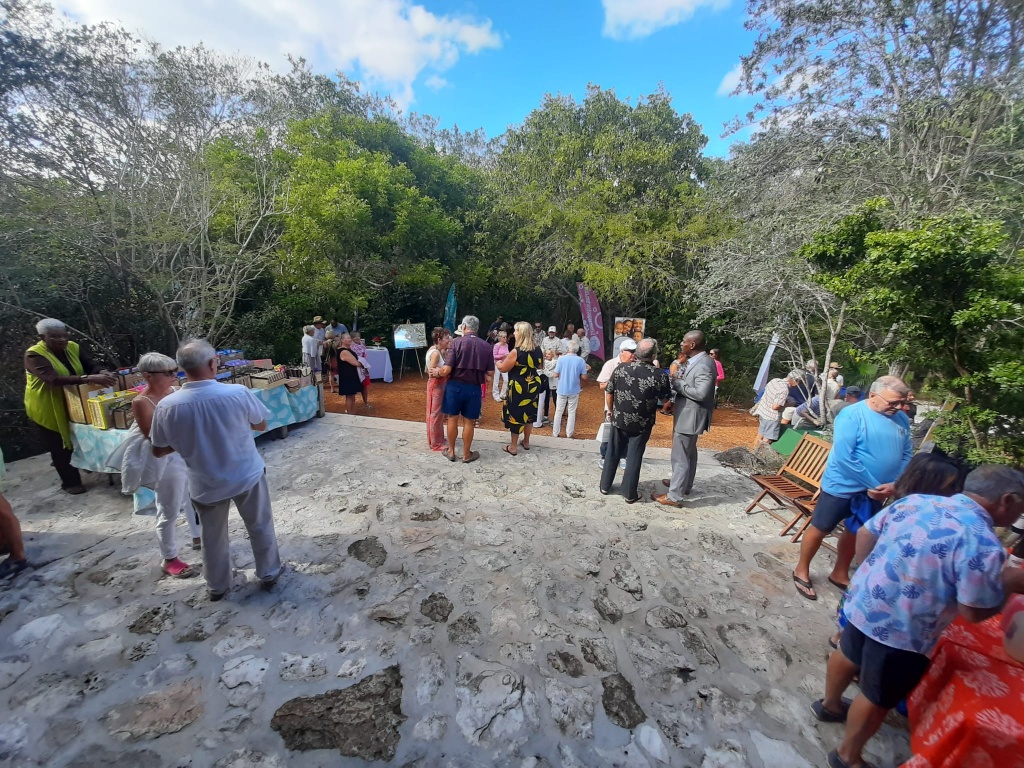 The venue this year was 'really, really nice', said Mrs. Ingraham, where it was held at the Levy Preserve – Eleuthera's only national park. "This is our second time hosting it there. The first time it was held near the entrance of The Preserve, but this year it was held by The Pavillion, so that atmosphere was truly nice. It was spacious, and we were able to accommodate everyone comfortably."
She continued, "We had a live band along with our local vendors showcasing Eleutheran made teas by Susan Culmer, sauces and preserves by Octis Organics, pink sand and beach glass jewelry from Katjiana, designer straw work by Emily Munnings, and massage by Chris Major."
"With the residents – I know we have lost a few, some who had been with us [here in Eleuthera] for a very long time – they grew older and have passed on. Some have also sold properties, so, there were also a number of new residents," said Mrs. Ingraham.
The reception at The Preserve saw some seventy plus residents enjoying the event held in their honour. "It was a good crowd, especially knowing that a number of winter residents had already returned to their home countries by mid-March. This is why we normally host it during the first Thursday in March, to try and catch them all. So, some had already gone back, but it was a great turnout and everyone enjoyed themselves," said Glenda.
Mrs. Ingraham also acknowledged The Levy Preserve as a true partner in the event, who offered the beautiful venue free of charge, and she emphasized that the Ministry looked forward to continuing to partner with all of their local stakeholders.
The following day, in Harbour Island, the local Tourism Office hosted their winter residents party on the grounds of the historic Sir George W. K. Roberts Public Library [the second oldest in The Bahamas – originally established in 1853], on Friday, March 17th, 2023.  The location grounds, said Harbour Island Tourism Office Manager, Mrs. Deborah Young-Fox, were really beautiful as a setting for the event, however, the attendance response by foreign residents was muted. The Tourism team on the island, will look at tweaking the reception to encompass all visitors in 2024, they said, as a more inclusive event.