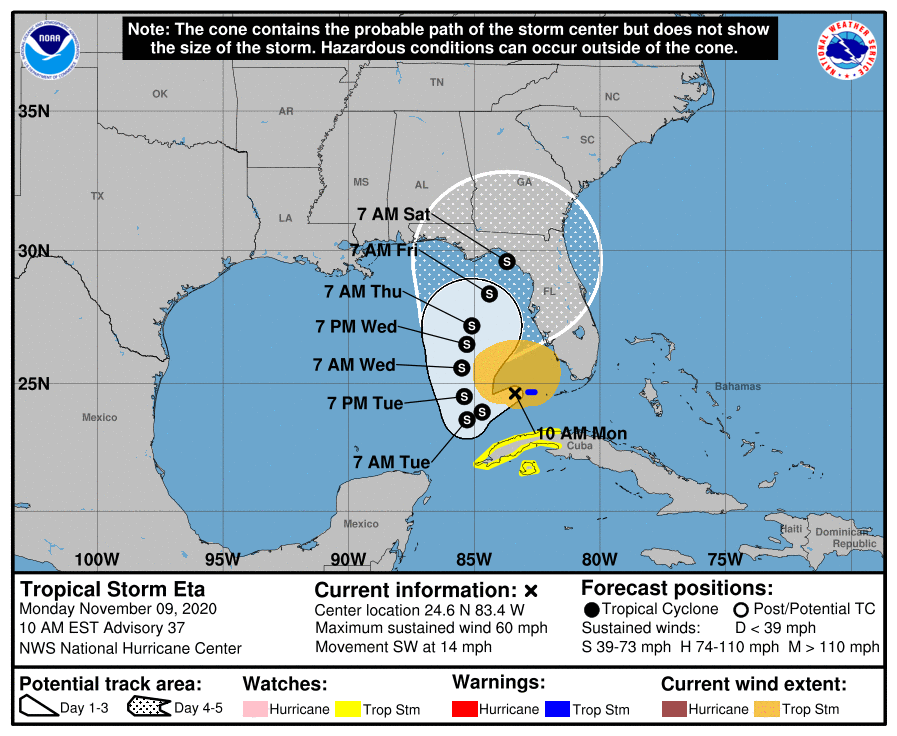 All Alerts Have Been Discontinued on Tropical Storm Eta – See NEMA release just below 'News Item'.
—
NEWS ITEM ON TROPICAL STORM ETA, ISSUED BY THE BAHAMAS DEPARTMENT OF METEOROLOGY FORECAST OFFICE SECTION, AT 11AM EST, MONDAY 9TH NOVEMBER 2020.
…ETA MOVING SOUTHWESTWARD OVER THE SOUTHEASTERN GULF OF MEXICO…
…GUSTY WINDS AND HEAVY RAINS STILL OCCURRING OVER PORTION OF SOUTH FLORIDA AND THE FLORIDA KEYS…
AT 10 AM EST, THE CENTER OF TROPICAL STORM ETA WAS LOCATED NEAR LATITUDE 24.6°NORTH AND LONGITUDE 83.4° WEST OR ABOUT 30 MILES WEST SOUTHWEST OF THE DRY TORTUGAS, OR ABOUT 210 MILES NORTH NORTHEAST OF THE WESTERN TIP OF CUBA.
TROPICAL STORM ETA IS MOVING TOWARD THE SOUTHWEST AT NEAR 14 MPH AND THIS MOTION WITH SOME REDUCTION IN FORWARD SPEED IS EXPECTED TO CONTINUE THROUGH TONIGHT.
MAXIMUM SUSTAINED WINDS HAVE DECREASED TO NEAR 60 MPH (95 KM/H) WITH HIGHER GUSTS.
THE NEXT NEWS ITEM WILL BE ISSUED AT 5PM.
PREPARED BY FORECASTER: MARY BUTLER
ISSUED: 09/11/2020 @1530UTC
—
FOR IMMEDIATE RELEASE  By the National Emergency Management Agency (NEMA) – November 9, 2019
All Alerts Discontinued on Tropical Storm Eta
"The Bahamas Department of Meteorology has discontinued all alerts relating to Tropical Storm Eta, which impacted The Bahamas over the past two days with heavy rainfall and flooding in low-lying areas.
However, residents are being advised to move about with caution, as there is some debris and standing water, which might hamper movement.
In its last Alert #29, issued at 8 am Monday, November 9, 2020 the Met Department advised that Eta was moving away from The Bahamas and that the tropical storm warning for the Northwest
Bahamas has been discontinued. Those islands include: Grand Bahama, Abaco, Bimini, The Berry Islands, Andros, New Providence, and Eleuthera.
On Sunday, November 8, 2020 at 5pm, the Tropical Storm alert for the Central Bahamas was discontinued. Those islands include: Exuma, Cat Island, Long Island, San Salvador
and Rum Cay.
On Monday at 7am, the centre of Tropical Storm Eta was located about 230 miles west-southwest of Alice Town, Bimini or about 350 miles of New Providence. Hence, all alerts were discontinued at 8am.
The National Emergency Operations Centre (NEOC) at NEMA was partially activated at 3pm Saturday, November 7, 2020 to closely monitor the track of Tropical Storm Eta as it threatens The Bahamas with heavy rain and flooding in low-lying areas.
Representatives of NEMA's Emergency Support Function (ESF) groups reported to the NEOC at NEMA on Gladstone Road to monitor the system and ensure the public receives timely and
accurate information pertaining to the storm.
—-
NEMA HOTLINE: 411
Emergency Numbers:
(242) 322-6731
(242) 322-6081
(242) 322-6085
Hurricane Shelters:
(242) 433-6905
For more information contact:
Contacts: (242) 322-6081. 322-6085. 361-5569.
Mobile: (242) 376-2042
Email: nemabahamas242@gmail.com.
Websites: www.bahamas.gov.bs. Nema.gov.bs
Follow us on:
Facebook. Instagram. Twitter: NEMA-Bahamas
COVID-19 FIGHT: WEAR A MASK. WASH YOUR HANDS. STAY 6ft APART. STAY AT HOME IF YOU'RE FEELING ILL.