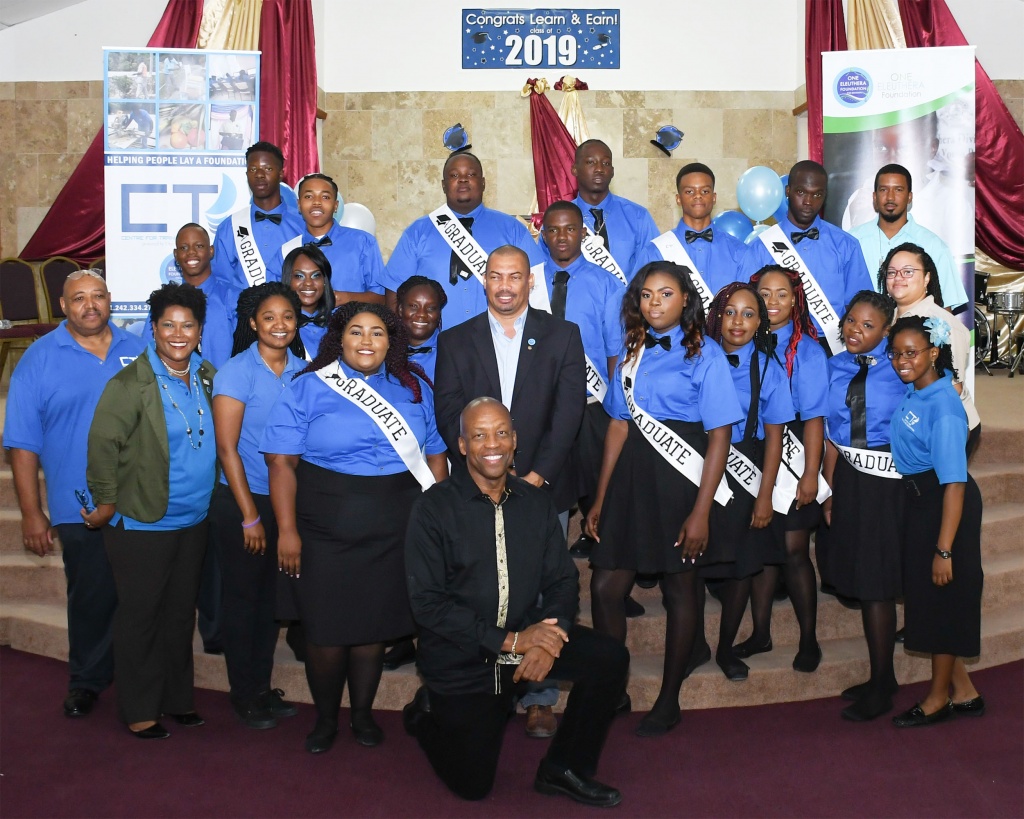 (Eleuthera, The Bahamas) – There was something extra special about the 2019 graduates who received their professional development certificates and awards from the Centre for Training and Innovation (CTI) on Friday, February 22, 2019. CTI, a strategic partner of the One Eleuthera Foundation (OEF), is the first and only tertiary education facility in Eleuthera.
Hallmarked by pride and excitement, the graduation ceremony included 15 young men and women who celebrated with their family, friends, and the community. The Learn and Earn program was launched in 2016, and two years later it has become a positive catalyst for change. "CTI, in my view, transformed Dariana's life," said Noelle Nicolls, guardian of Dariana Michel. "She took a chance coming over here [from Nassau] because she wanted a better opportunity for herself. Over the course of the year she's learned new skills, blossomed, made new friends, opened her mind to all sorts of possibilities. It just really has been completely transformative."
Chairman of the OEF board, Alfred Sears, expressed his pleasure that developments like these help to strengthen and connect families and communities, which is a mission of OEF. He reminded the graduates that they are a part of the dream and the process of strengthening Eleuthera by creating a private educational institution to prepare individuals for a better life. He went on to say, "Today is the manifestation of that dream and we have seen that with and through OEF, a community has established a tertiary center. This is revolutionary to The Bahamas [. . .] the people of Eleuthera said that we can build from the ground an institution to train our young people. With the tools that they have acquired and the socialization skills they have acquired [. . .] they will be entrepreneurs, innovators, and they will be architects of the sustainable future development on the island of Eleuthera."
CTI's programs are approved by the National Accreditation and Equivalency Council of The Bahamas (NAECOB). The Learn and Earn 2018/2019 cohort – partially funded by a grant from the TK Foundation – received training in the areas of Hospitality and Service, Carpentry, and Electrical Installation. Applied Math and Applied English courses, Personal Development, and Entrepreneurship were a part of the curriculum along with certification training in CPR and First Aid, BahamaHost, and OSHA (Occupational Safety and Health Administration). The graduates also made history being the first to engage in job internships through partnerships between CTI and local businesses. Several students received employment offers from their internships. Furthermore, students had regular access to a counsellor. CTI also partnered with volunteers from the community who provided mentorship to the students.
Some notable achievements include graduate Breandra Whylly receiving the Lionel Elliott Excellence Award for her performance during the BahamaHost training. In addition, at the start of the program 40% of students had a bank account, by the end there was 100% participation in the One Eleuthera Cooperative Credit Union. Impressively, a total of 536 volunteer hours were accumulated for time given to the development of communities in Eleuthera.
In their student reflection, Kendy Thompson, Hospitality and Service graduate said, "Enrolling in CTI's Learn and Earn program was an incredible opportunity for all of us. It gave us the opportunity to learn new skills and enhance existing ones through classroom and hands-on training in Carpentry, Electrical Installation, and Hospitality and Service, while earning a stipend." CEO of One Eleuthera, Shaun Ingraham thanked the OEF and CTI staff and instructors, donors, and the local and US boards. Ingraham reminded the graduates that, "You have to be the captain of your own soul and the master of your own life." He announced that CTI's professional development program will be expanded to North Eleuthera and Harbour Island in early 2019 in order to meet training needs in that area. The expansion is as a result of requests from local businesses and has met with strong support from the community.
To learn more about CTI and its programs, call 334-4711 or email cti@oneeleuthera.org.